Crispy caramel corn, toasted coconut and chocolate drizzles adorn this delectable Samoas Popcorn. It just might be better than the cookie!
So Joel and Noah went to a Cub Scout informational meeting last night. Joel was all gung-ho about him joining and I'm kind of meh about the whole thing but if it's something Noah wants to do then I'm for it. Well, we found out their first outing will be shooting BB guns for 4 hours. Lord help me. Then there's the whole camping and outdoorsy stuff.
I'm really glad that's a group activity for dad's to partake in. I'm all about doing things with my kids that they love but I draw the line at camping. Outside. In a tent.
I am totally down for the popcorn though. I haven't known anyone in Cub Scouts since my brother which was probably about 20 years ago so I'm pretty excited about that prospect. Not the whole selling it but the eating it.
We're the kind of parents that ask the grandparents if they want to buy whatever the kids have to sell then we buy the rest. Door to door and bothering our friends is not my jam.
While we're on the topic of Scouts, I have a delicious Samoas Popcorn recipe to share with you all that brings me back to my childhood. I loved Girl Scouts as a little girl (eh-em, we camped in cabins). I made some life-long friends and memories (shout out to all the campfire songs) but I'm pretty sure, even as a child, I knew the cookies were the best part.
Specifically Samoas, or Caramel Delites as some lame areas of the country call them (get it together Nebraska).
Shortbread cookies with caramel, coconut and a drizzle of chocolate. Not much is better. Except when I had the idea of taking my favorite caramel corn and turning it into a ridiculous memory evoking snack that even this salty snacker couldn't resist.
It all starts with a homemade salted coconut caramel sauce that is tossed over freshly popped popcorn then baked until it reaches crispy perfection. Then once it cools, drizzle it like mad with melted semi-sweet chocolate.
Wait, if you can, for the chocolate to harden, break into pieces and enjoy during movie night. Or at midnight. Or for breakfast. I have not done all of these things.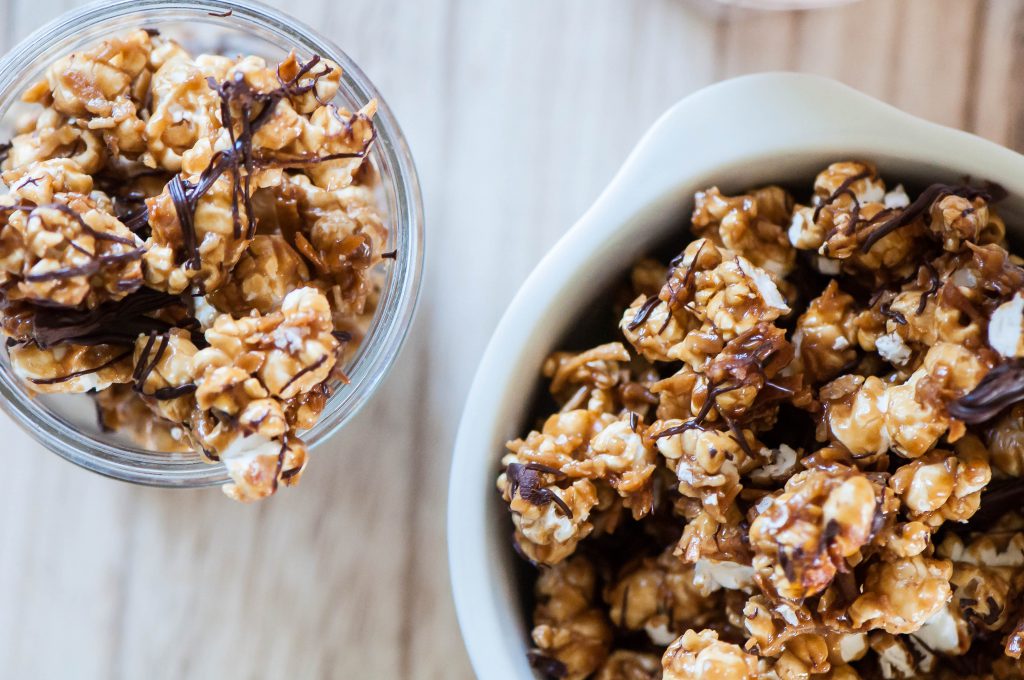 Samoas Popcorn
2016-08-19 15:09:00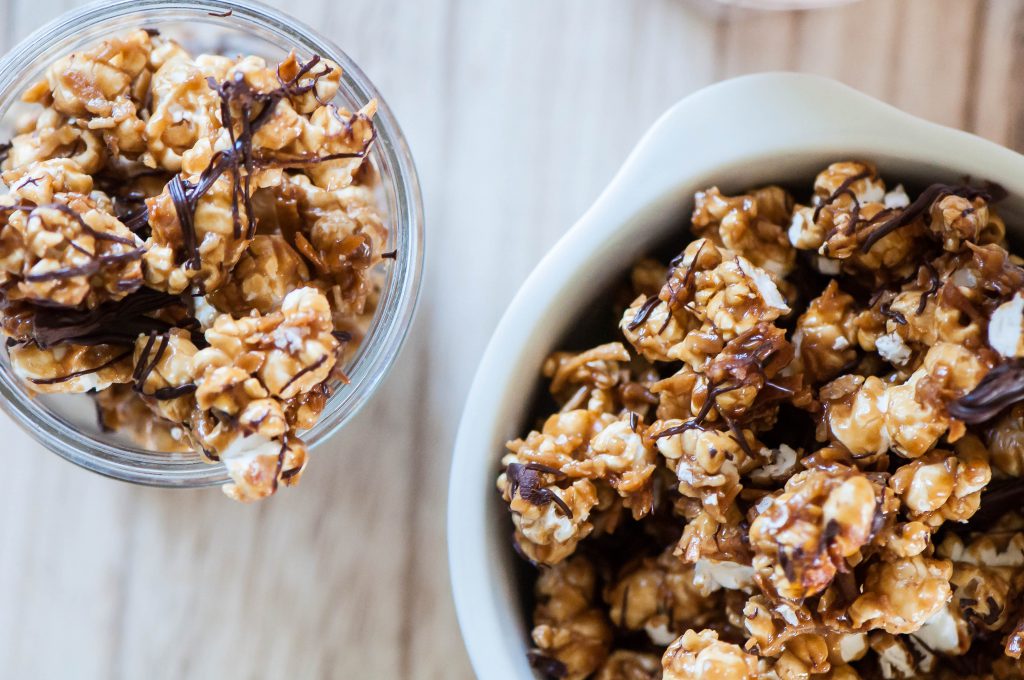 Ingredients
7-8 cups popped popcorn
3/4 cup brown sugar
6 Tbsp. butter
3 Tbsp. light-colored corn syrup
1 tsp. sea salt
1/4 tsp. baking soda
1/4 tsp. vanilla
1 cup shredded unsweetened coconut
1/2 cup semi-sweet chocolate chips
Instructions
Preheat oven to 350 degrees. Toss popcorn and coconut together in a 13 x 9 pan and place in the oven to keep warm and toast the coconut while you make the caramel. Stir every 5 minutes to prevent the coconut from burning.
Lay a large piece of foil on the counter and butter it lightly. In a medium saucepan, combine the brown sugar, butter, corn syrup and sea salt over medium heat. Stir to combine well then bring to a light boil. Allow to boil for 5 minutes, without stirring. If it starts to boil too hard, reduce heat to medium low. Remove from heat and stir in the baking soda and vanilla.
Pour caramel over the popcorn mixture and stir to coat. Bake for 15 minutes. Remove from oven and give it a good stir. Return to oven for another 5 minutes. Remove, stir again and dump onto prepared foil. Allow to cool completely then break into pieces.
Melt the chocolate chips in 30 second increments in the microwave until smooth. Using a fork, grab some of the chocolate and drizzle up high over the popcorn. Allow chocolate to harden. If you need this to happen quickly, place in the refrigerator for a few minutes. Break into pieces and store in an airtight container.
Meg's Everyday Indulgence https://www.megseverydayindulgence.com/