One of my favorite foods in all the land is a twice baked potato filled with butter, bacon, cheese and sour cream. But trying to be healthy and all doesn't quite mesh with the feelings I have towards that glorious potato.
So what do you do when you want a comforting, creamy potato but not all the calories? Switch it out for a sweet potato which is naturally creamy on its own without having to add all that butter and sour cream. Then add some roasted broccoli and a smaller amount of cheese to still get that fix. The results are healthy AND delicious cheesy broccoli twice baked potatoes.
Is it the same as a classic twice baked potato? Of course not. Something with copious amounts of butter and sour cream is never going to taste the same without those delectable ingredients but you still get the some of the same effects that the original gives you.
I decided to add roasted broccoli to the potatoes to give it some bulk and further enhance the rich, sweetness of the dish. Both of these veggies taste delicious with cheese (ok, so every veggie does whatever) and I enjoy them together. It also reminded me of another potato favorite, broccoli and cheese stuffed potatoes. Can you tell I have a thing for baked potatoes? Potatoes in any form really but that's another conversation for another day.
Sharp cheddar cheese lends a bite and slight tanginess to the sweet, sweet potatoes. If I'm adding cheddar to something I always reach for sharp cheddar. I just love the, well, sharpness of it. If the flavor is too strong for you or someone you are feeding add mild cheddar instead, no big deal.

I feel pretty lucky to have kids that are down with any kind of cheese. I mean, Hannah grabbed the gorgonzola crumbles the other day and was snacking on them.
So when you want some creamy, cheesy potato goodness but not all those extra calories make these cheesy broccoli twice baked potatoes. They make a great side dish or main course Meatless Monday. I ate one for dinner and was full the whole night (besides the teeny tiny free popcorn at the movies, who can say no to that?). Healthy comfort food at its finest.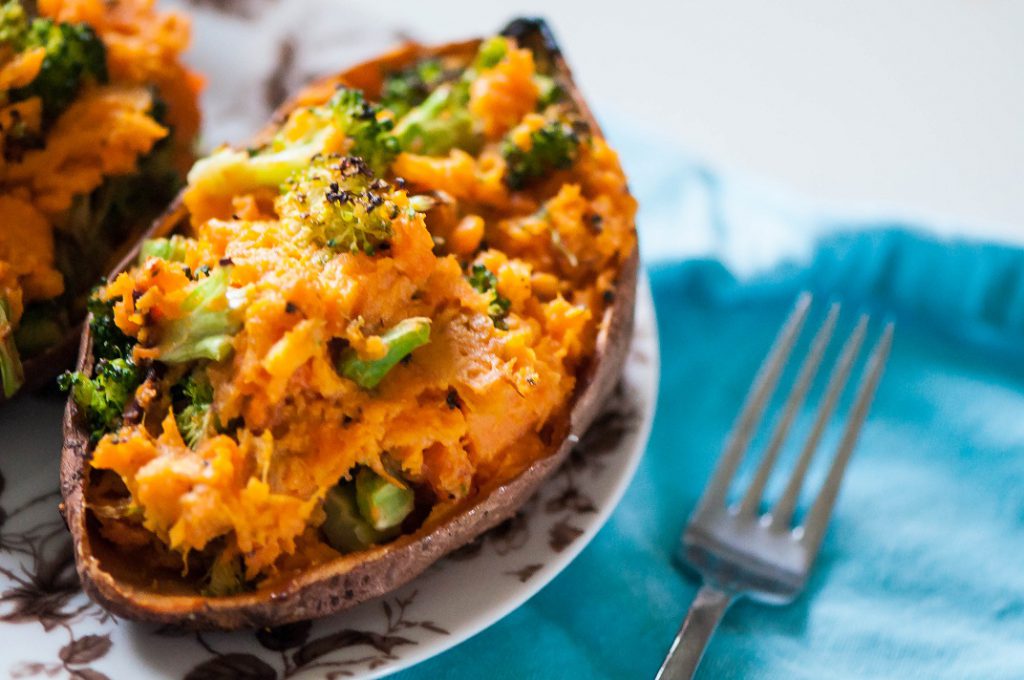 Cheesy Broccoli Twice Baked Potatoes
2016-08-17 15:33:44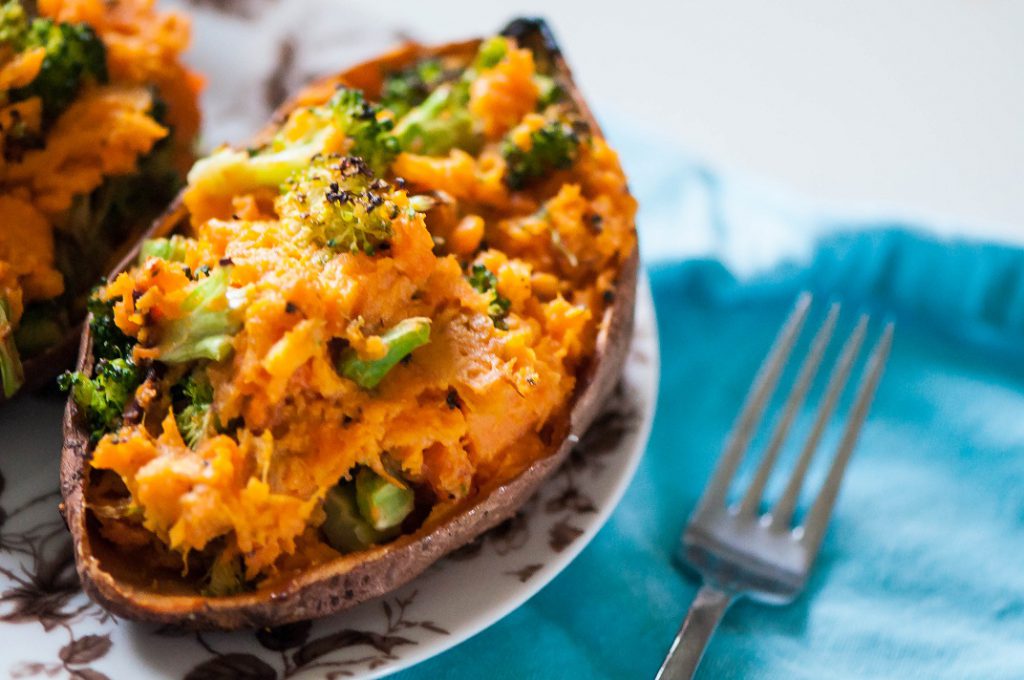 Ingredients
4 large sweet potatoes
4 Tbsp. olive oil, divided
Kosher salt
1 lb. broccoli florets, cut into small bite size pieces
1/2 tsp. kosher salt
1/4 tsp. black pepper
1/2 tsp. onion powder
1/2 tsp. garlic powder
1 cup shredded sharp cheddar
Instructions
Preheat oven to 425 degrees F. Wash and scrub sweet potatoes then pat dry. Cut in half lengthwise and place cut side down on a baking sheet. Using 2 tablespoons of olive oil, brush the sweet potatoes then sprinkle liberally with kosher salt. Bake for 20-25 minutes, until tender when poked with a knife. Add broccoli to baking sheet during last 10 minutes of baking, tossing lightly with remaining 2 tablespoons olive oil and a pinch of salt and pepper.
Remove sweet potatoes from oven and allow to cool to a temperature you are able to handle them. Scoop out the center, leaving about a quarter inch of potato on the skins. Place potato insides in a bowl. Add broccoli, cheddar, salt, pepper, onion powder and garlic powder. Stir until combined. Spoon back into the potato skins.
Turn on broiler and broil until golden and bubbly.
Meg's Everyday Indulgence https://www.megseverydayindulgence.com/