I don't know if Noah or I are more excited to share today's post. He literally goes around telling everyone they can make homemade bread crumbs. He's amazed and hopefully you can employ this simple, free trick too for homemade bread crumbs.  
I always have some leftover bread at the end of the loaf, especially in the summer when we don't have school lunches to pack. I used to just throw the last few pieces in the garbage or in the yard for the birds or in the freezer to take to the lake to feed the ducks.
You know what happened to that bread in the freezer? It would sit there for months until we needed space then I threw it away. So much waste.
Instead of just throwing those last few slices out, I've starting tossing it in the food processor when it's nearing the end of its shelf life. I haven't bought bread crumbs in forever.
It's a free product out of what would normally be wasted. Even if you only use the ends of the bread (because who eats those) you will still accumulate bread crumbs pretty quickly.
You can do this with any sandwich bread, hamburger and hot dog buns, baguettes, bagels, even pita bread. You can keep separate freezer bags labeled with the type of bread, for example white bread, whole wheat, French, etc. or if you aren't picky, throw them all in the same bag then toss them in the freezer for when you need bread crumbs.
If the recipe you are using calls for soft bread crumbs, simply thaw the desired amount and use and normally in the recipe.
How To Dry Out Homemade Bread Crumbs
If you need them dried, like in this Lightened Up Chicken Parmesan Skillet or BBQ Turkey Meatloaf Muffins, preheat the oven to 300 degrees and bake on a baking sheet for about 5 minutes, or until golden and crisp.
Allow them to cool completely on the pan then store in an airtight container. You can do this process on an as needed basis or you can dry the whole batch and keep them for a couple of weeks.
I don't use bread crumbs too often and since the process is pretty quick, I just measure out what I need the night before or day of and bake them. After they are dried, you can add in any herbs or spices to season them before use.
Super simple and basically free, these homemade bread crumbs can always be on hand and ready to crisp up your dinner game.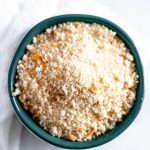 Print
Homemade Bread Crumbs
Don't throw away that stale bread in your cabinet. Instead, use it to make Homemade Bread Crumbs. They are super simple to make and can be used in all your favorite recipes.
Instructions
Preheat oven to 300 degrees F. Add slices of bread in your food processor and pulse until you have fine crumbs. Spread in an even layer on a baking sheet. You can spice them at this point with your desired spices/herbs or leave them plain to keep them more versatile.

Bake for 10-15 minutes, stirring halway through, until slightly golden and crisp. Allow to cool and store in an airtight container. Good for 1 to 2 weeks. Use them in any recipe that calls for dry bread crumbs.