Is pasta not the best family meal? In our house, it's something that everyone will eat without complaining so I reach for it on days when I don't feel like fighting the good fight at dinner time. And this Pizza Manicotti has proven itself to be the new pasta favorite around here.
I was chomping at the bit to make something with my homemade ricotta that I shared last week and I knew I wanted something that could really showcase the ricotta but still have some elements to make it fun and family friendly. And what do kids like more than pasta? Pizza. Always pizza.
To make this delicious Pizza Manicotti, the fresh ricotta is simply mixed with fresh parsley and parmesan cheese (duh) then piped into the manicotti shells.
Don't be afraid of the words manicotti shells and piping. All you do is put the ricotta filling in a ziplock bag and snip a small hole in the corner. It's way less frustrating and not as messy as trying to jam a spoon in there.
Once the shells are filled they are topped with an amazing pepperoni tomato sauce that is super simple to make and only takes about an hour from start to finish. It can be made a few days ahead of time, along with the ricotta, to make dinner on the night of quick to throw together.
There is actual pepperoni in the sauce people. Onions and garlic are sautéed until translucent then pepperoni is added and cooked until it starts to get brown and crispy. Herbs, spices, canned whole tomatoes and wine are stirred in then the delicious mixture is simmered for an hour and blended until smooth.
This delicious pizza-esque sauce slathers the ricotta filled manicotti then it's topped with mozzarella cheese (because three cheese is always better than one) and baked to gooey perfection.


The homemade ricotta in this manicotti is out of this world and you can truly taste the difference. It's creamier and richer than the store-bought version resulting in a more luxurious result. I hope I'm convincing you to make it homemade because it is just so so good. I'm totally convinced to make it homemade from here on out.


This sauce recipe makes a large batch but my thinking is it takes just as much time to make a small batch of sauce versus a large batch so might as well make the large amount have extra to use in the future. You can save the remaining sauce to use later in the week or freeze it for up to three months.
After making the manicotti, I choose to divide the remaining sauce in half into freezer safe containers and freeze both portions for busy weeknights when all I have time for is to boil pasta and steam veggies or days when I don't feel like cooking.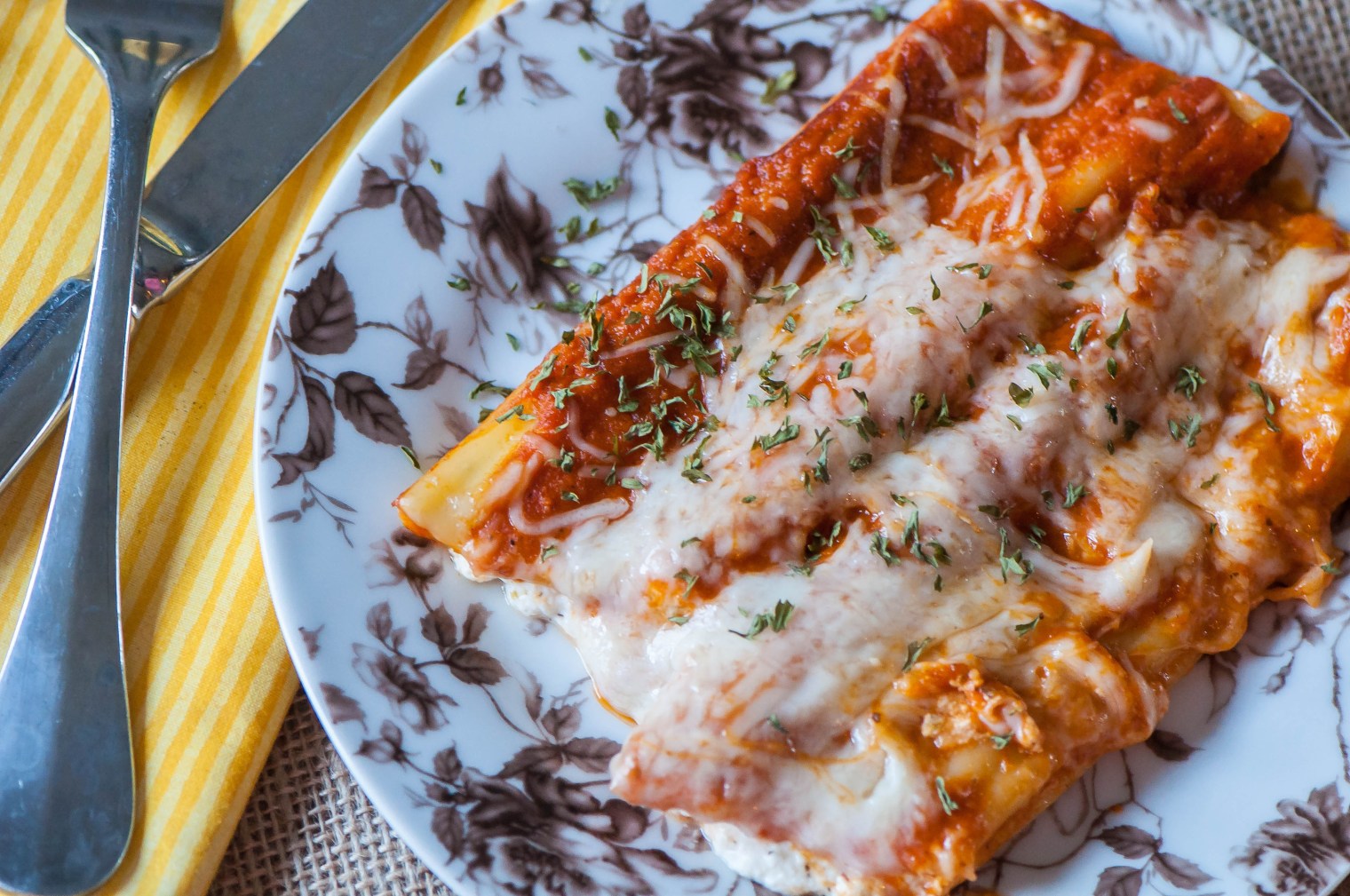 Pizza Manicotti
2016-07-30 22:12:51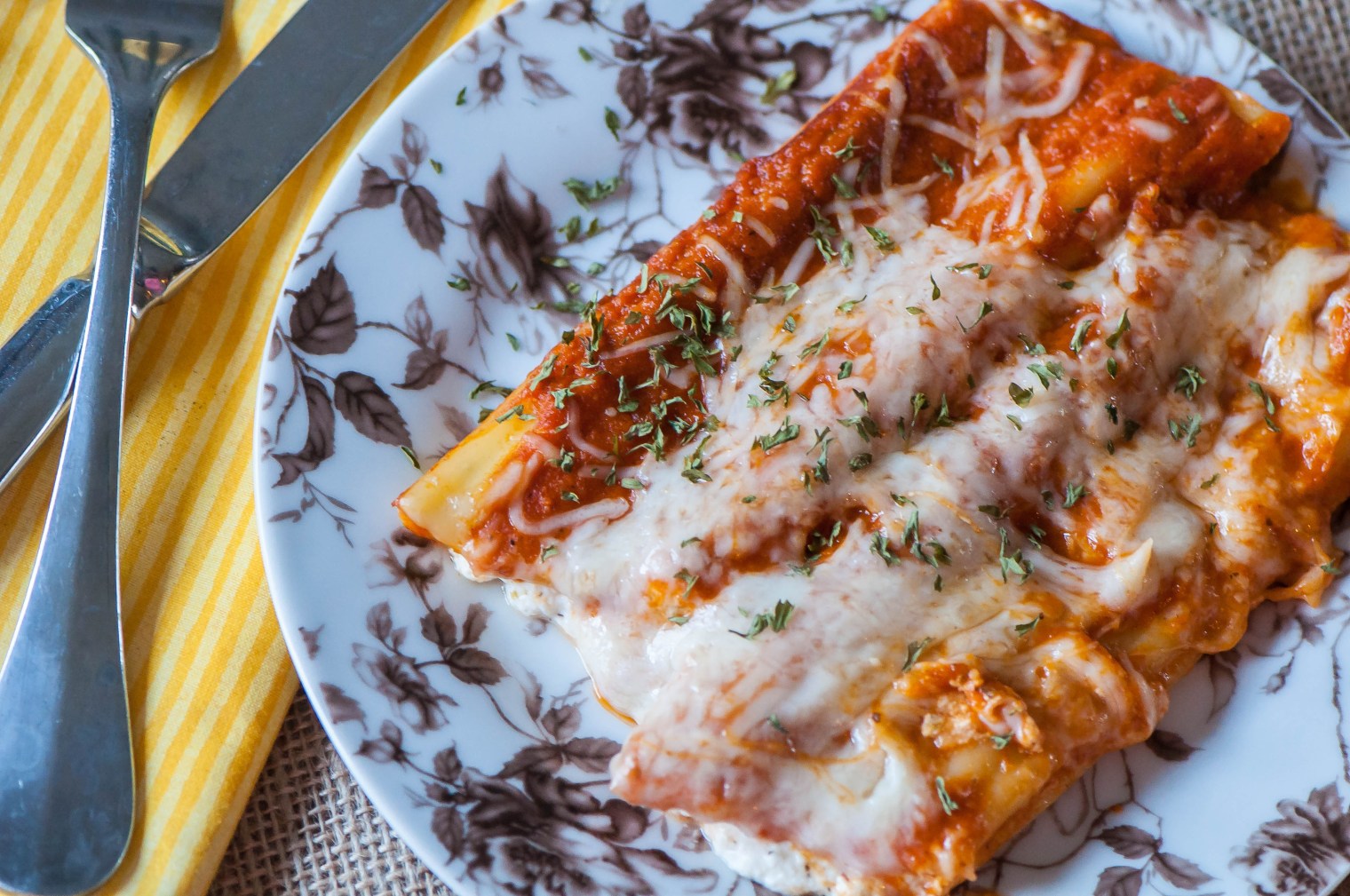 For the sauce
2 Tbsp. olive oil
1 medium white onion, minced
6 cloves garlic, minced
1/4 tsp. red pepper flakes
1/2 tsp. kosher salt
8 oz. chopped pepperoni
1 Tbsp. dried basil
1/2 Tbsp. dried oregano
1/2 Tbsp. fennel seeds
3 (28 oz.) cans whole tomatoes
1 bay leaf
1 Tbsp. sugar
1 cup red wine
1 recipe ricotta
1 Tbsp. finely minced fresh parsley
1/4 cup freshly grated parmesan
8 oz. manicotti pasta, cooked 1 minute less than package directions
4 oz. shredded mozzarella
Instructions
Add the olive oil to a large stockpot. Add onion and saute for 3 to 4 minutes, until translucent. Add garlic and cook another minute. Add red pepper flakes, salt, pepperoni, basil, oregano and fennel. Cook another 3 to 4 minutes until the pepperoni starts to crisp. Add remaining sauce ingredients and stir. Using a tomato masher, smash the tomatoes until they break up into small pieces. Bring sauce to a simmer and cook for 1 hour, stirring occasionally. Pour sauce into a blender, in batches if necessary, and blend to desired consistency.
Preheat oven to 350 degrees. Meanwhile, combine ricotta, parsley and parmesan together. Place in a ziplock bag and cut off the corner. Insert into the manicotti shells and fill.
Add 1/2 cup sauce on the bottom of a 13x9 pan and spread so that it cover the bottom. Place filled manicotti in prepared pan. Top with desired amount of sauce then sprinkle with mozzarella cheese. Cover with foil and bake for 15 minutes. Remove foil and bake another 10 to 15 minutes, until golden.
Meg's Everyday Indulgence https://www.megseverydayindulgence.com/