I made homemade ricotta this week. Be amazed friends. And go make some because it's ridiculously easy with stellar results.
I've had homemade ricotta on my list of foods to try making at home forEVER but it always intimidated me. Part of the problem was I never really looked into how exactly it was made so when I saw Clinton Kelly make it on The Chew, I kicked myself for waiting so long. It's so easy! 
If you can measure liquid, boil and strain it you can make your own ricotta cheese. The process of making it takes less than 10 minutes then all you have to do is strain it for 30 minutes through cheesecloth and refrigerate until cold.
Ingredients for Homemade Ricotta
And all you need is 4 super common ingredients:
When I was looking around at recipes and methods I found that some people prefer white vinegar and some choose lemon juice. I didn't want to just choose one and settle so I tried both version (yay for double the cheese) to see what we preferred.
First I tried it with lemon. After the ricotta was cooled I tried it and found that although it didn't hit you in the face, I could still taste the lemon in the background of the cheese.
I wouldn't mind it if I was mixing in some herbs and spreading it on crostini but I thought it might be a little bit of a distraction and weird if I used it in a lasagna or something of that sort.
Next I tried the same recipe but switched out the lemon juice with white vinegar. It left no vinegar taste behind and was much more neutral than the lemon juice version.
I liked it much better this way and because of that, I will be sharing the recipe using white vinegar. But when you make it, keep in mind what you will be making with it. If it's something that would be amplified with a little kick of lemon than go ahead and switch out the acid.
How to Make Homemade Ricotta
Whether it is lemon juice or white vinegar, the process is the same and the final product is so much creamier than the store bought version. I find that sometimes store bought can be a little gritty but this homemade ricotta is incredibly smooth and mild.
But how do you get to those super smooth results with those 4 ingredients. First, you dump the whole milk, heavy cream and salt into a big saucepan.
Then you bring it to a boil being careful not to let it boil over. Because I'm sure that would make a huge mess when it stuck on the hot burners and spread over the stove top. Not that I would know.
Once it's come to a rolling boil, stir it constantly for about 30 seconds to make sure it's good and hot. Remove it from the heat, stir in the vinegar (or lemon juice) and leave it alone for one minute.
Then pour it through a fine mesh sieve that's been lined with dam cheesecloth. Go watch a quick episode of something on Netflix then walk back to the kitchen to witness some magic. Because you'll have cheese it that cheesecloth friend.
Toss the whey (the yellowish liquid that drained out) and place the ricotta in an airtight container and refrigerate. It will last up to 5 days in the fridge.
So Easy to Make at Home
I still can't get over how simple it is to make ricotta from scratch. Am I saying I will never ever buy ricotta again? Nope.
There are times when it's just easier to pick it up at the store but after these incredible results I know I will do my best to make it more than I buy it. I hope you give it a try! When you do, let me know what you think in the comments below.
Stay tuned Monday when I share a simple, family friendly meal staring this delectable creamy cheese.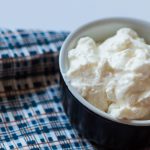 Print
Homemade Ricotta
Homemade Ricotta is surprisingly easy to make. You'll never go back to the store-bought stuff after trying this homemade version.
Ingredients
8

cups

whole milk

4

cups

heavy cream

4

tsp.

kosher salt

6

Tbsp.

white vinegar or lemon juice
Instructions
Dampen two layers of cheesecloth then squeeze it to remove the excess water. Line a large sieve with the cheesecloth and place it over a very large bowl. Set aside.

In a large saucepan or stockpot, combine the whole milk, heavy cream and kosher salt. Heat over medium-high heat. Bring to a rolling boil and stir for 30 seconds. Remove from heat and stir in the white vinegar. Let sit, without touching it, for 1 minute.

Pour milk mixture into the sieve and allow to strain for 30 minutes. You may need to dump the liquid in the bowl if it gets too full. After the 30 minutes, put the ricotta from the cheesecloth into an airtight container and refrigerate. Lasts for up to 5 days.
Processing…
Success! You're on the list.
Whoops! There was an error and we couldn't process your subscription. Please reload the page and try again.