It's National Hot Dog Day friends and oh do I have a killer hot dog recipe to share with you today. KC BBQ Dogs are piled high with barbecue pulled pork, creamy coleslaw, tart pickles and another drizzle of barbecue sauce. Crazy, right?
We are getting hit with a major heat wave this week (over 100 degrees until Sunday) so there is no way I'm turning the oven on which makes these hot dogs are the perfect meal. They are fun and summery and you only need the grill for the hot dogs and a slow cooker to make the cherry cola barbecue pulled pork.
Joel grew up in Kansas City so we are hardcore, loyal Kansas City barbecue fans. We love the sweet barbecue, pulled pork, creamy coleslaw and crunchy pickles. The only barbecue sauce I allow in my house is from our favorite Kansas City joint. We buy it by the gallon and I ain't joking. So needless to say, I got all my inspiration for these loaded hot dogs from Joel's hometown.
I know hot dogs are supposed to be simple and uncomplicated and looking at the ingredient list and recipe instructions may make you think otherwise but they really are pretty easy so hear me out. We start the pulled pork in the morning in the slow cooker. Simply throw the pork butt in the slow cooker and pour in about half a can of cherry cola (enough to go about halfway up the pork) then cook on low for 8-10 hours.
As soon as that's cooking away, mix up the coleslaw and refrigerate so all the flavors can mingle. Then when it's time to eat all you have to do is shred the pork and toss it with some barbecue sauce, grill the hot dogs and assemble.
See, I told you it's not too bad. I love me some inactive cooking in the summertime.
I love the mix of flavors and textures all in a bun. We like a hot dog with a good snap, like Nathan's, and the pork provides a softer, meatier element. But the thing that really puts this hot dog over the edge is the creamy coleslaw. It not only provides a crunch but also brings a cool, refreshing layer to the meat heavy dogs. Oh and those pickles add a second crunch along with a nice tart punch. Can you tell I just love everything about this hot dog?
This recipe feeds a crowd so invite over your friends for an epically delicious outdoor party. If you make some homemade baked beans and potato salad you will be the Kansas City barbecue king or queen.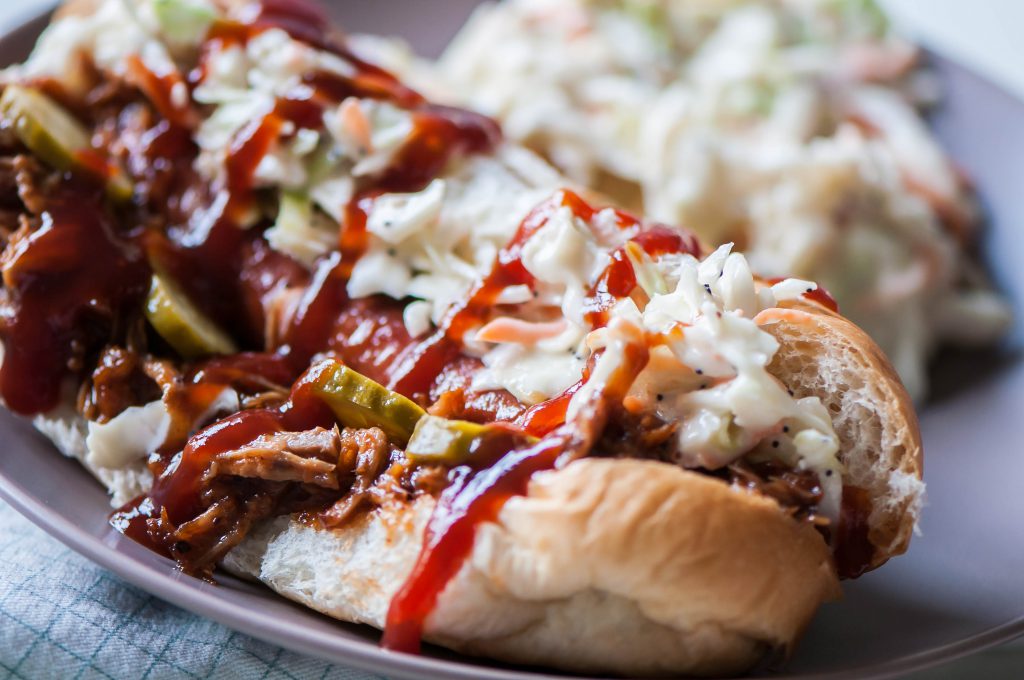 KC BBQ Dogs
2016-07-21 01:31:09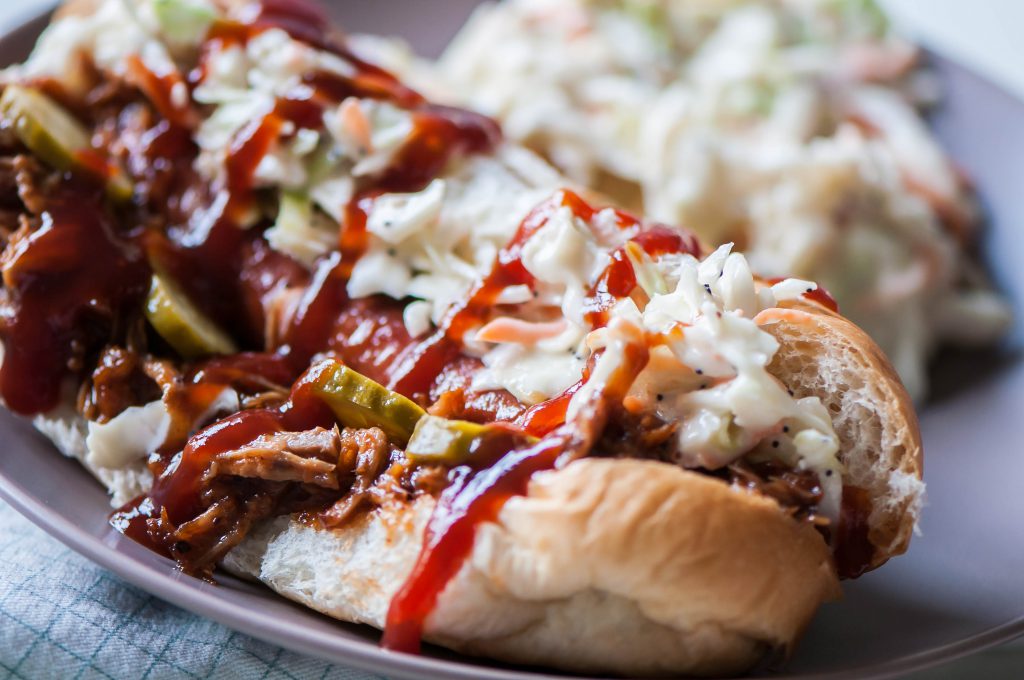 For the pork
1 (3 to 4 lb.) bone in pork butt
Kosher salt and fresh ground pepper
1 can dark soda (cola, cherry cola, dr. pepper....)
For the coleslaw
2/3 cup mayo
1 1/2 Tbsp. apple cider vinegar
1 tsp. poppy seeds
3 Tbsp. white sugar
1/4 tsp. kosher salt
1/8 tsp. fresh ground black pepper
1 (14 oz.) bag shredded cabbage
Barbecue sauce
16 beef hot dogs
16 hot dog buns
Pickles
Instructions
Season the pork generously with salt and pepper. Place in a slow cooker and pour soda until it reaches up half of the pork (I needed a little over half a can). Cook on low for 8 to 10 hours.
Meanwhile, make the coleslaw. In a large bowl, combine the mayo, apple cider vinegar, poppy seeds, sugar, salt and pepper. Dump cabbage into mayo mixture and stir to coat. Refrigerate until ready to eat. Best if made at least a few hours before serving.
To assemble, remove pork butt from slow cooker and shred with two forks. Toss with desired amount of barbecue sauce. Place hot dogs in buns then top with pulled pork, coleslaw, a few pickles and another drizzle of barbecue sauce.
Meg's Everyday Indulgence https://www.megseverydayindulgence.com/