This Death By Chocolate Ice Cream is loaded to the absolute brim with chocolate goodies. It's the perfect dessert to celebrate the chocoholic in your life. Don't we all have one? Or maybe it's you. In our house it's Noah and his 6th birthday is tomorrow.
I always make homemade ice cream for birthdays so when I asked him what he wanted this year, I knew it would be chocolate based. We've done the rocky road route and s'mores in the past so we decided to try another variation this year. He requested a chocolate cookies and cream.
But then we opened the pantry and thought, why not add mini chocolate chips? And how about some chocolate jimmies? Then the night before freezing the ice cream base I made brownies to bring over to a friends house for girls night.
When he saw the leftovers he about exploded with excitement over another chocolate dessert to add into our chocolate dessert. Man, that kid just can't get enough.
And that is how Death By Chocolate Ice Cream was born. The only way to describe this ice cream is incredibly rich. I mean, just look at the chocolate base. It prefer to use dark cocoa powder so it's rich all on its own. Then you add ALL the chocolate mix-ins and it's chocolate coma time.
I have to admit the last minute light bulb addition of brownies is my favorite part of this ice cream. It adds a chewy, fudgy texture to the ice cream that I really love.
But the Oreos and chocolate chips are nice too for the crunch they add. And sprinkles are just fun. It really is the perfect decadent treat for all the chocolate lovers out there.
You guys know I'm not a huge fan of chocolate ice cream (gasp, I know) but I still really enjoyed this in small doses. Everyone else who sampled it, meaning my chocolate crazed children, adored it.
Hannah kept opening the freezer, grabbing it out and telling me that's what she wanted for lunch. Sorry lady, I get it but not happening.
I have a fun gelato recipe I'm sharing with you all next week and it's the best ice cream I've ever made. And I've made a lot people. After we tried it fresh from the ice cream maker the kids and I did a kitchen happy dance. They don't realize I'm crazy yet so they join in on the fun. Stay tuned for it friends!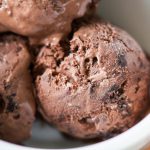 Print
Death by Chocolate Ice Cream
This Death By Chocolate Ice Cream is loaded to the absolute brim with chocolate goodies. It's the perfect dessert to celebrate the chocoholic in your life. 
Ingredients
1

cup

granulated sugar

3

large

eggs

1

cup

cocoa powder

1 1/2

cups

milk

1

cup

heavy cream

1

Tbsp.

vanilla extract

6

double stuf

oreos, broken into chunks

1/4

cup

chocolate sprinkles

1/4

cup

mini chocolate chips

1/2

cup

crumbled brownies
Instructions
In a food processor, combine the sugar eggs and cocoa powder. Meanwhile, bring the milk to a simmer in a medium sized saucepan.

Remove the milk from the heat and with the food processor running, slowly add the hot milk to the cocoa mixture. It's important to add it slowly so the eggs don't scramble.

Pour the mixture back into the saucepan and place over medium-low heat. Stir constantly and do not allow to boil (the eggs can still scramble) until the mixture has thickened and can coat the back of a spoon.

Place a fine mesh sieve over a large bowl and pour mixture through the sieve. Refrigerate for an hour or longer then stir in the heavy cream and vanilla. Allow to cool completely, preferably overnight, then freeze according to the manufacturers instructions on your machine. When there are 5 minutes remaining on the freezing time, slowly add in the Oreos, sprinkles, chocolate chips and brownie pieces. Eat right away or place into a freezer safe container and freeze.
Processing…
Success! You're on the list.
Whoops! There was an error and we couldn't process your subscription. Please reload the page and try again.