You won't believe the crunch on these Thai Fried Chicken Wings. A sweet, salty glaze finishes them off to appetizer perfection.
This post may contain affiliate links. For more information, please read my disclosure policy.
Noah is turning 6 on Tuesday. SIX people! I'm not really sure how it happened but alas, it's here. His birthday party is this weekend and I've finally learned the art of celebrating anywhere but my house and I'm pretty excited about it.
That means my house only has to be "family clean" not "company clean." And I don't have to go Pinterest crazy (not that you EVER have to but I can never resist the millions of cute ideas) and no need to cook a full meal for 20 people. I'm pretty excited about all of this.
I ordered his cake from our favorite place, bought juice boxes and bottled water and made fun favor bags for all the kids. And now I'm done (beside cleaning cause you know that will happen Friday night, I know, I know I lead a riveting life).
I wasn't sure what to do with myself for a hot second then I started making three batches of homemade ice cream for his real birthday and mine which is the day before his.
I'm telling you though, if you haven't had a party at a children's museum, bowling alley, trampoline place you should do it.
Especially if you have a certain OCD perfectionist personality such as yours truly. I'm so much more relaxed about it and know I will actually be able to enjoy the party for once.
Now I'm sitting here trying to think of a way to tie this conversation to these amazing Thai Fried Chicken Wings but I got nothing friends. So here we go with awkward transition…. Sorry, I'm not on my writing game tonight.
I made these Thai Fried Chicken Wings all the way back in January and I can't believe I'm just now sharing them with you!
They didn't fit into my February schedule when I shared Thai recipes for my new years resolutions so I took my notes and kept the photos and recipe to share at a later date. Then I forgot to schedule them in until now.
Because if they are not in the schedule they aren't happening (see OCD note above…). But I promise you these wings are totally unforgettable.
I know flour on wings before frying is a big issue of contention among wing lovers across the country but please don't leave me yet if you're a hater of batter on your wings.
I'll eat a chicken wing any way you give it to me but if you don't share the same sentiments I get it. But holy crispy batman you have to try these.
Rice Flour for the Win
They are tossed in rice flour which gives them an incredibly light, super crunchy exterior that may just blow your mind. I'm pretty sure I'm frying everything in rice flour from this moment forward.
It's pretty easy to find in the health or gluten-free section of any grocery store. You can also grab a bag of rice flour on Amazon if your store doesn't happen to carry it.
The sauce is salty and sweet and tangy from the unique combination of ingredients in the sauce. Cilantro brings a nice, bright freshness that is needed to cut the richness of the fried wings and sauce.
And don't worry about not being able to find the necessary ingredients because although these taste exotic they include very common ingredients most of which you may already have at home.
The few slightly unusual ingredients are fish sauce and oyster sauce but you can find those in most grocery stores these days in the Asian aisle.
I know it's a little soon but I already have football season on the brain, mostly just for planning the food you know. Like these wings. They are happening this fall.
If you're in Nebraska come over. As long as you're wearing Husker red. I will feed you Thai Fried Chicken Wings and we'll sit in the kitchen, not watching the game, probably talking about The Bachelor.
That's how I roll. Fried food and friends for the win.
More Game Day Favorites: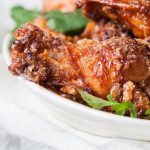 Print
Thai Fried Chicken Wings
You won't believe the crunch on these Thai Fried Chicken Wings. Glazed in a sweet, salty sauce for appetizer perfection.
Ingredients
For the wings:
2 1/2

lbs.

chicken wings

2

Tbsp.

oyster sauce

1 1/2

Tbsp.

fish sauce

3/4

cup

rice flour

oil for frying
For the sauce:
2

Tbsp.

vegetable oil

1

tsp.

red pepper flakes

5

large

garlic cloves, finely minced

1/4

cup

cilantro stems

1/2

cup

brown sugar

1/4

cup

granulated sugar

1/2

cup

fish sauce

1/2

cup

water

2

Tbsp.

soy sauce

2

limes, juiced

cilantro, for garnish
Instructions
In a large bowl, combine the wings, oyster sauce and 1 1/2 tablespoons fish sauce. Marinate in the refrigerator for 1 hour.

Add 2 inches of oil to large skillet over medium heat. Place the rice flour in a shallow dish. Remove chicken wings from marinade and completely coat in the rice flour. Set on a clean plate and continue until all wings are coated.

While the oil is heating, make the sauce. Heat a large saucepan over medium heat. Add vegetable oil. Add red pepper flakes, garlic and cilantro stems. Cook, stirring often for one minute. Add remaining ingredients and bring to a simmer. Simmer for 10 minutes, stirring often.

Add the wings to the oil and fry until cooked through, about 12 minutes. Drain on a paper towel. Once all the wings are cooked, toss them in the sauce and serve.