Get ready to have your life changed. This Caramelized Onion Dip with Bacon is sure to become a family favorite in an instant.
I've been obsessed with caramelized onions lately. It all started with this. I have to admit, I rarely used onions until the last few years. I hated them as a kid and could detect them if they weren't diced to almost nothing.
It drove my parents crazy so I'm sure they are quite pleased that karma is coming back to bite me with Noah (so far Hannah is pretty agreeable when it comes to food so let's all keep our fingers crossed for that one). I get it, he's 5 and picky like lots of kids but it's a bit soul crushing as a food blogger.
But I've found a way to trick him into eating onions without even knowing. I love tricking my people into eating food they say they don't like, I'm evil like that.
The caramelization process totally throws off the oniony flavor and crunch that he thinks is disgusting (yes, that is his exact word…we're not short on drama around here either).
Cooking them low and slow for nearly an hour turns them into the most delicious sweet and buttery condiment that is pretty much perfection on anything. Burgers, tacos, appetizers, they'll make anything better.
So after making a batch recently, I decided to combine them with some of my other favorite ingredients to make this crazy addictive Caramelized Onion Dip with Bacon. I mean, is there anything better than salty chips, sweet onions, smoky bacon and cream cheese?
Not much my friends, not much at all. And you could very well dip veggies in this yummy dip buuuut, chips always win for me. Sometimes you've got to treat yo self.
Dips are my favorite type of appetizer, or dinner if it gets out of control, especially when bacon is involved. This Caramelized Onion Bacon Dip is going to be our new go to dip for get togethers and football season. It's seriously addicting!
It takes a bit of time to put together since caramelizing onions isn't a fast process but after that it's a simple dump and stir recipe. If you are in a hurry, you can sprinkle a bit of white sugar over the onions to speed up the caramelization.
I definitely recommend caramelizing an extra onion or two to use throughout the week.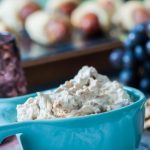 Print
Caramelized Onion Dip with Bacon
Caramelized Onion Dip with Bacon is sure to become a family favorite in an instant. Creamy dip, sweet onions and smoky bacon.
Ingredients
2

Tbsp.

butter

2

large

sweet onions

1/4

tsp.

kosher salt

A few cracks black pepper

4

slices

bacon, diced into small pieces

8

oz.

cream cheese, softened

3/4

cup

mayo

1

cup

sour cream

Chips, crackers or veggies for serving
Instructions
Cut the ends of the onions and peel off outer skin. Cut onions in half, lengthwise, then cut thinly into half moon shapes.

Meanwhile, heat a skillet over medium heat and melt the butter. Add the onions and stir to coat in butter. Cook, stirring every few minutes. After 10 minutes, add the salt and pepper. Continue cooking the onions, stirring once they start to stick and brown (don't let them burn). If the onions are starting to burn quickly, lower the heat to medium low. Cook for a total of 30 minutes to an hour (I cooked mine for about 45 minutes). Remove from pan and allow to cool.


In the same skillet, cook the bacon until crisp. Remove to a paper towel lined plate.


In a bowl, thoroughly combine the cream cheese, mayonnaise and sour cream. Fold in the caramelized onions and bacon. Refrigerate until ready to serve.