Are you down with the trend of turning everything into a bowl? I hope so because I love bowls and I'm so freaking excited to share these Greek Gyro Bowls with you today. Remember the Lemon Dill Rice from last week? Well, I took that delicious rice and piled homemade tzatziki, gyro meat and tomatoes on top to make a complete Greek meal that I'm still obsessing over. Seriously, I cannot stop thinking about this dinner.


The rice and tzatziki are loaded with lemon and dill bringing a light and bright flavor while the beef adds meatiness and richness. To bring in the very necessary pita from the gyro, I made pita chips. Because if you know me at all, I had to add some crunch (#chipsforlife).


I mentioned last week that I absolutely adore dill so I added a major amount to the tzatziki. It's so perfect with the cucumbers and creamy Greek yogurt. I even added it to the pita chips. Obsessed much?
There are several elements that go into creating this bowl but many can be made ahead of time, saving on your prep and cook time in the evening. The tzatziki actually tastes much better if you make it the night before so I definitely recommend that if you have the time beforehand.
The pita chips can also be made the night before and kept in an airtight container or zip top bag. Then just go ahead and hide the chips so you don't eat them all and have to make a new batch. Don't look at me, I have no idea why I would suggest such a thing.


To make the perfect bite, make sure you get a little bit of everything on your fork. Or better yet, on your pita chip (I told you guys it was a serious problem).
Let me warn you, if you plan on kissing somebody the day you eat this make sure they eat it too because you will have major garlic breath seeing that there is garlic in part of this meal. It's so worth the stinky breath though.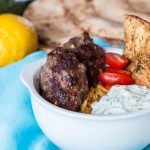 Print
Greek Gyro Bowls
Gyro Bowls are a delicious spin on the Greek classic. Lemon dill rice is topped with gyro meat, tzatziki, tomatoes and pita chips to make a complete meal.
Ingredients
1

recipe

Dill Lemon Rice*

recipe linked in post

1/2

pint

grape tomatoes, halved lengthwise
For the Pita Chips:
1

large

pita, sliced into 8 triangles

1 1/2

Tbsp.

olive oil

Kosher salt

Dried dill

Dried oregano

Garlic powder

Onion powder
For the Tzatziki:
1

english

cucumber, peeled and seeds removed

1/4

tsp.

kosher salt

1

large

garlic clove, grated

1/4

cup

fresh dill

1

cup

plain Greek yogurt

1/2

lemon, juiced
For the Gyro Meat:
1

lb.

ground beef

3

large

garlic cloves, grated

1/2

white

onion, grated

1/4

tsp.

kosher salt

1/4

tsp.

black pepper

1

Tbsp.

olive oil
Instructions
Preheat the oven to 350 degrees F. For the pita chips, line a baking sheet with foil and place pita triangles on the prepared sheet. Place the olive oil in a small bowl then brush it over the cut pita. Sprinkle with the listed herbs and spices to your liking. Bake pita chips for 8-12 minutes, or until golden brown and crunchy. Watch them carefully after 8 minutes as they can burn quickly.

For the tzatziki, slice the cucumber in half lengthwise and scoop out the seeds using a spoon. Grate the cucumber and place in a fine-sieve strainer. Squeeze as much liquid out of the cucumber then sprinkle with salt. Let stand over the sink for 30 minutes then squeeze again to get remaining liquid out. Meanwhile, mix garlic, dill, yogurt and lemon juice together. Stir in the shredded cucumber. Place in an airtight container and refrigerate until ready for use.


For the gyro meat, combine the beef, garlic, onion, salt and pepper in a bowl. Divide beef into 8 equal portions and shape into patties. Add olive oil to a skillet over medium-high heat. Place patties in the skillet and cook until browned, 2 to 3 minutes, then flip and cook another 2 to 3 minutes or until cooked through.


To assemble: divide the rice equally between 4 bowls. Top each bowl 1/4 of the tzatziki, 2 pita chips, 2 beef patties and tomatoes.