We're going Greek this month and I could barely stand waiting to share the recipe for this Lemon Dill Rice with you. I'm telling you, we are not big on rice at our house but both Joel and I couldn't stop talking about this for days.
I'm kind of addicted to fresh dill so I know that was a huge reason for my love of this rice. It's my very favorite herb on earth so I jump at any chance to use it. I've never used it in rice before so it made for a fun, unique new dish for us.
This Lemon Dill Rice takes about 30 minutes to make on the stove top. First, you saute onions and garlic in olive oil then add the rice and toast it slightly. Stir in dill, lemon zest and vegetable stock and bring it to a simmer, cover and cook until tender.
Lemon juice and more fresh dill are folded in at the end to add a bright freshness to the dish.


Not only is it lovely as a side dish but this Lemon Dill Rice combines with other Greek elements to make an amazing main dish that I'll be sharing very soon.
I'm seriously still dreaming about it weeks later (and possibly drooling…). It was the best dinner I've made in quite awhile and everybody ate it without complaining (although there was ketchup involved for Noah, oh that dang ketchup…I should start buying in bulk).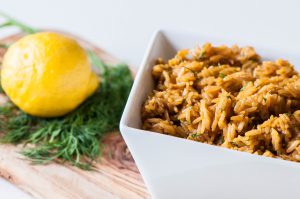 Lemon Dill Rice
2016-04-02 01:19:18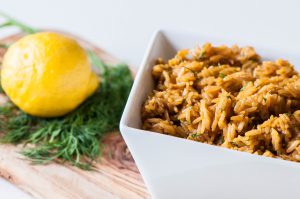 Ingredients
2 Tbsp. olive oil
1/2 medium onion, finely diced
3 garlic cloves, finely minced
1 lemon, zested and juiced
1 cup basmati or jasmine rice
2 cups vegetable stock
1/4 cup fresh dill, chopped and divided
1/2 tsp. salt
Instructions
Add olive oil to a skillet over medium heat. Add onions and saute for 3 to 5 minutes, until softened. Add garlic and cook 1 more minute. Stir in lemon zest and rice and cook another 2 minutes to slightly toast the rice.
Stir in the vegetable broth, half of the dill and salt. Bring to a boil then lower the heat to a simmer, covering with a lid. Cook for 15 to 20 minutes, until rice is tender.
Stir in the remaining dill and lemon juice to desired taste. We only used half the lemon juice but the lemon was juicer than normal.
Adapted from A Family Feast
Meg's Everyday Indulgence https://www.megseverydayindulgence.com/