This might be the brunch item of my dreams. I'm not normally a sweet breakfast kind of person and will almost always choose to start my morning with something savory. Except when it comes to this Cream Cheese Blackberry Braid. It's so stinking easy to make yet it looks like you slaved all morning to prepare it.


You only need a few, common ingredients to make this fancy pants braid and I'm betting you have most of them at home already. The only somewhat unusual ingredient is the frozen puff pastry which I totally think should be a freezer staple. I always have a box of it in my freezer for things like this braid or easy weeknight "hot pocket" type dinners.
Thaw it, stuff it with whatever meat and veggies you have in the fridge, bake and dinner is on the table. I'm telling you, it's a must.
But back to the braid, puff pastry, cream cheese, vanilla, sugar, jam, eggs and almonds. That's it to make this little beauty.


And it's kind of like you're doing a craft and baking at the same time. I don't know about you but that's a total selling point for me. The kids would love to help out with this one too. It may not end up as pretty but it's still a pastry stuffed with cream cheese and jam so it's not going to be bad.


The braid starts with frozen puff pastry which is then spread down the middle with sweetened whipped cream cheese.


Then spread some good quality blackberry jam (or whatever fruit jam you prefer) over the cream cheese layer.
Then comes the fun part, the braid.


First, cut each side on the diagonal 1 inch apart, making sure they are even on each side.


Starting at one end, fold in the first cuts (the little triangles at the end).


Then fold, alternating sides, to create the braid effect.


So adorable and easy, right?


The braid is then brushed with an egg wash, sprinkled with sliced almonds and baked to golden perfection.


You could use any jam or preserves that you have on hand or if you want to get crazy, pull out the Nutella. Whatever you choose to fill it with, do it now. You're going to love it.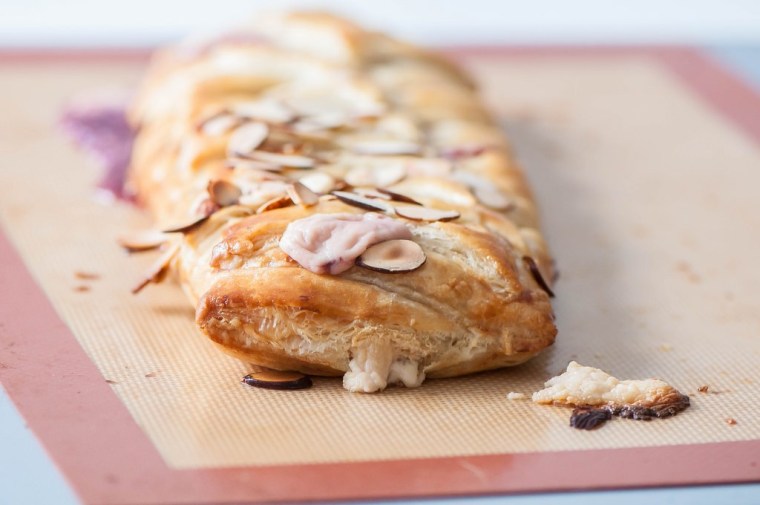 Cream Cheese Blackberry Braid
2016-03-24 01:54:18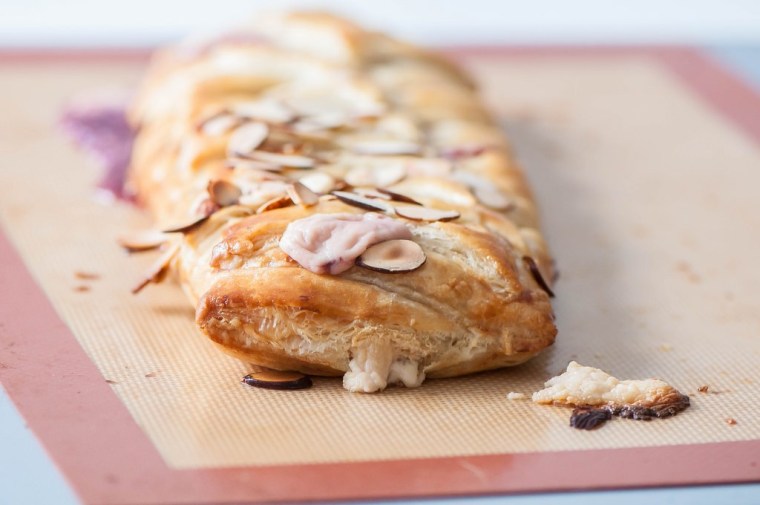 Ingredients
1 sheet puff pastry, thawed
1/2 cup whipped cream cheese
1 tsp. vanilla
1/2 Tbsp. sugar
1/4 cup blackberry jam, or whatever suits your taste
1 egg
1 Tbsp. water
1/4 cup sliced almonds
Instructions
Preheat oven to 400 degrees F. Place puff pastry on a parchment lined baking sheet. In a small bowl, gently fold together cream cheese, vanilla and sugar. Spread evenly down the center of the puff pastry. Next, spread the blackberry jam over the cream cheese mixture. If your jam is particularly thick, you can microwave it for 10-15 seconds then stir, to thin it out a bit.
On each side, cut puff pastry on the diagonal about an inch apart. Make sure you have the same amount of cuts on each side. Fold in first cuts (they are triangles at the end) and press gently to seal. Fold, alternating sides, to create a braid pattern. Proceed until all slices are folded then gently press the ends closed.
In a small bowl, mix egg and water. Liberally brush braid with egg wash. Sprinkle with sliced almonds.
Bake for 20 to 25 minutes, or until golden brown and puffed.
Notes
Noah said this tastes like 800 yums.
Meg's Everyday Indulgence https://www.megseverydayindulgence.com/