I love these little BBQ Turkey Meatloaf Muffins. They mini size really is the only way I make meatloaf these days. The individual portion makes them easier to serve (especially with kids) and the smaller size means they cook much faster making them a perfect option for weeknight meals.


You could even mix them up and portion them into the muffin tin the night before then all you would have to do the day of is top them with barbecue and bake them. I'm all about prep and getting things done while the kids aren't hanging on me.
Well, if Hannah's around that means she's on the counter doing everything, which means it takes twice as long and makes 4 times the mess. I'm all about getting the kids in the kitchen but it's really difficult when your sous chef is 2 and super bossy.
Soo, as much as I like to encourage them being in the kitchen with me there are definitely days that I like to get as much done as possible without them around.


I made a couple swaps to make these meatloaves a healthier option for the new year. Instead of ground beef, I chose to use ground turkey and I used whole wheat breadcrumbs instead of regular ones.
The fact that they are already portioned out helps you not to overeat too. The barbecue sauce adds calories and sugar so you could leave that off if you choose, or use just enough to brush the tops. Even with all these healthy swaps, they are still moist, flavorful and really tasty.
Serve them with some roasted veggies and a green salad to round out the meal and keep it on the lighter side. Or serve them with mashed potatoes because I'm pretty sure they are best friends with meatloaf. You do you.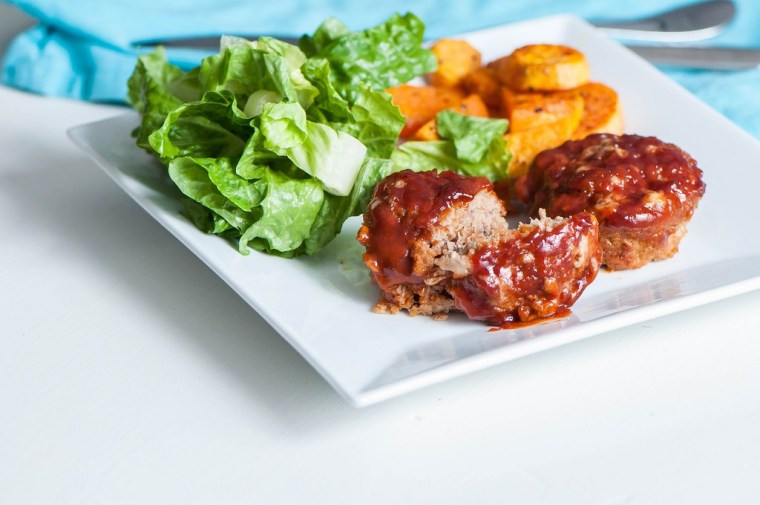 BBQ Turkey Meatloaf Muffins
2016-01-10 19:49:45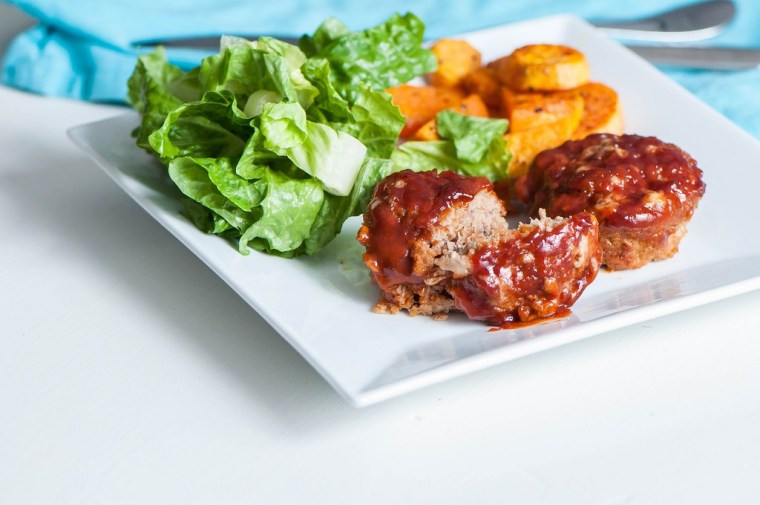 Ingredients
1/2 onion, grated
1/3 cup whole wheat bread crumbs
1 egg
1/4 tsp. S&P
1 Tbsp. Worcestershire
1 Tbsp. ketchup
1 Tbsp. mustard
1 lb. ground turkey
3/4 cup BBQ
Instructions
Preheat oven to 400 degrees F. Spray a muffin tin with nonstick spray.
In a large bowl, mix grated onion, breadcrumbs, egg, salt, pepper, Worcestershire, ketchup and mustard. Crumble the ground turkey over it and mix until just combined.
Using an ice cream scoop, portion meatloaf mix into the muffin tins. You should get 10 mini meatloaves. Flatten the tops of each meatloaf and top each with 1 tablespoon of barbecue sauce.
Bake for 20 minutes, or until cooked through.
Meg's Everyday Indulgence https://www.megseverydayindulgence.com/