My favorite way to eat cauliflower is roasted. It gets brown and crispy in the oven which brings out its sweetness. I always simply toss it with olive oil, salt and pepper but while I was looking for some interesting Indian recipes to try, I came across this spiced cauliflower that looked too good not to try.


I really enjoyed this Indian-Style Roasted Cauliflower but got a thumbs down from the rest of the family. Like, literally Noah gave me a thumbs down when I asked him how he liked it. I'm trying people but I think maybe the curry was just pushing it too far with my people.


The combination of coriander, cumin, turmeric and curry brought an incredible earthy, yet sweet flavor to the cauliflower. Cooking it at a high temperature caramelized bits of it and brought out even more sweetness and a nice, crispy texture.
After the cauliflower is roasted, it is tossed with fresh, grated ginger and lime zest to bring a freshness to it and brighten up the flavors. I ate it all by myself in two sittings with zero guilt. It would be wonderful served alongside the cucumber raita I shared last week and another Indian recipe I'm excited to share with you later this month.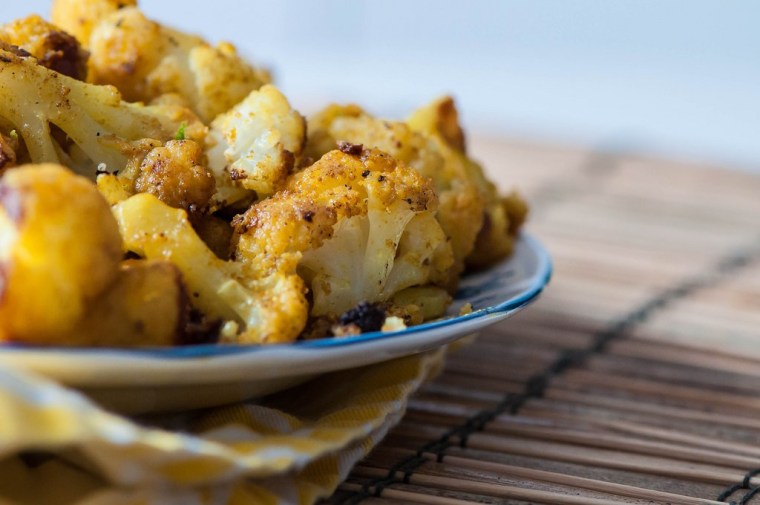 Indian-Style Roasted Cauliflower
2016-01-10 20:26:10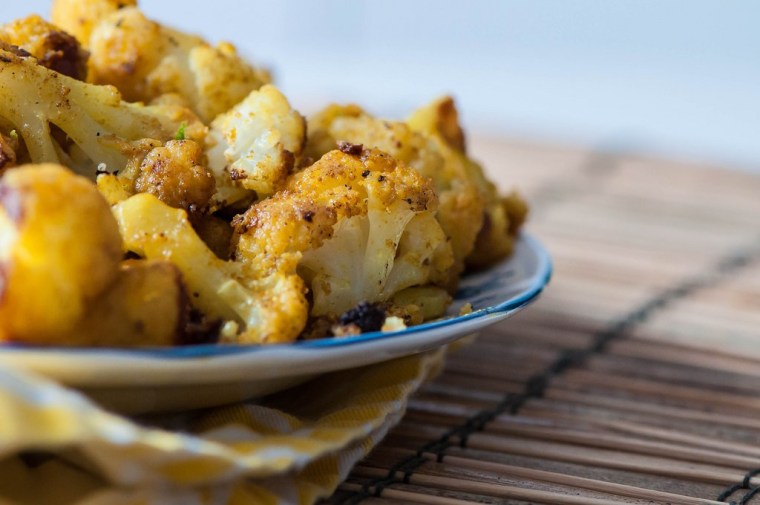 Ingredients
2 Tbsp. olive oil
1/2 tsp. ground coriander
1/2 tsp. cumin
1/2 tsp. curry
1/2 tsp. turmeric
Kosher salt and fresh ground black pepper
1 head cauliflower, cut into bite-size florets
1 tsp. fresh grated ginger
1 lime, zested
Instructions
Preheat oven to 450 degrees F. Place cauliflower on a rimmed baking sheet. Drizzle with olive oil and toss with hands.
In a small bowl, mix the spices. Sprinkle over the cauliflower and mix until completely covered.
Roast in oven for 10-15 minutes, until edges start to brown. Flip and roast another 10-15 minutes, until edges are browned and crispy.
Remove from oven and toss with fresh ginger and lime zest. Serve.
Adapted from Bon Appetit
Meg's Everyday Indulgence https://www.megseverydayindulgence.com/