Garlic Confit Bread is the perfect accompaniment to your favorite pasta dish. Garlic is slow cooked in butter than smashed over the bread.
I am still in a funk since vacation, we just can't seem to get into the swing of things. But I seriously need to get my act together and get us on schedule since Noah starts kindergarten in a WEEK. Any advice from experienced parents is more than welcome!

I'm creating a little Velcro morning schedule for the front of the fridge with everything he needs to do before we can get out the door and I'm thinking we'll start practicing now so that we *hopefully* can have a smooth routine in place before we start for real. If anyone is interested in seeing the final product, let me know.
We'll find out who his teacher is this week and have an open house at school where we will meet her and see his classroom on Friday night. I also have to get some back to school clothes shopping done this weekend. Here in Nebraska, they provide school supplies which is nice but also kind of a bummer because I always thought it was fun to pick out notebooks and pencils and such when I was a kid. Like a rite of passage for the school year.
Are you all getting tired of me constantly talking about school yet? Can you tell it's the only thing on my mind lately and I can't think of anything else to talk about. I'd like to tell you it will stop soon but once he starts I'm sure that will still take up a lot of my brain. Also, is it bad that every time I think about it I feel like I might throw up a little? There's a Boo-Hoo breakfast after drop off on the first day and I'm pretty sure I'm going to embarrass myself with the ugly cry.

Enough of my blabbering already. Let's get to this bread. Because this bread can totally uplift your spirits.
When you cook something confit style, it means the item is cooked at low temperature in some kind of grease, oil or fat. In this case, the garlic is slowly cooked in butter until it is soft and spreadable and the butter is infused with all the garlic goodness. Then a bunch of parmesan is mixed in and slathered on a fresh baguette.
Ain't nothing wrong with that.
We'll definitely be inhaling this on the first day of school with some lasagna or spaghetti (lasagna was always our first day of school meal growing up).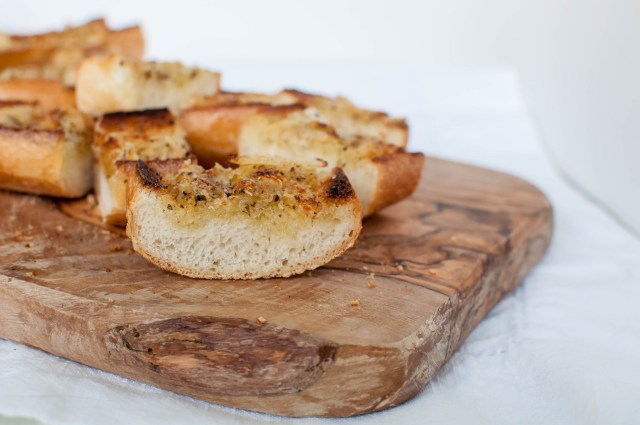 Garlic Confit Bread
2016-11-11 10:22:42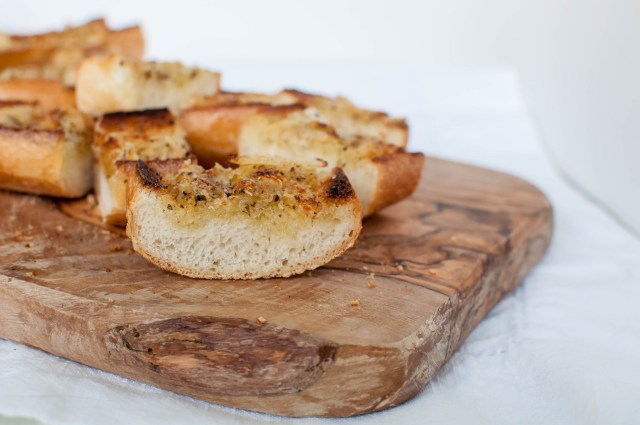 Ingredients
1 head garlic, cloves peeled
1 stick unsalted butter
1 cup grated Parmesan
2 teaspoons chopped oregano
Kosher salt
1 baguette
Instructions
1. Cook garlic in butter in a small covered saucepan over medium-low heat until golden brown and very soft, 15−20 minutes. Transfer to a medium bowl; let cool.
2. Add Parmesan and oregano to garlic and mash to a paste; season with kosher salt
3. Heat broiler. Slice baguette in half lengthwise, then crosswise. Broil, cut side down, on a foil-lined baking sheet until golden brown, about 2 minutes (watch carefully). Let cool slightly, then spread cut side with garlic paste. Broil until cheese is golden and bubbling, about 2 minutes. Slice.
Adapted from http://www.bonappetit.com/recipe/garlic-confit-toast
Adapted from http://www.bonappetit.com/recipe/garlic-confit-toast
Meg's Everyday Indulgence https://www.megseverydayindulgence.com/