I have always loved chicken cordon bleu but it can be a lot of work to pound out, layer, roll, bread and cook. With two wild kids running around I just don't have time for that. So instead, I decided to skip the stuffing and rolling for a more simplified approach that still had the same flavor profile.


It starts with a breaded chicken breast that is pan fried in a bit of olive oil then spread with Dijon mustard and topped with ham and aged Swiss cheese. It's my new favorite way to eat chicken and I haven't stopped dreaming about it since I made it on Thursday.
And what makes a simple yet fancy dinner better? Wine. Recently, I was contacted by Wine Chateau with a fun opportunity to create a recipe to pair with three different bottles of wine. Gladly, they weren't looking for a wine expert so it was a go for me.
They have two retail stores in New Jersey and a website with an enormous selection of wine and spirits. I love that the website is broken down into sections by color and where the wine was made. When you make a selection, it gives you information about the region and flavors you will taste in the wine. I am nowhere near a wine expert so I always like having that information to help me make my selection.


I received three different bottles of Chardonnay, America's most popular wine, to pair with my chicken dish, ranging from about $10 to $30 dollars. I fully expected to enjoy the Jordan the most since it was the priciest of the three but it was too overpowering for our taste.
We liked the Errazuriz Wild Ferment Chardonnay, the mid-range priced, the best with the chicken cordon bleu. It was bright and acidic but not overpowering and I thought it went well with the sharp Swiss cheese and mild chicken and ham.


The Hawk Crest Chardonnay was my least favorite of the three. It was a bit too acidic and strong for my taste. I've always preferred something sweeter and this had too much punch for me. I loved experimenting and trying different brands of the same type of wine with a dish to see how they played together. I feel like I learned more about the subtle flavors that came out and which we seemed to prefer.
Having the ability to go to the website and read the descriptions of the wines I now feel more knowledgeable about what to look for when I'm pairing wine to a dish.
If you can, I would definitely recommend buying a few bottles of wine and trying this out for yourself. It turned out to be a great little date night at home, sitting at the table sharing a plate of chicken and three glasses of wine. Make sure to check out Wine Chateau for a large array of choices for your next dinner party. I think wine and cheese is next on our list!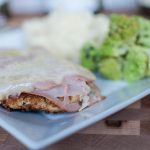 Print
Simple Chicken Cordon Bleu
Simple Chicken Cordon Bleu is paired with three different chardonnay's. What's better than white wine and chicken?
Ingredients
4

chicken cutlets

4

Tbsp.

olive oil

1/4

cup

all-purpose flour

1

egg, whisked

1

cup

panko bread crumbs

1/2

tsp.

garlic powder

1/2

tsp.

onion powder

2

tsp.

dried parsley

1/2

tsp.

kosher salt

1/4

tsp.

black pepper

4

Tbsp.

Dijon mustard

8

slices

deli ham

4

slices

aged Swiss cheese
Instructions
Heat a skillet over medium heat. Meanwhile, gather three shallow dishes (I use pie plates). Place flour in one shallow dish, egg in another and panko, garlic powder, onion powder, parsley, salt and pepper in the last one.

Dredge the chicken cutlets in flour, then dip in egg and dredge in breadcrumb mixture.


Add olive oil to preheated skillet and carefully place chicken in the pan. Cook for 2-3 minutes per side, until golden brown and cooked through.

Remove from pan and place on a paper towel lined plate to drain. Spread each cutlet with 1 tablespoon of Dijon mustard then layer with 2 pieces of ham and a slice of cheese. Place on a foil lined baking sheet and put under broiler until cheese is lightly browned and bubbly.
*Disclaimer: The wine was provided to me free of charge by Wine Chateau but as always, all opinions are my own.