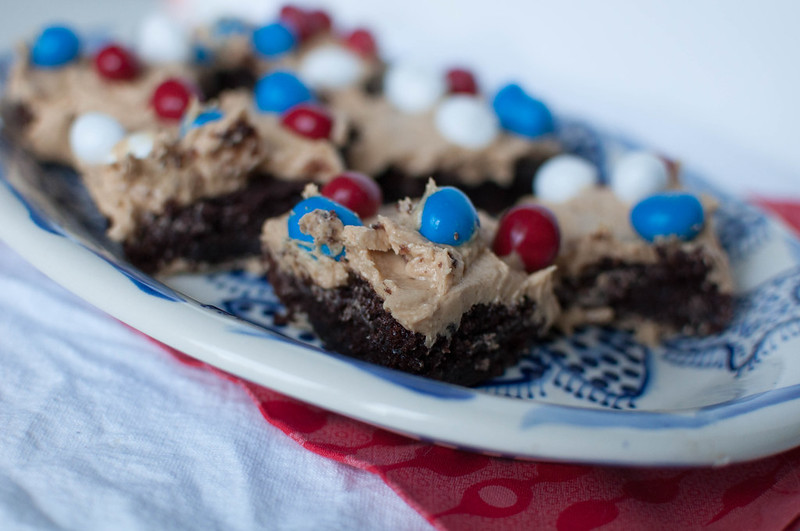 You know how you run into Target for 2 things and leave with 10. Well, these patriotic M&M's where one of the additional things on my latest trip. What is it about that place? Everything is so shiny and bright and hard to resist. I don't know how they do it but they get me every time with those seasonal end caps.
I was literally rushing through the store since Joel and the kids were waiting in the car and as I walked past the display my arm just went out and grabbed them. Like I didn't even have control over it. Some kind of crazy hypnotism mind and body altering business going on there. But I like it. Joel probably doesn't but I do all the shopping so that's his price (literally) to pay.
I've had these hidden in the depths of the pantry for a couple weeks so my children didn't find them because I'm pretty sure they are bloodhounds and their hunt is for chocolate. Even the babe knows what's up.


I know I've said it a million times but I love peanut butter and chocolate together. And a brownie slathered with peanut butter frosting, I'm pretty sure they'll be served in Heaven. I didn't think they could get better but then I added peanut M&M's. I love the crunch they add to the chewy brownies and creamy frosting.
After the first bite, I quickly cut a row to save for home and sent the rest with Joel to work. Because I can resist a lot of desserts but I knew these would own me.
For more patriotic ideas to celebrate the 4th, check out the end of the post.
Patriotic Peanut Butter Frosted Brownies
2016-02-22 19:11:11
Ingredients
1 box brownies, plus required ingredients (13x9 size)
1 stick butter, at room temperature
1 cup peanut butter
1/4 tsp. salt
1 tsp. vanilla
1 1/2 cups powdered sugar
1 bag patriotic peanut M&M's*
Instructions
Prepare and bake brownies according to package directions. Allow to cool.
2. Meanwhile, beat butter and peanut butter together in a mixer until combined. Add salt and vanilla and combine again. Add powdered sugar and combine slowly. Once powdered sugar has been incorporated, turn mixer on medium high and beat for about 2 minutes, until light and fluffy.
3. Spread peanut butter frosting on cooled brownies and sprinkles with M&M's.
Notes
*If I remember correctly, these M&M's were sold exclusively at Target. Oh darn, you'll have to make a Target run.
Meg's Everyday Indulgence https://www.megseverydayindulgence.com/
Check out these other patriotic treats.
Patriotic Pudding Pops


Patriotic Funfetti Whoopie Pies


Patriotic Fruit Skewers


Red, White and Blue Layered Milkshake


4th of July Rice Krispie Cupcakes