Joel and I went out on a date last month and we ate at one of our favorite Italian restaurants in town. When we go there, I always get the same thing. It's just so good I can never bring myself to order anything else. But this time I was determined to go out of my comfort zone and get something totally different.
Red sauce is not my favorite, I know, how un-American of me. That combined with not being a huge fan of chocolate should get me thrown out. Anyway, it's something I have to be in the mood for to really enjoy.
Well, when I read the description of a sugo sauce made with cabernet, spicy sausage and pepperoni over penne I was won over. I had never had a sugo sauce before and was intrigued. I'm so glad I tried it and knew right away I would have to try a version at home.


For this recipe, I skipped the sausage and pepperoni since I was serving it over homemade ravioli and thought that was decadent enough.
This is a really simple recipe using common ingredients you probably already have in your pantry. Onions and garlic are sautéed then simmered for an hour with whole tomatoes, herbs and a good amount of red wine. The result is a rich, full sauce with a hint of red wine in the background.
From what I can find, a chunky sauce seems pretty traditional but that just doesn't fly around here so after simmering I zapped it in the blender until smooth. Do whatever floats your boat. Or whatever doesn't elicit complaints.


I can't wait to try this with spicy sausage and diced pepperoni, served over fresh linguine.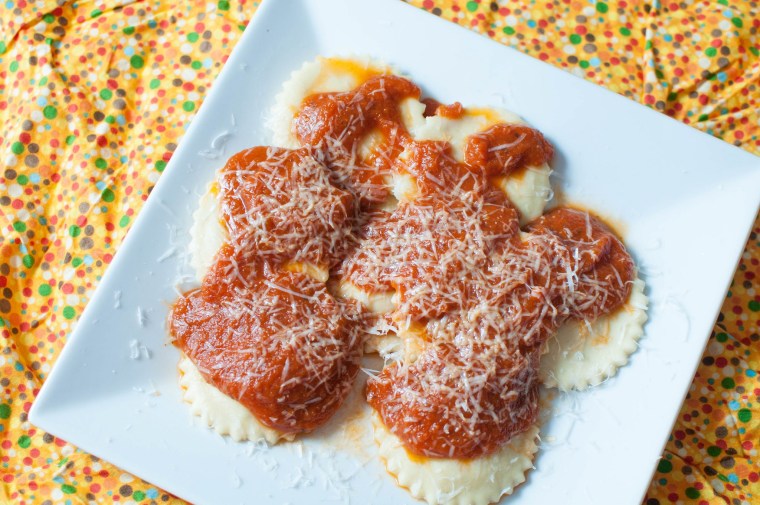 Sugo Sauce
2016-02-25 01:15:20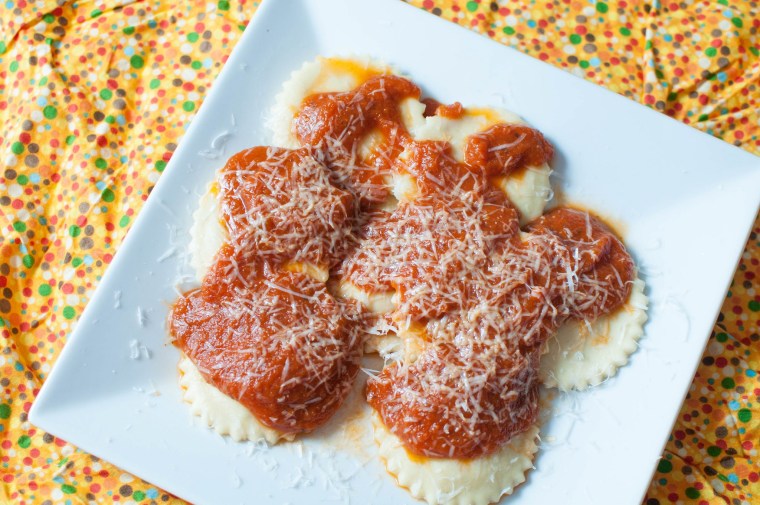 Ingredients
2 Tbsp. olive oil
6 cloves garlic, minced
1 medium white onion, minced
1/4 tsp. red pepper flakes
1/2 tsp. kosher salt
3 (28 oz.) cans whole tomatoes
1 Tbsp. dried basil
1/2 Tbsp. dried oregano
1 bay leaf
1 Tbsp. sugar
1 cup red wine
Instructions
Heat olive oil in a large stock pot or dutch oven over medium heat. Add onion and cook for 5 minutes, until translucent. Add garlic, red pepper flakes and salt and cook for another 5 minutes, stirring often.
Add remaining ingredients to onions and garlic. Using a potato masher, break up the tomatoes. Simmer on medium low for 1 hour. If you like a chunky sauce, it's done. If you prefer a smoother sauce, fish out the bay leaf and pour sauce (in batches) into a blender and blend until desired consistency is reached. Serve over pasta.
Adapted from Epicurious
Meg's Everyday Indulgence https://www.megseverydayindulgence.com/