Hands down, Joel's absolute favorite chain pizza is Pizza Hut. He loves all the cheese, meat and grease that comes along with it and I will admit, it's good but it's definitely not the kind of pizza you want all the time. I do love their breadsticks though.


I have always kind of wondered who it was that thought up bread as an appetizer to bread covered in sauce, cheese and other goodies. Not that I'm complaining….I'm pretty glad someone came up with that not so original thought.
When I made this pepperoni sauce recently, I knew it needed some kind of delicious dipper to go alongside of it. Ya know, to continue with the carb on carb idea.
These popped into my head and I was pretty sure they would be a big hit. And they were.


They were crispy on the outside and soft and fluffy on the interior. Just perfect and incredibly close to the original! These will definitely be a staple around here.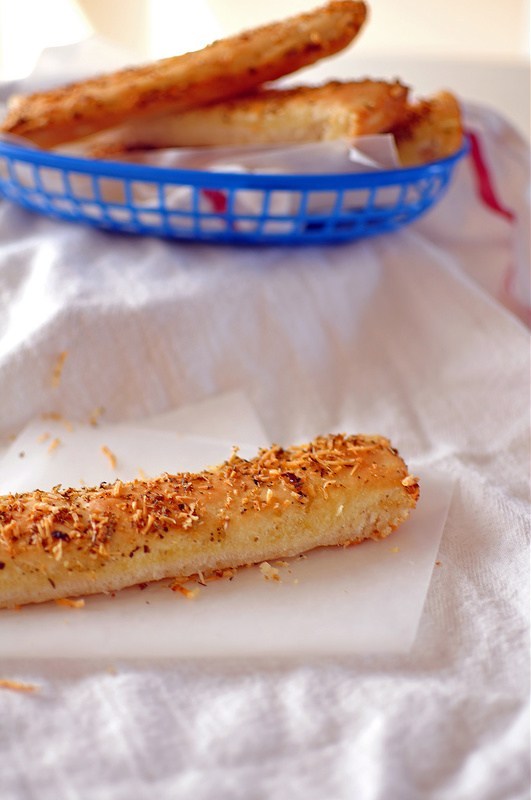 Pizza Hut Breadsticks
2016-01-30 01:42:20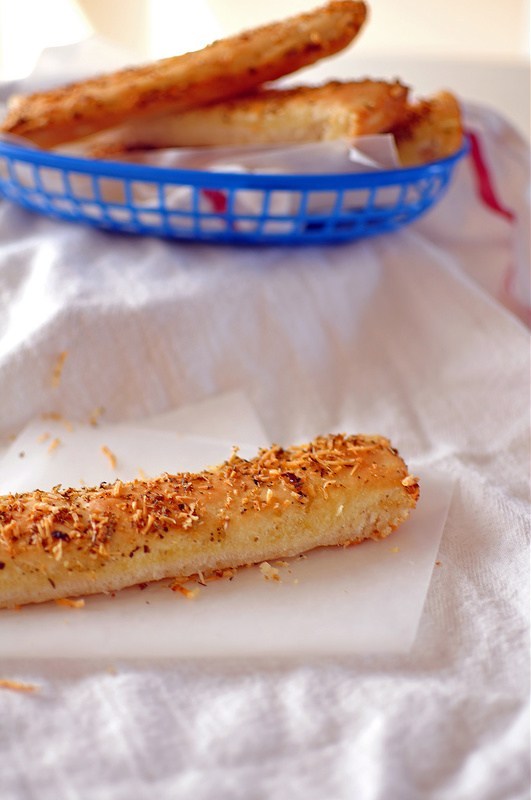 For the dough
1 1/3 cups warm water (105 degrees)
1/4 cup Non-fat dry milk
1/2 tsp. salt
1 Tbsp. sugar
1 package instant dry yeast
4 cups flour
2 Tbsp. vegetable oil
3-6 Tbsp. olive oil
For the seasoning
2 Tbsp. butter, melted or olive oil
2 Tbsp. dry parmesan cheese
1 Tbsp. onion powder
2 tsp. oregano
2 tsp. garlic powder
1/2 tsp. garlic salt
1 tsp. basil
Instructions
Combine the dry milk, salt, sugar and yeast in the bowl of a mixer fitted with a dough hook. Stir in water and let sit for about 5 minutes or until foamy. Mix in vegetable oil. Slowly add flour and knead for 4-5 minutes in the mixer.
Turn dough out onto a lightly floured surface then divide in half. Spread 3 Tbsp. olive oil into a 13×9 pan then roll out one dough ball so that it will fit in the pan. Place it in the pan and let it rise until doubled in size, about 1 1/2 hours. At this point, you can do the same with the second dough ball or place it in the freezer for future use.
Preheat oven to 450 degrees F. Cut the dough into 10 equal sized breadsticks (I used a pizza cutter). Brush with 2 Tbsp. melted butter or olive oil. Combine parmesan cheese, onion powder, oregano, garlic powder, garlic salt and basil then sprinkle over the pan of breadsticks.
Bake for 8-10 minutes, until the edges are brown and crispy.
Adapted from One Simple Way
Meg's Everyday Indulgence https://www.megseverydayindulgence.com/