The combination of flavors in these Banana Biscoff Muffins will totally blow your mind. Sweet bananas and cinnamon cookie vibes all the way.
This post may contain affiliate links. For more information, please read my disclosure policy.
I haven't posted a muffin recipe in almost 3 months. I think that may be a new record for me.

We always seem to have tons of bananas sitting around so I love using them up in banana bread and of course, muffins! So when I saw this recipe for Banana Biscoff Muffins I knew we needed to give it a try.
What is Biscoff Spread?
This recipe immediately grabbed my attention because of the use of biscoff spread. If you have never tried this, you must run out and get some right away.
Biscoff spread consists of ground up cookies with other ingredients that we don't want to talk about to make a creamy or crunchy spread that tastes absolutely amazing.
It's literally like a cinnamon cookie in spreadable form. There's just nothing wrong about that.
I may or may not have eaten it straight out of the jar…. Maybe we shouldn't talk about it anymore.
Ingredients for Banana Biscoff Muffins
The ingredients are pretty simple to make these Banana Biscoff Muffins. Here's what you need:
As with banana bread, brown speckled bananas are best. They are so sweet and have the best banana flavor. If you need them to ripen faster you can put them in a paper bag or even roast them in the oven.
The banana and cinnamon-y cookie combination is simply delicious and makes for the perfect quick breakfast or snack on the go!
Sometimes I have a hard time finding crunchy biscoff spread so you can use the creamy version too. But the crunchy is sooo much better in my opinion so grab it if you can find it.
How to Make Banana Biscoff Muffins
If you have a stand mixer, grab it out for this recipe. Cream together the bananas, biscoff spread, eggs and vanilla extract. You'll want to run the mixer on medium for about 3 minutes.
You need to do this for two reasons. First, as the mixture creams, it breaks down the sugar granules. Second, it whips air into the batter which will result in a lighter, fluffier muffin.
Add the dry ingredients and mix until they just mix in. Don't overmix at this point because it will result in a tough muffin.
Bake for 15 to 20 minutes. Check them at 15 minutes with a toothpick. No overbaking here.
More Muffin Recipes You Need in Your Life: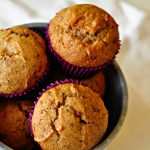 Print
Banana Biscoff Muffins
These Banana Biscoff Muffins are the perfect mix of banana and cinnamon featuring a favorite, biscoff spread, also known as cookie butter.
Ingredients
1

cup

mashed bananas, about 2

3/4

cup

crunchy biscoff spread (also known as cookie butter)

2/3

cup

granulated sugar

2

large

eggs

2

tsp.

vanilla extract

2

tsp.

baking powder

1

tsp.

baking soda

1/4

tsp.

kosher salt

2 1/2

cups

all-purpose flour
Instructions
Preheat oven to 350 degrees F. Line a muffin pan with liners or spray with nonstick spray. Set aside.

In the bowl of a mixer, combine mashed banana, biscoff spread, sugar, eggs and vanilla extract. Beat at medium speed until light and fluffy, about 3 minutes. Add baking powder, baking soda and salt. Mix well. Add flour and mix until it just comes together.

Using an ice cream scoop, evenly divide the batter among the muffin cups. Bake for 15 to 20 minutes, until a toothpick comes out clean.