During our trip to the North Shore of Lake Superior, we bought some delicious, pure maple syrup from the guy who actually made it. We got to see the taps and system that he used to extract the syrup and cook it up. Since then, I have been on the hunt for ways to use it besides the typical pancakes or french toast.
When I found this maple pecan chicken recipe, I thought it would be worth a try even though I had a feeling I wouldn't like it all that much. Why you ask? Because this is yet another one of those dishes that I always swore I didn't like….until I actually tried it.
The combination of meat/poultry and nuts just sounded too weird to me but turns out it is quite good. The nuts, along with the panko, add a nice texture to the chicken. The maple flavor is noticeable but not overpowering. I think next time I may switch out the mayonnaise for mustard to make it even healthier.


This is a wonderfully easy, no-fuss meal for fall that is ready in less than 30 minutes. Make sure to prepare extra because it is great for lunch the next day over a bed of mixed greens with a little honey mustard dressing drizzled over the top. Yum!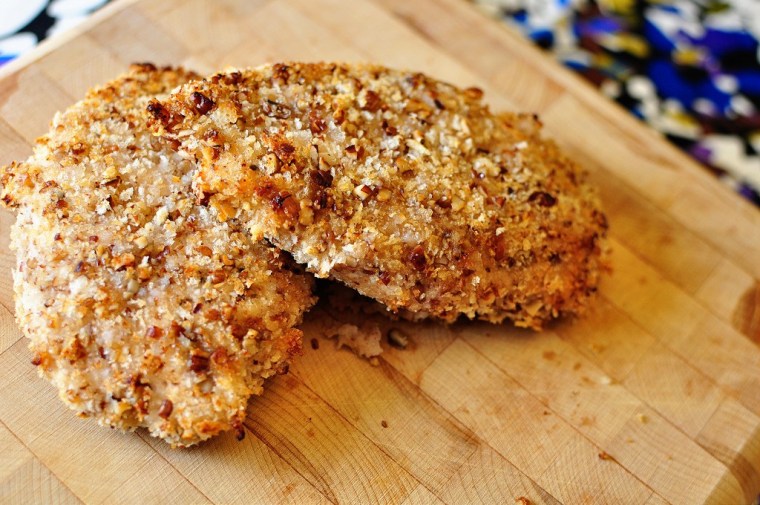 Maple Pecan Chicken
2016-03-24 02:53:49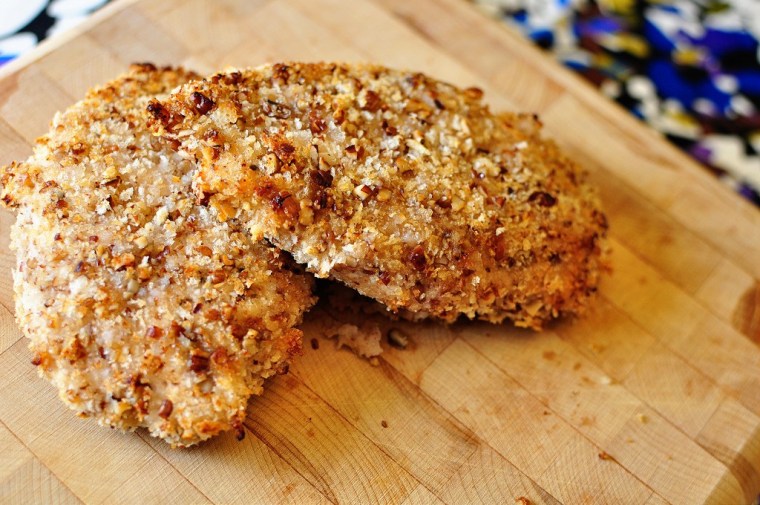 Ingredients
4 boneless skinless chicken breasts (about 1 1/4 lb)
1/4 cup pure maple syrup
2 Tbsp. mayonnaise
1/2 cup panko bread crumbs
1/2 cup finely chopped pecans
Instructions
Heat oven to 400°F. Line baking sheet with foil; spray with cooking spray. Between pieces of plastic wrap or waxed paper, place each chicken breast smooth side down; gently pound with flat side of meat mallet or rolling pin until about 1/2-inch thick.
In shallow dish, mix together maple syrup and mayonnaise. In another shallow dish, mix together panko and pecans. Dip chicken into syrup mixture, then into panko. Place on baking sheet. Spray top of chicken with cooking spray.
Bake 15 to 20 minutes, turning once, until juice of chicken is clear when center of thickest part is cut (165°F) and coating is golden brown.
Adapted from Betty Crocker
Meg's Everyday Indulgence https://www.megseverydayindulgence.com/