I realized I haven't made anything from my amazing Classic Southern Desserts Cookbook in quite a long time so when I needed to whip up something for a recent get together, I grabbed it out and scoured the pages for something simple and delicious.
The first recipe I made from this cookbook was Lemon Bars and looking back at that post made me realize how much my photography has improved in a year. Those pictures were awful. I am going to have to make those again but just for the sake of my photography….


These Turtle Bars didn't disappoint. With a brown sugar cookie base, pecan halves, simple homemade caramel and lots of chocolate I really don't know how they could.
I decided to take these bars and my camera outside for a little change of pace in my food photography. It was a gorgeous day so I relaxed out on the deck taking in some warm rays and the beautiful view.
Look what I saw while I was out there shooting these bars.


I love all of the amazing wildlife our little pond brings to our backyard view. There is a beautiful blue herring that comes back every summer that I have been trying desperately to get a picture of and still haven't succeeded. It's my mission by the end of the summer.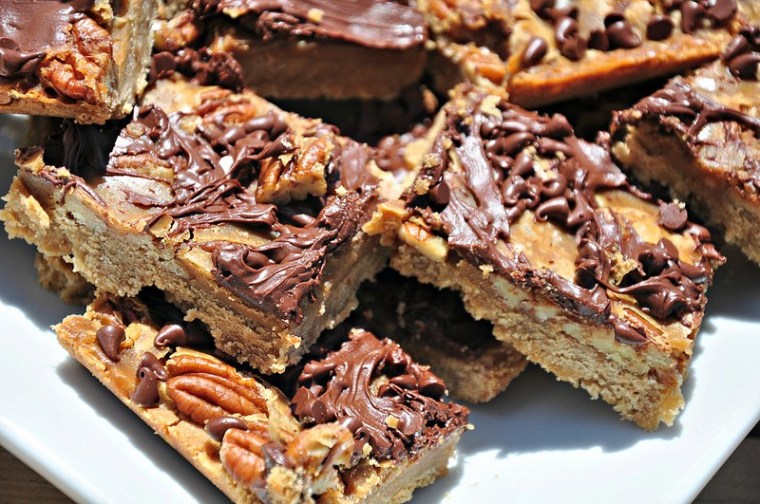 Turtle Bars
2015-10-08 19:00:10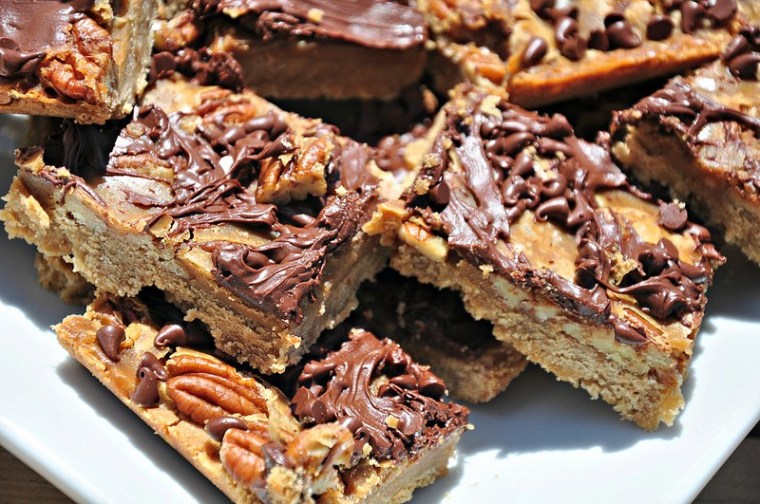 Ingredients
2 cups all-purpose flour
1 cup firmly packed brown sugar
1/2 cup butter, softened
1 cup pecan halves (I think I will use 1/2 cup more next time)
2/3 cup butter
1/2 cup firmly packed brown sugar
1 cup milk chocolate chips (I used semi-sweet instead)
Instructions
Preheat oven to 350 degrees F. Combine first 3 ingredients in a mixing bowl; beat at medium speed with an electric mixer until blended. Pat mixture firmly into an ungreased 13- x 9-inch pan. Arrange pecan over crust.
Combine 2/3 cup butter and 1/2 cup brown sugar in a saucepan; bring to a boil over medium-high heat, stirring constantly. Cook 3 minutes, stirring constantly. Pour mixture over pecans. Bake for 15 to 17 minutes or until golden and bubbly.
Remove from oven; sprinkle with chocolate chips. Let stand 2 to 3 minutes or until slightly melted. Gently swirl chocolate with a knife, leaving some chips whole (do not spread). Let cool on wire rack at room temperature until chocolate is set (about 2 hours). Cut into squares.
Adapted from
Classic Southern Desserts: All-Time Favorite Recipes for Cakes, Cookies, Pies, Puddings, Cobblers, Ice Cream & More
Adapted from
Classic Southern Desserts: All-Time Favorite Recipes for Cakes, Cookies, Pies, Puddings, Cobblers, Ice Cream & More
Meg's Everyday Indulgence https://www.megseverydayindulgence.com/