This Extra Crispy Spicy Fried Chicken is sure to become a family favorite. Great for potlucks or any night of the week.
This post may contain affiliate links. For more information, please read my disclosure policy.
A Fun Challenge – Spicy Fried Chicken
When I saw that the "recipe" for this month's Crazy Cooking Challenge was fried chicken I may have let out a little squeal. I will full-heartedly admit that fried chicken is my favorite food.
Like last meal kind of favorite.
What's not to love about glorious fried chicken? I mean, it's crunchy, juicy, greasy, salty…everything that is delicious and good in the world.
As much as I love fried chicken, I very rarely eat it and almost never make it homemade. I pretty much never fry food at home so it is usually just an indulgence when we go out to eat.
But I was more than happy to give it an attempt at home for the sake of the Challenge. Oh the sacrifices we make.
And it will continue to happen because this recipe is ridiculously good.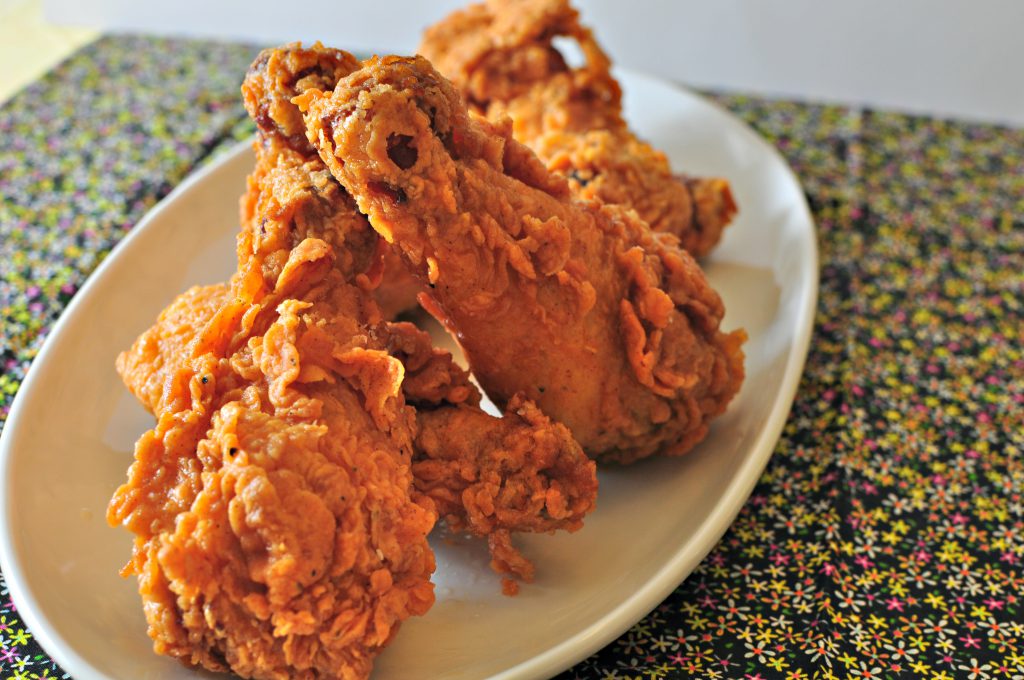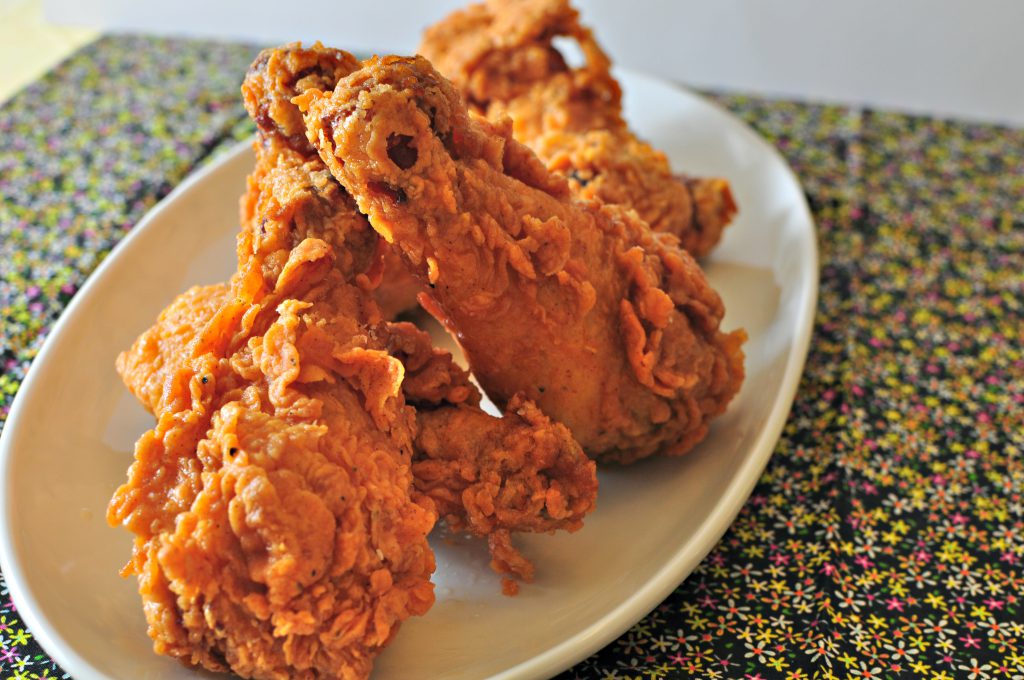 So Many Choices
I found a billion different blogger recipes I wanted to try but I decided on this Extra Crispy Spicy Fried Chicken because it was created based on Popeye's Chicken and you just can't go wrong with that. It's my favorite of all the big fried chicken fast food chains.
This chicken is everything the name promises. Unbelievably crispy with a kick of spice.
It's not a simple, quick process as it involves marinades and several dredges but it truly is worth the effort. Trust me my friends.
The Process
We start out by marinating the chicken in buttermilk and hot sauce. The buttermilk keeps the chicken super juicy while it's being fried. And the hot sauce adds the obvious needed kick for spicy chicken.
You may be tempted to skip this step but it's so important in creating that juiciness you always find in fried chicken.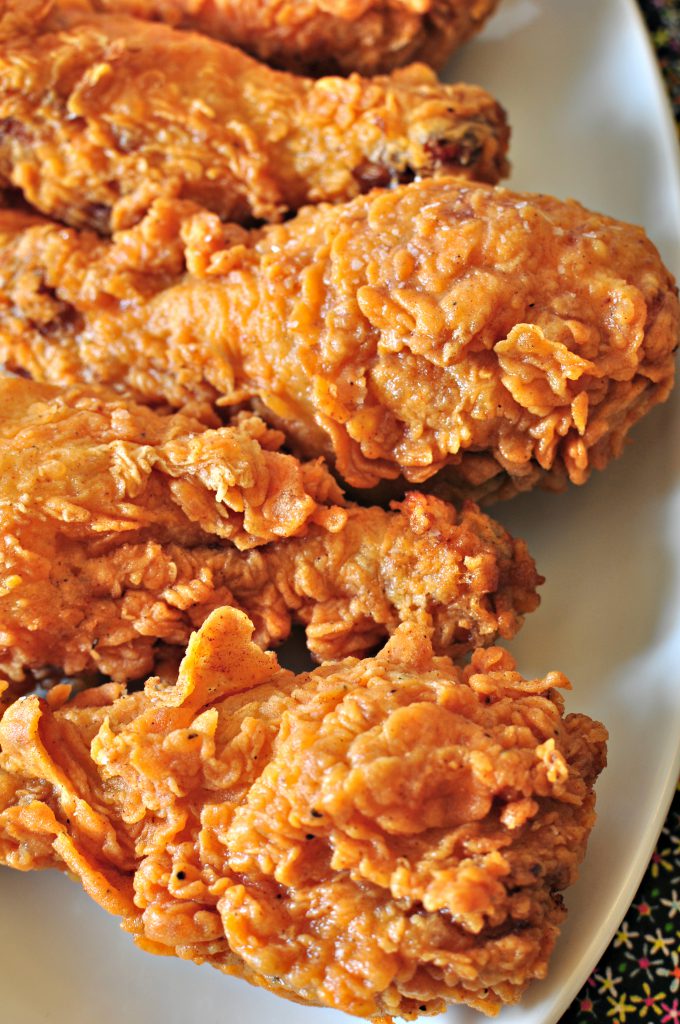 Once the chicken has marinated, preferably overnight, it gets a dredge through seasoned, spicy flour then a dip in eggs and another coat of the flour mixture. This ensures a super thick, crunchy coating.
Another impoortant step is leting the chicken hang out uncovered on a rack in the refrigerator for a few hours before frying. This helps ensure the coating sticks to the chicken.
If this step is skipped, it's very likely the breading could slip off during the frying process.
Frying the Chicken
Once the breaded chicken has rested, it's time to fry. You can use a deep, dutch oven style pan or if you have a counter top fryer, that would be a great option as well.
This dutch oven is my favorite, reasonably priced option. I'm always surprised at how great the price is for the quality. It works really well for frying this chicken.
If you want to go the fryer route, this is the counter top fryer I have. I don't use it often but it works like a charm every time I do.
What to Serve with Spicy Fried Chicken
You just worked really hard to make this delicious, super crispy spicy fried chicken so you may as well go big and serve it with some delicious side dishes.
This macaroni and cheese is the ultimate side dish to this fried chicken. You will not regret pairing them together.
And I guess if we need a little health in our lives you could also whip up this Chick-fil-A Superfoods Salad. It's crisp and flavorful and feels southern.
More Crispy Fried Chicken You Need in Your Life: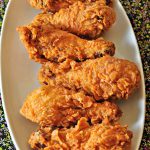 Print
Extra Crispy Spicy Fried Chicken
This Extra Crispy Spicy Fried Chicken is moist and tender from a buttermilk soak and extra crispy from a double batter. You won't believe the crunch.
Ingredients
For the buttermilk marinade:
2

lbs.

bone-in chicken pieces

1

qt.

buttermilk

1/4

cup

hot sauce

1

tsp.

kosher salt

1

tsp.

garlic powder

1/2

tsp.

black pepper
For the chicken:
3

large

eggs

1/3

cup

water

1

cup

hot sauce

I like Louisiana Hot Sauce

4

cups

all-purpose flour

1

tsp.

kosher salt

2

tsp.

pepper

2

tsp.

paprika

1

Tbsp.

cayenne pepper

Peanut oil or vegetable oil, for frying
Instructions
Place chicken pieces in a large bowl or ziptop bag. Cover with buttermilk, 1/4 cup hot sauce and stir in salt, pepper and garlic powder and marinate 2 hours to overnight (this is optional but definitely recommended).

Remove from buttermilk and pat dry with a paper towel. Sprinkle lightly with salt, pepper and garlic powder. Set aside.

Place a rack over a rimmed baking sheet and set aside. Whisk together the eggs, water and hot sauce. In another bowl, whisk together the flour, salt, pepper, paprika and cayenne pepper.

Dredge the chicken in the flour mixture then coat it in the egg mixture. Return to the flour mixture and coat. Place chicken on the rack. Once all pieces are coated, place in the refrigerator for 30 minutes. This step helps the coating stick to the chicken.

Meanwhile, heat the peanut oil to 350 degrees F. Working in batches, fry chicken for about 15 to 18 minutes, or until no longer pink and cooked through. Keep in mind that dark meat will take a little longer to cook than white meat. Watch the wings as they may cook in less than 15 minutes. Place chicken on a clean rack to help keep it crispy as you cook another batch.
Processing…
Success! You're on the list.
Whoops! There was an error and we couldn't process your subscription. Please reload the page and try again.