It seems like I am always on the hunt for quick, easy and healthy weeknight meals and I definitely found all those things in this Sesame Shrimp Stir Fry. It literally only takes 20 minutes because while the rice cooks, you can prep and cook the stir fry. Can't get much better than that!
We love a really saucy stir fry so when I saw the list of ingredients I knew it would be a hit for our family. The chicken broth and cornstarch slurry along with the teriyaki creates a rich, creamy sauce that is abundant and soaks into the bed of rice.
This recipe is easily adaptable to suit your family's taste. I decided to add broccoli because I personally don't think a stir fry should ever be without it. I also tossed in some sliced mushrooms for our fungus loving little man. Add your favorites or just toss in whatever you having in your produce drawer.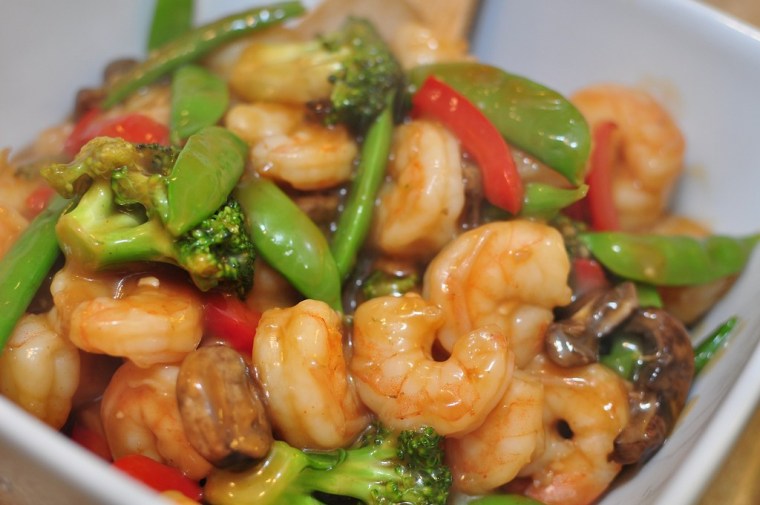 Sesame Shrimp Stir Fry
2016-03-21 01:41:44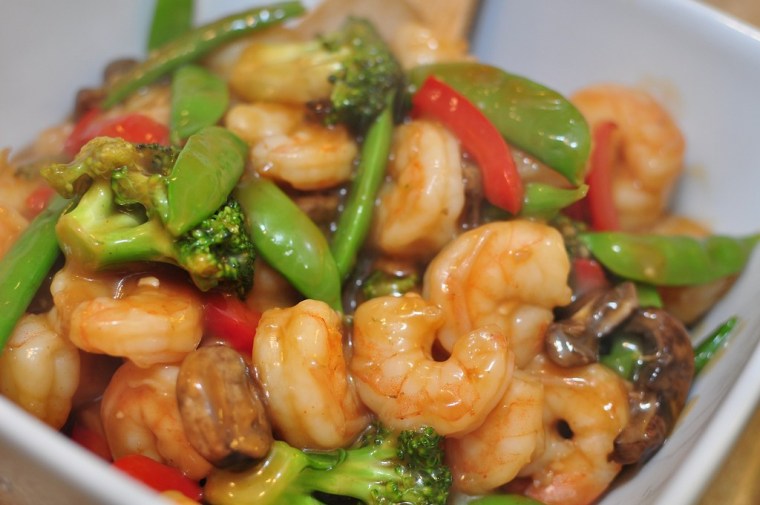 Ingredients
2 cups water
1 cup uncooked white rice
1 pound medium shrimp, peeled and deveined
1/4 teaspoon ground ginger
1/4 teaspoon cayenne pepper
1 clove garlic, minced
1 tablespoon sesame seeds
1/4 teaspoon ground black pepper
2 tablespoons sesame oil
1 red bell pepper, sliced into thin strips
3 green onions, sliced
3 tablespoons teriyaki sauce
1/2 pound sugar snap peas
1 cup fresh broccoli florets
1/8 cup cornstarch
3/4 cup chicken broth
1/4 teaspoon salt
Instructions
In a medium saucepan, bring salted water to a boil. Add rice, reduce heat, cover and simmer for 20 minutes.
While rice is simmering, combine shrimp, ginger, cayenne pepper, garlic, sesame seeds and black pepper in a large plastic food storage bag. Allow to marinate in the refrigerator.
Heat sesame oil in a large wok or skillet. Add red bell pepper, green onions and broccoli; sauté 3 to 4 minutes to soften slightly. Add teriyaki sauce. Add peas, mushrooms and shrimp with seasoning; sauté 4 minutes or until shrimp are opaque.
Stir cornstarch into chicken broth and add to wok; cook, stirring until mixture boils. Sprinkle with salt. Spoon shrimp and veggie mixture over rice.
Adapted from All Recipes
Meg's Everyday Indulgence https://www.megseverydayindulgence.com/