We recently had some friends over for dinner to catch up and break out the smoker. We made delicious pulled pork and planned on grilling some corn on the cob for one of the sides.
Well, unfortunately the Minnesota wind had a different plan for us. It was ridiculously windy that day which meant no grilling since the flame kept going out. Then we had to smoke the meat in the garage red neck style. Good thing we don't have neighbors close.
I didn't want to just boil the corn so Joel suggested throwing it in the smoker. We've never cooked corn on the smoker so I searched around on the internet and found that it is possible to make smoked corn on the cob.
Another reason I keep that guy around, he has good ideas.
Turns out it was super delicious! Joel, who isn't normally a fan of corn on the cob, devoured it.

The corn had a slightly smoky flavor and was great slathered in butter and sprinkled with kosher salt and pepper.
This recipe is simple and the part that took the longest was shucking the corn and removing the silk…..ugh, I hate that part. But once that's out of the way, it just needs to soak for a few hours to keep from burning then you throw it in the smoker brushed with some olive oil and seasoned with salt and pepper.
The smoker obviously adds some smoky flavor to the sweet corn creating a nice balance and contrast in flavor. It's delicious with smoked ribs, chicken, shredded pork or with some grilled burgers.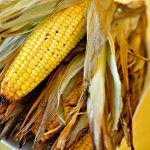 Print
Smoked Corn on the Cob
Pull out the smoker this summer and make some Smoked Corn on the Cob. It's simple to do and results in deliciously smoky, flavorful corn.
Ingredients
6

ears

corn

6

Tbsp.

olive oil

Salt and pepper

Butter
Instructions
Peel back husks of corn but do not remove them from the corn; remove all the silk. Soak the ears of corn in water for several hours.

Dry corn then brush lightly with olive oil. Sprinkle with salt and pepper to taste. Pull husks back over the corn then place in a smoker heated to 225 degrees F. Cook for about an hour and a half. Remove from smoker and remove husks. Serve with butter.