I was so blessed as a child to have been welcomed in the kitchen. Since I was young, I helped mix batters (and licked beaters), crack eggs, peel potatoes and "pipe" frostings. It was something I enjoyed and my parents always nurtured that love.
I am so grateful that they took the extra time in the kitchen to allow me to do something I loved (even if it wasn't always a help). I never felt rushed or as if I was a bother.
Here I am at around 3 or 4 helping peel potatoes in my little play chair in the kitchen. This is an incredibly cherished photo because it proves to me that I was passionate about cooking from the very beginning.


So today I am bringing you my newest favorite mashed potato recipe in remembrance of this picture and just in time for Thanksgiving.
Could it possibly be my new favorite because of all the cream cheese and butter? Maybe. They are rich, creamy and definitely indulgent which is just perfect for stuffing yourself on holidays. Enjoy. And please don't hate me.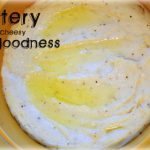 Print
Pioneer Woman's Creamy Mashed Potatoes
Ingredients
5

lbs.

russet potatoes, scrubbed and peeled

3/4

cup

butter

1

(8 oz.) pkg.

cream cheese, room temperature

1/2 - 3/4

cup

half and half

1/2 - 2

tsp.

season salt

1/2

tsp.

black pepper
Instructions
Peel and cut the potatoes into pieces that are generally the same size. Bring a large pot of water to a simmer and add the potatoes. Bring to a boil and cook for 30 to 35 minutes. When they're cooked through, the fork should easily slide into the potatoes with no resistance, and the potatoes should almost, but not totally, fall apart.

Drain the potatoes in a large colander. When the potatoes have finished draining, place them back into the dry pot and put the pot on the stove. Mash the potatoes over low heat, allowing all the steam to escape, before adding in all the other ingredients.


Turn off the stove and add 1 ½ sticks of butter, cream cheese and about ½ cup of half-and-half. Mash well. Next, add about ½ teaspoon season salt and black pepper.


Stir well and place in a medium-sized baking dish. Throw a few pats of butter over the top of the potatoes and place them in a 350-degree oven and heat until butter is melted and potatoes are warmed through.


Note: When making this dish a day or two in advance, take it out of the fridge about 2 to 3 hours before serving time. Bake in a 350-degree oven for about 20 to 30 minutes or until warmed through.