When I was a kid, my mom packed my lunch every single day. Occasionally, I would open my lunch box to see a note written on my napkin. "Hope you are having a good day," "good luck on the test," "I love you." It always brightened my day and was usually exactly the encouragement, reminder or pick me up that I needed. She still does the same thing for my dad. How awesome is that?
So today in honor of the lunch note napkin, I am going to bring you a great lunch idea…the Honey Mustard Chicken and Bacon Panini. Making a sandwich into a panini just makes it seem so much fancier. We love panini's around our house and make several different varieties.
These are a great lunch or quick dinner on a busy night. Serve with a fresh green salad to get your veggies!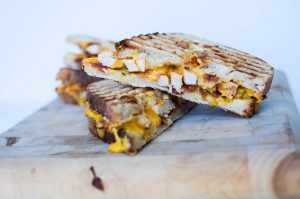 Honey Mustard Chicken and Bacon Panini
2015-10-28 02:36:57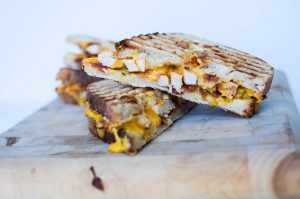 Ingredients
4 slices bread of choice
2 slices smoked mozzarella cheese
4 slices bacon
2 pieces of Dijon chicken (See below)
2 tsp. Dijon mustard or Honey mustard
For the Dijon Chicken
1/3 cup Dijon mustard
2 Tbsp. apple cider vinegar
2 Tbsp. honey
1 Tbsp. lemon juice
1 tsp. dried thyme
1 tsp. smoked paprika
1 tsp. black pepper
1/2 tsp. salt
Instructions
For the chicken: Combine mustard, vinegar, and honey in a small bowl and whisk until smooth. Add spices and stir. Prepare chicken breasts and place in a large plastic storage bag. Pour marinade over the chicken, close bag and shake bag gently and squeeze to evenly coat chicken. Refrigerate one hour.
Preheat grill, oil lightly and add chicken over medium heat. Cook 5-6 minutes and turn (if chicken sticks, give it another minute or so), cook about 5 minutes more until cooked through. Transfer to a plate and cover with foil for about 10 minutes to allow juices to redistribute. Dice into bite size chunks.
Preheat a large skillet over medium high heat. Add bacon and cook until crispy. Drain on a paper towel. Remove bacon grease and wipe out pan with a paper towel, return pan to stove and reduce heat to medium.
Lightly butter one side of bread slices, spread mustard on non-buttered side of one piece of bread. Add one slice of cheese, 2 slices of bacon, cut in half, and half the chicken to each. Top with remaining slice of bread and place buttered side down in the skillet. Cook 3-4 minutes until golden brown and flip. Cook about another 3 minutes until cheese is melted and sandwich is golden brown.
Adapted from Homemade by Holman
Meg's Everyday Indulgence https://www.megseverydayindulgence.com/