Caramel Apple Cake Pops are a fun, festive treat to enjoy this autumn. Spiced cake, caramel sauce and chopped peanuts make the perfect little bite.
I am so honored to have been asked (along with over 100 other food bloggers) to participate in The Improv Cooking Challenge hosted by Lady Behind the Curtain. Each month we are given two ingredients and asked to make a recipe from them.
For the first month of this awesome challenge, we were presented with apples and caramel. I immediately knew I would make these yummy Caramel Apple Cake Pops.
Aren't they the cutest darn things you have ever seen? Well, maybe not the cutest. This guy totally wins in my book. Sorry, I love sneaking in photos of my little man whenever I can! This is Noah at 3 months as a giraffe. He is going to be a monkey this year.


I love that these look just like tiny caramel apples but when you bite inside it's a moist, spicy cake that is accented by the sweet, gooey caramel and salty, crunchy peanuts. Yum!
The cuteness of these treats does come at a cost. They are kind of time-consuming to make since they all have to be dipped and rolled. But they are totally worth it. And it is so fun to see your guests reaction to them which is so important to me. I bake and cook because I love to feed others and make them happy! These do the trick!
These were great as written but I think next time I want to punch up the apple taste. I was thinking of two different routes for this. Either dicing an apple or two into small chunks and stirring them in or possibly grating an apple and mixing that in (possibly replacing some of the applesauce). I wasn't sure about the grated apple…thinking it might add too much moisture.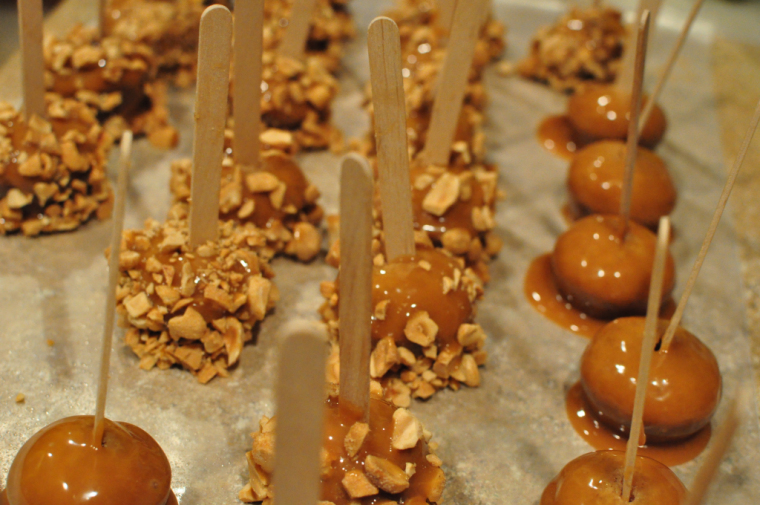 Caramel Apple Pops
2015-09-27 12:10:36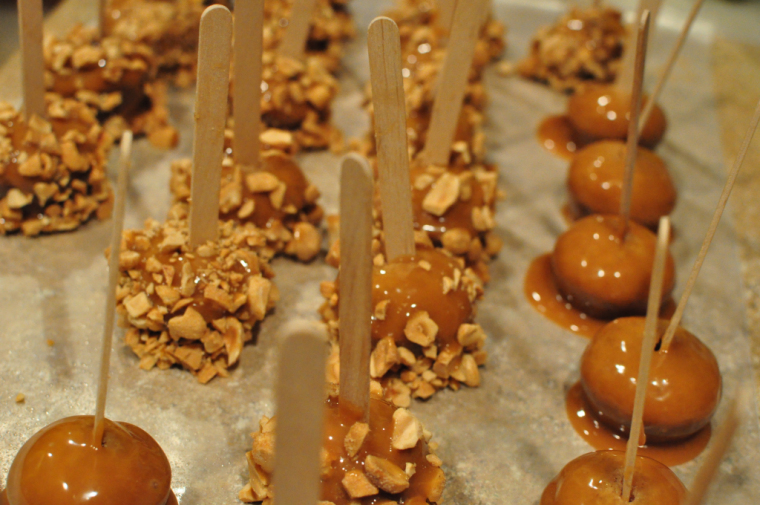 Ingredients
1 3/4 cup all-purpose flour
1 tsp. baking soda
1tsp. ground cinnamon
1/2 tsp. salt
1 cup applesauce
3/4 cup sugar
1/2 cup canola or vegetable oil
1 egg
1 1/2 cups roasted peanuts, chopped
30 wooden sticks
2 pkgs. (14 oz. each) caramels
5 Tbsp. milk
Instructions
Preheat oven to 350 degrees F. Spray 30 mini muffin cups with nonstick cooking spray. Combine flour, baking soda, cinnamon and salt in a medium bowl. Stir applesauce, sugar, oil and egg in large bowl until well blended. Add flour mixture; stir until blended. Spoon into prepared muffin cups, filling three-fourths full.
Bake about 16 minutes or until toothpick inserted into centers comes out clean. Cool in pans 10 minutes; remove to wire racks to cool completely.
Line baking sheet with waxed paper; spray with nonstick cooking spray. Place peanuts on plate or in shallow dish. Insert craft sticks into tops.
Place unwrapped caramels and milk in large microwavable bowl; microwave on high 2 to 3 minutes or until melted and smooth, stirring after each minutes. Working with 1 cupcake at a time, hold cupcake over bowl and spoon caramel over cupcake, rotating stick until completely coated. Immediately roll in peanuts to coat cupcake, pressing nuts lightly with fingertips to adhere to caramel. Stand cupcake (stick side up) on prepared baking sheet. Repeat with remaining cupcakes (caramel may need to be reheated briefly if it becomes too thick). Let stand 20 minutes or until caramel is set.
Adapted from Fun Stuff Cupcakes
Meg's Everyday Indulgence https://www.megseverydayindulgence.com/