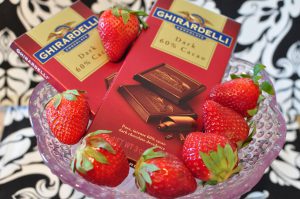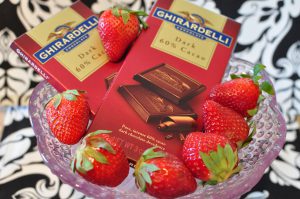 I cannot go to a gathering without bringing something….I just can't. So when we got an invitation to a friend's housewarming party I knew I had to plan for something delicious. I really enjoy baking and almost always bring something sweet. I decided on cupcakes as I recently received a cupcake cookbook that I have been itching to try out.
After quizzing the host, I discovered his favorite cupcake flavor was chocolate. Now when he said chocolate I started to worry. We aren't big chocolate cake fans so this is not within my comfort zone. I love to cook for others and I especially love watching them enjoy my creations.
I always worry about bringing something new to a get together. I am somewhat of a perfectionist and I cringe at the thought of something not turning out exactly as planned. But I decided I would jump in head first to this challenge.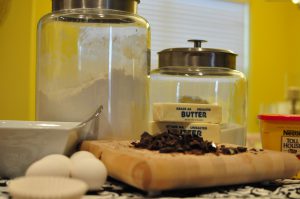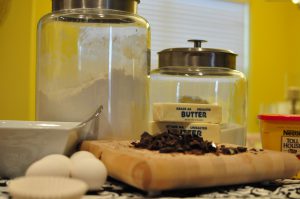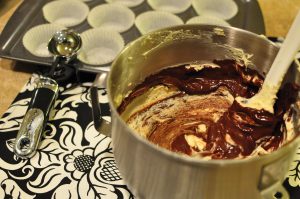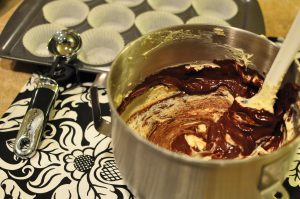 I decided to be a little selfish and top these little babies with sweet, creamy strawberry frosting. I love strawberries and the combination sounded pretty divine. A little drizzle of ganache and a sliced of strawberry finished them beautifully. I also think a chocolate dipped strawberry would be decadent on top!
The cake turned out moist, dense and dark while the frosting was sugary sweet. In my opinion the sweet frosting was the perfect complement to the rich chocolate.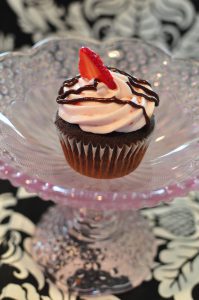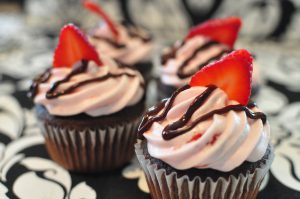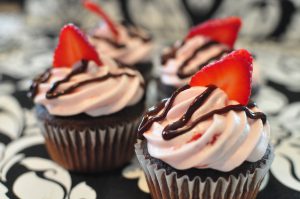 Chocolate Cupcakes:
Recipe from Crazy About Cupcakes by Krystina Castella
Yields 24 cupcakes
½ cup cocoa powder
2/3 cup boiling water
2/3 cup (4 oz.) bittersweet chocolate, coarsely chopped
1 ½ sticks unsalted butter, room temperature
1 ½ cups granulated sugar
4 eggs, room temperature
1 tsp. vanilla extract
2 cups all-purpose flour
1 tsp. baking soda
¼ tsp. salt
1 cup plain yogurt, room temperature
1. Preheat oven to 350 degrees. Insert liners into cupcake pan.
2. Place cocoa in a small bowl. Pour boiling water over cocoa and whisk until all the lumps are dissolved. Add the bittersweet chocolate to the cocoa paste and stir until melted and smooth. Set aside to cool.
3. In a large bowl cream together the butter and sugar until fluffy, 3-5 minutes. Add the eggs one at a time and beat for 1 minute after each addition. Add the vanilla.
4. In a separate bowl combine the flour, baking soda and salt.
5. Add half the dry ingredients to the butter mixture. Mix at low speed until well integrated. Add the yogurt and mix well. Add the remainder of the dry ingredients. Mix until combined. Add the chocolate. Mix until blended. Do not overmix.
6. Fill the cupcake liners ½ to ¾ full. Bake for 20-25 minutes or until a toothpick comes out clean. Cool cupcakes in pan.
Strawberry Frosting:
Recipe from Crazy About Cupcakes by Krystina Castella
6 Tbsp. unsalted butter, room temperature
8 oz. cream cheese, room temperature
4 ½ cups confectioners' sugar
¾ cup fresh or frozen strawberries, sliced*
Lemon juice, as needed
1. With an electric mixer on medium speed, cream together the butter, cream cheese and sugar until smooth.
2. Add the strawberries. Mix well. At this point I turned the mixer on high since I was going for a smoother, rather than chunky frosting. You may need to add lemon juice to reach spreadable consistency if using fresh strawberries.
*If using frozen strawberries, thaw and drain most of the liquid before adding to frosting.
Chocolate Ganache:
1 cup chocolate
¾ cup whipping cream
1. Place chocolate in a bowl.
2. Bring whipping cream to a boil over high heat.
3. Pour hot whipping cream over the chocolate, stirring until smooth and glossy. Cool to room temperature.
Assembly:
1. Frost cooled cupcakes.
2. Drizzle with ganache (or chocolate syrup if you do not want to make ganache) and top with a slice of strawberry. Enjoy!