Grab some extra apples this fall to make Instant Pot Applesauce. It's incredibly easy to make and tastes so fresh and delicious.
This post may contain affiliate links. For more information, please read my disclosure policy. As always, thank you for supporting my site.
It's almost fall and I'm here for it. I'm ready to turn on the fireplace and wear all the cozy sweaters.
And with fall comes all the delicious fall flavors. Are you on team pumpkin or team apple? I'll admit I'm fully on team pumpkin but I love going to the apple orchard and making delicious treats with our bounty.
I'm not sure the orchard is in the cards this year but that won't stop me from sharing some apple recipes with you all this fall, starting with this Instant Pot Applesauce.
I don't have anything against store-bought applesauce but have you ever made it homemade?! It's amazing and SO easy.
Why Make Homemade Applesauce?
First, it's ridiculously simple to make at home. All you need is a bag of apples, cinnamon, water and maybe some brown sugar. That's it.
My favorite thing about making homemade applesauce is that we can control the ingredients. No weird stuff going on here.
Because you're making it yourself you can control the level of sweetness. If you want it unsweetened, leave out the brown sugar.
If you want a little extra something add in a tablespoon or two until you reach the desired level of sweetness.
What Types of Apples are Best for Applesauce?
The type of apple you use to make applesauce depends entirely on what flavor you desire. I'll go over which apples to use if you like your applesauce sweet, tart or a combination of the two.
If you're wanting all things sweet, the best apples to use golden delicious is the definite winner. It's got a super fresh apple flavor and a great texture that won't cause your applesauce to be watery. Fuji apples are another great option for a sweeter applesauce.
If you're looking for something tart, Rome, Jonathan, Cortland or Braeburn are great options. You could even use a combination of them for a more complex flavor.
If you want something inbetween, you can use one apple from the sweet list and one from the tart list. Or McIntosh are a good tart and sweet apple that you could use.
I also love the combination of honey crisp (hello best apple ever) and golden delicious for a sweet and tart combination.
To Peel or Not to Peel?
To peel or not to peel? Listen, I'm going to tell it to you straight. I hate peeling apples so I decided not to do it. Plus, much of the nutrients in an apple are in the peel, so I'm helping you be healthy. You're welcome.
Leaving the peel on also attributes to that beautiful blush color. If you peel your apples you will have a more traditional color of applesauce like you would find at the store.
If you are planning on leaving your applesauce on the chunky side, you may want to peel your apples. The peels can be fiberous and might not be a great texture.
If you are going to puree it smooth like I did here, leave the peel on your apples. They'll blend smooth along with your apples.
Ingredients for Instant Pot Applesauce
How to Make Instant Pot Applesauce
Core the apples, make sure to remove all seeds then chop them into 1 inch chunks and add to the Instant Pot. Add water and cinnamon and stir.
Seal the instant pot and set to manual mode for 5 minutes. When the time is up, allow the pressure to release naturally for 20 minutes.
If you want a chunkier applesauce, use a potato masher until you reach the desired consistency.
If you want a smooth applesauce, you have a few options. You can use an immersion blender, food processor or standard blender to get your applesauce super smooth. I went with the immersion blender because it's real fun to use.
Taste your applesauce. If you want it a little sweeter, add brown sugar one tablespoon at a time until you're happy with it. Make sure to add the brown sugar while the applesauce is warm so that it will dissolve.
Allow to cool and store in an airtight container in the refrigerator.
How to Use Instant Pot Applesauce
I love having a big batch on hand for an easy and healthy snack. My kids especially love it right when it's done and still warm.
You can use it in any baking recipe. If you plan on this use, I would recommend leaving it unsweetened as that's what most recipes usually require.
You can serve it as a side dish to dinner, especially if you're having pork. Who doesn't love a pork chops and applesauce combo?!
How to Store Homemade Applesauce
Homemade applesauce will stay fresh in the refrigerator in an airtight container for up to 10 days. I'm not sure it will last that long though.
If you make an extra large batch or won't finish in time, you can freeze applesauce. Simply place it in a freezer safe container and store for up to 2 months.
Thaw it overnight in the refrigerator or place the container in water to thaw more quickly. It will be good for 5 days after thawing from the freezer.
More Apple Recipes Perfect for Fall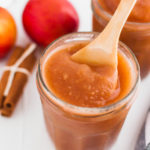 Print
Instant Pot Applesauce
Grab some extra apples this fall to make Instant Pot Applesauce. It's incredibly easy to make and tastes so fresh and delicious.
Ingredients
3

lbs.

apples, cored and chopped into 1-inch chunks

If making chunky applesauce, peel your apples

1/2

cup

water

1

tsp.

cinnamon

1 to 2

Tbsp.

brown sugar, optional
Instructions
Add apples, water and cinnamon to the instant pot. Stir so apples are evenly coated with cinnamon. Seal and set to cook for on manual high pressure for 5 minutes. Natural release pressure for 20 minutes. After 20 minutes, turn valve to release any remaining pressure.

If you want a chunky applesauce, mash with a potato masher until you reach the desired consistency. If you want a smooth applesauce, blend until smooth. Taste applesauce. If you want it sweeter add brown sugar, one tablespoon at a time, until you reach desired sweetness. Store in the refrigerator in an airtight container for up to 10 days. Freeze up to 2 months.
Processing…
Success! You're on the list.
Whoops! There was an error and we couldn't process your subscription. Please reload the page and try again.