Making you own Copycat Cinnabon Cinnamon Rolls is easier than you may think. You're only a few basic ingredients and 3 hours away from the most delicious cinnamon rolls. Let's get baking.
Update: the text, photographs and recipe have been updated since the origina post date in 2012 to improve reader experience.
This post may contain affiliate links. For more information, please read my disclosure policy.
How much do you love a Cinnabon cinnamon roll? They are kind of the best and now you don't even have to search out a Cinnabon store to have one.
Keep reading to see exactly how to (easily) make your own Cinnabon Cinnamon Rolls at home.
Simple Ingredients
I'm telling you, the ingredients are so simple for these cinnamon rolls and I'm betting you have everything on hand already.
Yep, you need three different kinds of sugar for these cinnamon rolls and I'm not even sorry about it. Granulated sugar sweetens the dough. Brown sugar gives that warm, sticky, gooey goodness to the filling. Powdered sugar is a need for the cream cheese frosting.
Don't Be Scared of Yeast
I was scared of yeast doughs and breads for SO long but I promise you, the dough for these Cinnabon Cinnamon Rolls is completely foolproof.
With only 1 minute of kneading required, this dough comes together super easily and quickly.
Because we're using instant yeast for this recipe, there is no need to dissolve the yeast in the liquid before proceeding with the recipe. That makes the whole process even quicker.
If you only have active dry yeast, no worries! You will use the same amount of yeast but the first step will be a little different. Whisk the yeast into the warm milk until it's dissolved and allow it to sit for 5 minutes then proceed as the recipe is written.
Tip: make sure to store you unused yeast in the refrigerator or freezer. This will extend its lifespan.
How to Make Cinnabon Cinnamon Roll Dough
I'm going to break down the process of making these Cinnabon Cinnamon Rolls along with photos to make the process super simple for you.
The sweet dough comes together super fast. First, mix together the yeast, warm milk, sugar and salt in the bowl of a stand mixer.
Let's talk about the milk real quick. You want the milk warm to the touch. You should be able to stick your super clean finger in the milk and have it feel like a warm bath. If you want a specific temperature, you'll want it between 90 and 115 degrees.
Add the eggs and half the flour. Attach the dough hook and mix until the dough comes together. Add the remaining flour and knead until a ball starts to form, about 1 minute. The dough may be a little shaggy and sticky. That's just fine.
Form the dough into a ball with your hands and place in a large, oiled bowl. Cover the dough with a thin towel and allow it to rise and double in size, about an hour.
Now it's time to roll out the dough. Flour a clean surface well. I love and always use this pastry mat for rolling out any dough. Roll the dough into a 16×21-inch rectangle.
Filling and Baking
Next up, the filling. Mix together the brown sugar, cinnamon and salt. Set that aside.
Carefully spread very soft butter over the dough. It will tear easily so do this slowly and carefully. I use my hands as I find that the easiest.
Sprinkle the filling mixture over the softened butter and spread it evenly.
Starting from the long side, carefully start to roll the dough into a tight log. Slice the log in half then slice each in half to get 4 even sized pieces. Cut each of those into thirds.
Place the cut cinnamon rolls in a greased 13×9 pan. Cover again with your thin towel and allow to rise for 30 minutes. They won't double but will gain some bulk.
Bake the rolls at 400 degrees for 12 to 15 minutes. You'll want them to be a little golden.
While the rolls are baking, make the simple cream cheese frosting. Cream together butter and cream cheese with the whisk attachment on your stand mixer.
Add powdered sugar and whisk for 3 minutes, until super light and fluffy. Add in the vanilla extract and salt and whisk another minute.
Spread the cream cheese frosting over the rolls. You can wait until they cool or spread while they are hot if you like a melted, ooey gooey situation.
Customize Your Cinnabon Cinnamon Rolls
These end up so gooey, cinnamon-y, sweet and sticky. Everything you hope for in a cinnamon roll. If you want to change things up from the classic cinnaon roll you can certainly do that too.
I think the addition of chopped pecans to the brown sugar/cinnamon mixture would be incredible too.
Raisins, chocolate chips, caramel bits or sprinkles would all be delicious options as well.
All I know is, when these are on the table you will be the family superstar.
More Breakfast Classics: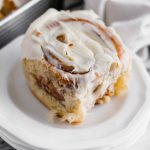 Print
Cinnabon Cinnamon Rolls
Make your own Cinnabon Cinnamon Rolls with this foolproof recipe. Tender cinnamon rolls topped with the best cream cheese frosting.
Ingredients
1/4

oz. packet

instant yeast (or 2 1/4 tsp.)

1

cup

warm milk

1/2

cup

granulated sugar

1

tsp.

kosher salt

2

large

eggs

4

cups

all-purpose flour

1/3

cup

butter, softened and cut into small pieces
For the filling:
1

cup

brown sugar

2 1/2

tsp.

cinnamon

1/4

tsp.

kosher salt

1/3

cup

butter, very soft
For the frosting:
1

stick

butter, softened

1 1/2

cups

powdered sugar

2

oz.

cream cheese, softened

1/2

tsp.

vanilla extract

1/8

tsp.

kosher salt
Instructions
In the bowl of a stand mixer, whisk together yeast, warm milk, sugar and salt. Add eggs and half the flour. Using the dough hook, mix until it comes together. Add remaining flour and mix until combined. Add butter and knead for 1 minute, until the chunks are incorporated and a ball forms.

Place dough in a well oiled bowl. Cover with a thin towel and let rise in a warm place until doubled, about an hour.

Roll out the dough on a floured surface into a 16×21-inch rectangle. In a bowl, combine brown sugar, cinnamon and salt. Spread the softened butter over the dough. I use my hands, being careful not to rip the dough. Sprinkle the filling over the butter.

Roll the long edge up tightly until you have a long log. Cut in half. Then cut each half in half. You'll have 4 pieces at this point. Cut each piece into equal thirds. Spray a 13x9inch pan with nonstick spray and place the cinnamon rolls evenly in the prepared pan. Cover with a towel and allow to rise for 30 minutes. Preheat oven to 400 degrees. The rolls won't double but will grow enough to be just barely touching.

Remove towel and bake rolls for 12-15 minues, until golden and no longer gooey. Make the frosting while they are cooling. Add butter, cream cheese and sugar to the bowl of a stand mixer. Using the whisk attachment, whisk until light and fluffy, 3 minutes. Add vanilla and salt and mix another minute. Spread over the cinnamon rolls.
Processing…
Success! You're on the list.
Whoops! There was an error and we couldn't process your subscription. Please reload the page and try again.