This Bacon Wrapped Pork Loin is fancy enough for guests but simple enough to make on weeknights. Grab the few simple ingredients necessary and get cooking.
This post may contain affiliate links. For more information, please read my disclosure policy.
How happy do the words bacon wrapped make you? I'll never turn my nose down at it. Especially when it's pork wrapped in more pork. You know that's going to be good.
Ingredients for Bacon Wrapped Pork Loin
The ingredients for this pork loin are so simple. Here's what you will need to make it.
You'll want to grab a pork loin around 1 pound in weight. This will keep this recipe quick cooking and give the perfect pork loin to bacon ratio.
If you have a large pork loin you can still make this recipe but you'll need more bacon (nobody's mad about that) and a longer cook time.
A Delicious Hack
Wondering where the onion comes in? This is one of my favorite tricks when cooking meat in the oven and I'm excited to share it with you.
Peel the onion and cut it into thick rings. Lay the onion into the bottom of your baking dish. When the pork loin is prepared and ready to be cooked, lay it on the onion rings.
It adds delicious onion flavor to the pork loin without it being overpowering. It also allows the bacon grease to drip to the bottom of the pan without the pork sitting in it while cooking.
Before wrapping the pork loin in bacon, it gets rubbed with a mixture of the spices listed above. That adds a nice layer of flavor in addition to the salty, smoky bacon.
How to Cook the Perfect Pork Loin Every Time
Mix together the kosher salt, pepper, thyme, garlic powder and paprika. Rub the pork loin evenly with the delicious spice rub.
Next, the fun part. Wrap the bacon around the pork loin. When you are ready to add the next piece, overlap it a little with the previous piece. This will keep it from unraveling.
If you're having trouble keep the bacon on the pork loin you can use toothpicks to secure it. Just be sure to remove them before slicing and serving.
Place the onion slices in the bottom of your baking dish and place the bacon wrapped pork loin on top and it's ready to bake.
I've included a time range for baking based on a pork loin ranging from 1 to 1.25 pounds. The best way to know when your pork loin (or any meat) is done is by using a meat thermometer.
I love my digital meat thermometer and use it any time I'm cooking meat. It can be set to beep when a certain temperature has been reached making the process fool proof.
The safe temperature for pork is 145 degrees F but as the meat rests it will continue to cook so set your thermometer to 140 degrees. It will be perfectly juicy and cooked just right when it's time to slice.
Sides to Serve with Bacon Wrapped Pork Loin: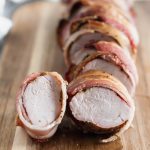 Print
Bacon Wrapped Pork Loin
This Bacon Wrapped Pork Loin is fancy enough for guests but easy enough for weeknight meals. Packed with herbs and all the crispy bacon.
Ingredients
1

large

onion, peeled and sliced into thick rings

1

tsp.

kosher salt

1/2

tsp.

black pepper

1

tsp.

dried thyme

1/2

tsp.

garlic powder

1/2

tsp.

paprika

1

lb.

pork tenderloin

6 to 7

slices

bacon
Instructions
Preheat oven to 400 degrees F. Place onion slices in the bottom of a baking dish that will fit your pork loin.

In a small bowl, mix together the salt, pepper, thyme, garlic powder and paprika. Sprinkle liberally over the pork loin and gently press. Starting at one end, wrap the a slice of bacon around the pork loin. Slightly overlap the second slice and continue wrapping with bacon until completely wrapped. You can use toothpicks to secure the bacon if you're having trouble with it unraveling. Place the pork on top of the onion.

Insert a digital meat thermometer and set to 140 degrees F, if using. Bake pork loin for 35 to 45 minutes, until cooked through.

If bacon isn't crispy enough, turn on the broiler and let cook another minute or two until the bacon crisps. Keep a close eye on it so it doesn't burn.

Remove from oven and let rest 10 minutes before slicing.
Processing…
Success! You're on the list.
Whoops! There was an error and we couldn't process your subscription. Please reload the page and try again.