Celebrate National Chocolate Cake Day with this gloriously rich and delicious Chocolate Cherry Cake. It's bursting with chocolate and fruity maraschino cherries.
This post may contain affiliate links. For more information, please read my disclosure policy.
Hey there friends, today is National Chocolate Cake Day and you should totally celebrate. The best way to do that is to make and enjoy this Chocolate Cherry Cake.
Fun Food Holidays
What do you think about food holidays? Wacky and weird or totally fun? I'm always up for celebrating and I'll take any excuse to make and eat something delicious.
To celebrate chocolate cake and Valentine's Day I made you all a Chocolate Cherry Cake. It's kind of perfect.
Ingredients for Chocolate Cherry Cake
This cake recipe is a little more involved than my normal recipes but still very attainable with delicious results.
Here's what you'll need for the recipe:
So although the list is a little longer than usual, it's full of super easy to find ingredients and many that you probably already have on hand at home.
There is coffee in this cake and let me tell you why. It adds an incredible richness and intensity to the chocolate in this cake.
If you don't like coffee, don't worry because the taste of the coffee doesn't come out in the cake. It just adds an extra umph to the chocolate.
If you really don't want to use coffee, you can substitute hot water in its place. The results will not be as rich but it will still be tasty.
Another kind of different ingredient included is the sour cream. It makes the cake very moist (sorry for using that word) and tender. It also adds a little tanginess to the cake which goes so nicely with the rich, intense chocolate.
You can substitute Greek yogurt in its place if you don't have sour cream. It will provide the same results so use whichever you have at home.
How to Make Chocolate Cherry Cake
Start out by brewing a strong cup of coffee, you will need 2/3 cup. Once the coffee is brewed and measure, put the chocolate chips in a bowl and pour the coffee over them. Let it sit for 2 minutes then gently whisk together.
While the coffee and chocolate mixture is cooling a bit, whisk together the dry ingredients in a bowl. Stir in the quartered maraschino cherries into the dry mixture.
Because the cherries are wet and heavy, they will sink to the bottom of the cake while bakign if you don't toss them in with the dry mixture first.
Whisk the oil, sour cream, eggs and some maraschino cherry juice into the liquid mixture. Now add it all to the dry mixture and gently fold it together until it's just combined.
Overmixing will give you a tough cake. Don't do it friends.
Baking Your Cake
A few notes on baking this beautiful cake. I used this Nordic Ware Heritage Bundt Pan and it yields the most gorgeous cake. I absolutely adore it.
Because it's pretty intricate, make sure you grease the pan very well. I find the nonstick sprays don't do the job on a bundt pan so I always recommend using shortening.
Once greased and filled, place the bundt pan on a baking sheet just in case it overflows a bit. I did not have this problem but I follow the better safe than sorry philosophy.
The Ganache Glaze
Lastly, once the cake is baked and cooled it's time to make the simple ganache glaze. Ganache may sound fancy but it couldn't get easier to make.
Add the heavy cream and maraschino cherry juice to a small saucepan and heat until it starts to bubble slightly around the edges. While you're waiting for it to warm, place the chocolate chips in a bowl.
Pour the hot heavy cream over the chocolate chips and let it sit for 2 to 3 minutes. Stir together and you have a fruity chocolate ganache you may want to eat with a spoon.
Drizzle the ganache over the finished cake. You'll have a little extra that you can use for more drizzling after slicing and serving.
The Perfect Dessert
This cake is rich, moist and slightly fruity. The classic flavors make it the perfect cake for your loves on Valentine's Day.
As you eat the cake you'll get bursts of those sweet maraschino cherries and believe me, you'll be so happy you made the cake. You may not want to share it after all.
More Cakes You Should Try: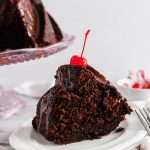 Print
Chocolate Cherry Cake
Celebrate National Chocolate Cake Day with this Chocolate Cherry Cake. It's incredibly rich and packed with fruity maraschino cherries.
Ingredients
2/3

cup

hot coffee

1/3

cup

semi-sweet chocolate chips

16

oz. jar

maraschino cherries with juice

2 3/4

cups

all-purpose flour

2/3

cup

cocoa powder

1 1/4

tsp.

baking soda

1/4

tsp.

baking powder

1

tsp.

kosher salt

1

cup

granulated sugar

1

cup

brown sugar

1

cup

vegetable oil

1/3

cup

sour cream or plain Greek yogurt

2

large

eggs
For the Ganache Glaze:
1/4

cup + 1 Tbsp.

heavy cream

1

Tbsp.

maraschino cherry juice

1/2

cup

good quality chocolate chips
Instructions
Preheat oven to 350 degrees F. Place 1/3 cup semi-chocolate chips in a bowl. Pour hot coffee over the chocolate chips and let sit for 2 minutes. Stir until well combined. Set aside.

In a large bowl, whisk together flour, cocoa powder, baking soda, baking powder, kosher salt, granulated sugar and brown sugar.

Chop cherries into quarters until you have 1 cup. Set remaining whole cherries aside for decorating. Fold cherries into the dry ingredients and set aside.

Grab the coffee mixture and whisk in vegetable oil, sour cream, eggs and 1/3 cup juice from the maraschino cherries. Pour this mixture into the dry mixture and gently fold until just combined. Grease bundt pan with shortening. Pour batter into the prepared bundt pan. Place pan on a baking sheet. Bake for 55 to 60 minutes.

Once cake is baked, carefully flip it upside down on a cooling rack and gently lift off the pan. Allow to cool completely.

For the ganache: add chocolate chips to a bowl and set aside. Add heavy cream and maraschino cherry juice to a small saucepan. Heat over medium heat until bubbles begin to form around the edges. Pour over the chocolate chips and allow to sit for 2 to 3 minutes. Stir until the ganache comes together. Drizzle over the cake. If you have extra, use it for serving. Decorate the cake with the remaining cherries.
Processing…
Success! You're on the list.
Whoops! There was an error and we couldn't process your subscription. Please reload the page and try again.