The Super Bowl isn't just about pizza. Make these super simple and unbelievalby tender Oven Baked Ribs for the big game.
This post may contain affiliate links. For more information, please read my disclosure policy.
We are all about ribs around here. Normally we use our smoker to cook them but in these frigid winter days that's not always an option. But don't worry, Oven Baked Ribs to the rescue.
I have to admit, I wasn't sold on the idea of baking ribs in the oven. They wouldn't have that smoky flavor and I just wasn't sure I could support that.
But now I have to confess that I was completely wrong. These ribs are a total game changer.
How to Make Oven Baked Ribs
The process for these Oven Baked Ribs is super simple. Spice them up with the most delicious coffee rub, wrap them in foil and bake them low and slow.
It's really that simple. The low temperature kind of mimics the smoking technique and results in the most tender ribs around.
Once they are done baking, unwrap them from the foil and brush with your favorite barbecue sauce.
I also like putting them under the broiler for a minute or so to get the sauce a little caramelized and extra sticky. This is an optional step but I do it every time. I think it makes all the difference.
The Coffee Rub
Do you have to use my coffee rub on these ribs? No, but I definitely recommend it. If you aren't a coffee lover, stay with me.
The rub doesn't end up tasting like coffee. It just gives this super rich flavor to the ribs (or whatever else you may put it on). Combined with the other ingredients, it's kind of a magical, deep flavor enhacement.
Here's what you'll need:
Mix it all up and you're ready to go.
A quick note on the espresso powder. It isn't always easy to find so you may need to order it online. You may be tempted to substitute instant coffee for the espresso powder but they are NOT the same. Don't do it my friends.
No worries, there are so many delicious uses for espresso powder so it won't go to waste. You'll want to start by making a couple batches of the rub because it's good on all the things.
Then you'll want a batch of Salted Caramel Mocha Cookies or Cookies and Cream Brownies for dessert. It makes savory and sweet things all the richer.
Perfect for the Big Game
With the Super Bowl coming up soon, pizza is on lots of people's minds but can we pause the pizza for a sec and consider these ribs.
They take so little effort and you only need an extra minute to double or triple the batch.
Throw them in the oven a few hours before the game and they'll be waiting for you when it's time to graze. You can keep them warm in a slow cooker. You can't do that with pizza. Just saying.
More Super Bowl Favorites: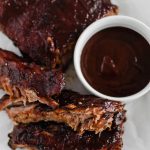 Print
Oven Baked Ribs
These Oven Baked Ribs are the ultimate in comfort. So simple and unbelievably tender. Rubbed with a delicious, rich coffee rub, baked then slathered in bbq sauce.
Ingredients
1

rack

St. Louis spare ribs

1/4

cup

coffee rub

1/4

cup

barbecue sauce
Instructions
Preheat oven to 275 degrees F. Cut a large piece of foil and lay rack of ribs on top of it. Evenly sprinkle rub over both sides of the rack. Wrap tightly with foil. Place on a rimmed baking sheet.

Bake for 3 hours and 15 minutes. Carefully unwrap ribs on the baking sheet, leaving them on the foil. Brush both sides with barbecue sauce. Place under the broiler for a minute or two, just until the sauce begins to caramelize. Watch it closely as the sugar in the sauce can cause it to burn quickly. Allow to cool for 5 minutes before slicing.
Processing…
Success! You're on the list.
Whoops! There was an error and we couldn't process your subscription. Please reload the page and try again.