This simple and delicious Turkey Sausage Breakfast Sandwich starts off with ground turkey and a few simple ingredients to create the most delicious breakfast around.
This post is sponsored by the National Turkey Federation. All opinions are 100% my own. For more information, please read my disclosure policy.
I love a breakfast sandwich! And what's more fun than making that sandwich with homemade sausage and a pancake as the bread?! NOTHING friends.
I'm so excited to partner with the National Turkey Federation this month to share this delicious Turkey Sausage Breakfast Sandwich with you all.
Ground turkey is something I keep on hand in my freezer for simple meals any time of the day. Whether it's chili, meatballs, rice bowls or turkey sausage I love how quickly you can cook it up into a hearty, filling dish.
And can we talk about all the flavors it can take on. I've used it to create Thai recipes, Mexican dishes, American classics and everything in between.
Make sure check out the list at the bottom of this post for all kinds of flavorful dishes featuring ground turkey.
How to Make Homemade Turkey Sausage
So, it may sound intimidating that we're making homemade turkey sausage for this recipe but I promise it's the exact opposite of that.
Here's what you need:
That's it! Simply dump all your ingredients in a bowl and mix it up. I've always found it's best to get in there with your hands when it comes to ground turkey.
Make sure to keep the raw turkey confined to the bowl and wash really well after you have mixed and formed the sausage patties.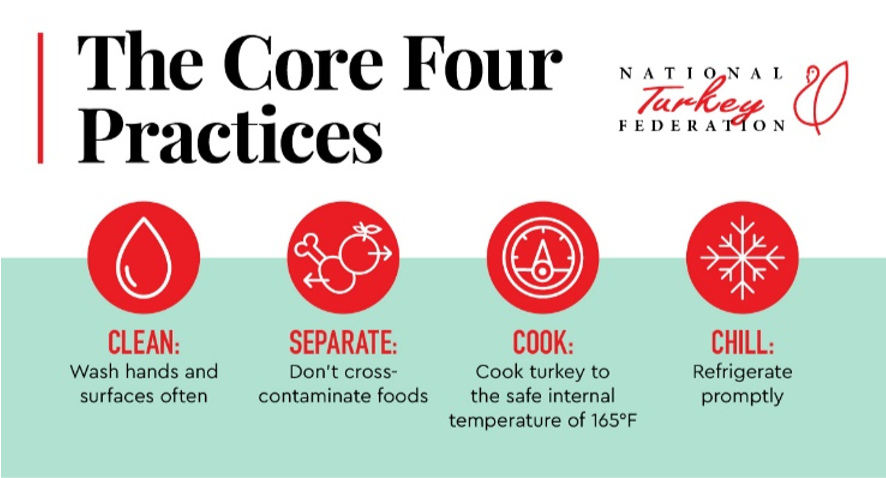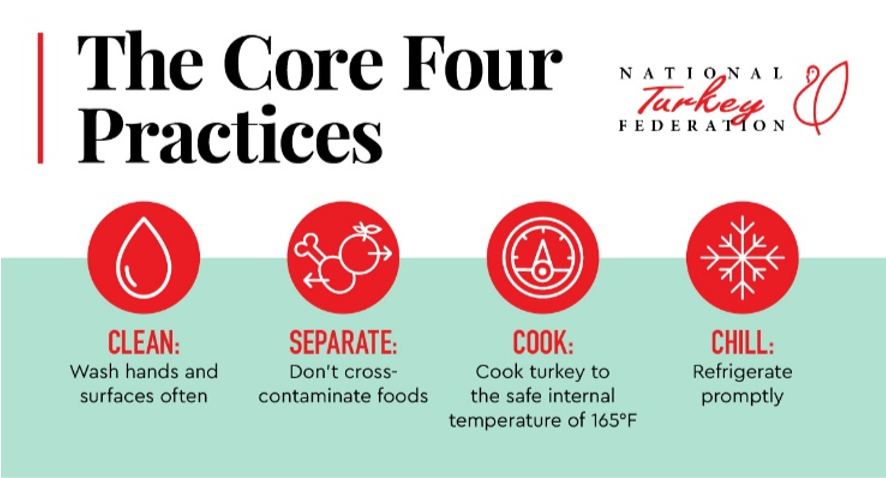 Speaking of forming the patties. First, line a large plate or baking sheet with parchment. Using a 1/4 cup measuring cup, divide up the raw turkey mixture into 9 servings. Flatten each portion into a very thin, round patty and place them on the parchment paper.
When you're making the sausage, you want to make sure they are a little bigger your pancakes. You can adjust them and make them thinner or thicker after cooking your pancakes (and before cooking the sausage).
You want them bigger because they will shrink when cooking. So your end result will be perfect in size.
So Much Flavor
The sage in the turkey sausage will give you that typical breakfast sausage feeling. And it combines so deliciously with the maple syrup.
There isn't much syrup in the sausage mixture but the flavor really doesn't shine through in the cooked patties. That means these patties are delicious sandwiched between two pancakes or as a side item to your breakfast meal.
I really love starting the morning off with vitamin packed protein to keep me full and energized and ground turkey does just that.
When something tastes delicious and is good for you, that's a major win in my book.
Pancake Time
I used my all-time favorite buttermilk pancake recipe for the "bun" of this breakfast sandwich. I mean, how fun is that?!
The recipe for the pancakes is super simple and they come together very quickly. When you're ladling the batter onto your griddle or pan, use a 1/4 cup measuring cup again to ensure they are equal in size. This keeps everything uniform and makes sure you end up with enough pancakes for your sausage patties.
I recommend cooking the pancakes first, then keeping them warm in the oven while you cook the sausage. That way you can compare the size of your cooked pancakes to your sausage to make sure it isn't too small.
Enjoy Turkey Anytime
So, I think I've proven that turkey isn't just for dinner. I'll take mine at breakfast everyday now please and thanks.
With a little prep work, you literally could enjoy these every morning. This dish is super freezer-friendly. Here's how to prepare it for the freezer.
After the turkey sausage patties and pancakes have been cooked. Allow them to cool completely. Once cooled, assemble the sandwiches and wrap them tightly in aluminum foil.
Place them in a freezer safe container and label it with the contents and date they were prepared. When the craving strikes, grab one out of the freezer, remove the foil and microwave for 1 to 2 minutes. Boom, hot breakfast served.
So Many Ways to Enjoy
As you can see, this Turkey Sausage Breakfast Sandwich is delicious on its own or when drenched in maple syrup. Although you may need to knife and fork it if you go the syrup route.
Another tasty option would be a drippy fried egg. Or double up on the turkey situation with some turkey bacon. We know that can't be bad.
A healthy slather or strawberry or jalapeno jam, depending on if you want to go sweet or spicy, would be incredible too. There are just so many ways to devour this fun breakfast sandwich.
More Ground Turkey Favorites:
This post has been sponsored by the National Turkey Federation. All thoughts and opinions are my own.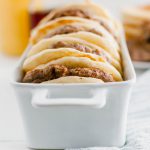 Print
Turkey Sausage Pancake Sandwich
Turkey isn't just for dinner. This Turkey Sausage Breakfast Sandwich is packed full of flavor and a super filling, vitamin-packed way to start your day.
Ingredients
For the Buttermilk Pancakes:
2

cups

all-purpose flour

2

Tbsp.

granulated sugar

3/4

tsp.

kosher salt

1

tsp.

baking powder

1/2

tsp.

baking soda

2

cups

buttercream

1/4

cup

sour cream or plain Greek yogurt

2

large

eggs

1

tsp.

vanilla extract

3

Tbsp.

melted unsalted butter, slightly cooled
For the Turkey Sausage Patties:
1

lb.

ground turkey

1 1/2

tsp.

rubbed sage

1/4

tsp.

onion powder

1/2

tsp.

kosher salt

2

Tbsp.

maple syrup
Instructions
For the pancakes: preheat a large griddle or skillet over medium heat. Preheat oven to lowest temperature then turn off. In a large bowl, combine flour, sugar, salt, baking powder and baking soda. In another bowl, whisk together the buttermilk, sour cream, eggs, vanilla and butter. Gently fold the wet ingredients into the dry ingredients until just combined. Let sit for 10 minutes.

While the batter is resting, prepare the turkey sausage patties. Line a baking sheet with parchment paper. Set aside. In a large bowl, combine the ground turkey, rubbed sage, onion powder, salt and maple syrup. Using a 1/4 cup measuring cup, divide the mixture into 9 balls. Flatten each ball into a very thin circle. Set on the parchment and refrigerate.

Spray the griddle or pan with nonstick spray. Ladle pancake batter onto hot griddle using 1/4 cup scoop. Once bubbles appear and edges start to set, flip to cook second side. Remove to a clean plate. Hold a pancake over your turkey sausage patties to ensure they are about the same size. The sausage can be a little bigger since they will shrink when they cook. Make sure the pancakes DO NOT touch the raw turkey.

Place the pancakes in the warm oven to keep warm.

To cook the sausage: add the turkey sausage patties to the griddle or skillet you used to make the pancakes. Cook for 2 to 3 minutes per side, until cooked to 165 degrees F.

Remove pancakes from the oven. Place on pancake on a plate, top with a turkey sausage patty and top with another pancake. Drizzle with maple syrup if desired.
Processing…
Success! You're on the list.
Whoops! There was an error and we couldn't process your subscription. Please reload the page and try again.