Save space on the stove top this Thanksgiving and make Instant Pot Mashed Potatoes. Just as creamy and delicious as the stove top version.
This post may contain affiliate links. For more information, please read my disclosure policy here.


It's officially November and time to start thinking about all the holiday food. Grab your Instant Pot my friends and let's get our holiday dinner on.
So Convenient
I love mashed potatoes as much as the next guy but you know what I don't love?! Waiting for all that cold water to come to a boil, then waiting for them to cook another 15 minutes then checking them every minute to see if they are tender enough. Who has time for that on a holiday?
Plus, that pot is taking up precious space that should be reserved for the glorious gravy.
In comes these Instant Pot Mashed Potatoes. All you have to do is peel the potatoes (or don't, whichever you prefer), cut them into chunks and cover then with cool water in your Instant Pot.
Close and seal the lid and set for 10 minutes. Then walk away. No making sure the water doesn't boil over. No testing to see if they are soft. JUST WALK AWAY.


After they've cooked, release the pressure right away and drain. Add them back to the instant pot, mash them or use a ricer for super smooth potatoes and add the remaining ingredients. You can even keep them warm in the instant pot while everything else is finishing up.
Simple Ingredients, Delicious Results
I kept these potatoes pretty basic so that they can go with all the things on your holiday table. Butter, half and half (or whole milk), kosher salt and a little sour cream round out the ingredient list.
The sour cream adds a little tang to the potatoes. It cuts the richness of the butter just a little and just adds that special little something. If you've never tried a little sour cream in your mashed potatoes, it's time to do it. You won't be sad about it.
If you want to get fancy, stir in some cheese, roasted garlic or caramelized onions. Just make sure it goes with the GRAVY. Can you tell how important that is at my house?!
All About That Texture
These Instant Pot Mashed Potatoes end up with the creamiest texture for a few reasons. First, they are cooked to perfect doneness in the Instant Pot. Make sure to cut the potatoes into 1-inch chunks to ensure they cook properly.


Second, healthy amounts of butter and half and half help keep them super creamy. If you're looking for a lightened up mashed potato recipe, you've come to the wrong place.
More Mashed Potato Recipes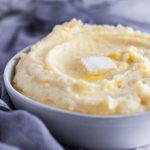 Print
Instant Pot Mashed Potatoes
Save space on your stove top with these Instant Pot Mashed Potatoes for your next holiday dinner. Just as creamy and delicious as ever. Perfect for Thanksgiving dinner.
Ingredients
5

lbs.

yukon gold potatoes, peeled and cut into 1-inch chunks

Water to cover potatoes

4 1/2

tsp.

kosher salt, divided

1

stick

softened butter

1 1/2

cups

half and half (or whole milk)

1/2

cup

sour cream
Instructions
Place potatoes in the Instant pot. Add enough water so that the potatoes are fully covered. Stir in 2 teaspoons of salt. Place lid on and seal. Cook on high manual mode for 10 minutes. Release pressure immediately.

Drain potatoes then add them back to the Instant Pot. Mash. Add butter, half and half, sour cream and remaining 2 1/2 teaspoons kosher salt. Mash and mix well.