School may be starting but that doesn't mean our summer vibes have to come to an end. Keep summer alive with this simple and addictive No Churn Caramel Ice Cream.
This post may contain affiliate links. For more information, please read my disclosure policy here.
On a scale of 1 to yasss queen, how much do you love ice cream?!  I'm definitely at the top of that range and fully believe summers are for eating all the ice cream. 
I had big, grand plans of doing an ice cream week here on the blog in July buuuut it just didn't happen. Honestly, I didn't make this little space of mine here a priority this summer and I feel ok about that. The break was needed but I missed you and I'm fully charged and ready to jump back in.
I did develop and shoot several ice cream recipes though and I can't just let them sit unseen until next summer. Plus, it's still warm and happy out so it's totally still ice cream season in my heart. Well, I'll eat ice cream anytime of the year so there's that.
I love a thick, creamy ice cream churned in an ice cream machine but I also realize a lot of people don't own one but still want to make ice cream at home. So I'm here to introduce you to a little thing called no-churn ice cream. Pretty sure it's going to change your life.
The base of a no-churn ice cream is whipped cream and sweetened condensed milk. You can either use Cool Whip or you can make homemade whipped cream. I went the homemade route because it's just so good and easy too.
From here, you can add whatever flavors or mix-ins you want. For this recipe, it's all about that rich caramel. And I like a lot of stuff in my ice cream so I whipped up some candied almonds to add some mega crunch to the ice cream.
The base of the ice cream is SO easy to make. We're talking whip the heavy cream and fold in the sweetened condensed milk, vanilla and a pinch of salt. Aaaaand done.
If you want a smooth, creamy ice cream simply throw this mixture in the freezer and you're done. If you love texture, it's time to make the candied almonds (or pecans or cashews or whatever nut you prefer).
The candied almonds take a little time to prepare but I promise you that they are worth the effort. They follow the method of these delicious almonds just on a smaller scale.
Once the almonds are cooled, gently fold them into the ice cream base and freeze for at least 4 hours. Then it is glorious, delicious caramel ice cream time.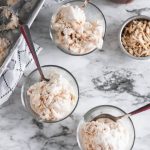 Print
No Churn Caramel Ice Cream
Whip up a batch of this No Churn Caramel Ice Cream in a flash. Rich, creamy ice cream with crunchy, candied almonds for lots of texture.
Ingredients
For the Candied Almond:
1/4

cup

water

1/2

cup

sugar

3/4

cup

slivered almonds

pinch of salt

1/4

tsp.

vanilla extract
For the Ice Cream Base:
14

oz.

sweetened condensed milk

pinch of salt

1/2

tsp.

vanilla

1/4

cup

caramel sauce

2

cups

heavy whipping cream

2-3

Tbsp.

caramel, for swirling
Instructions
Add water and sugar to a saucepan and bring to a boil over medium heat. Add the almonds, up the temperature to high heat and stir constantly until the water has evaporated. The sugar will start to dry out at this time and stick to the almonds. Be sure to constantly stir so that the sugar doesn't burn. Lower the heat to medium-low and continue stirring until the almonds start to get a little shiny. Remove from heat and mix in vanilla and a pinch of salt. Dump out and spread into an even layer on a piece of parchment paper or foil. Allow to cool.

While almonds are cooling, mix together the sweetened condensed milk, salt, vanilla, and 1/4 cup caramel sauce in a large bowl. Set aside.

In a stand mixer, whip the heavy cream until stiff peaks form. Stiff peaks = life the whisk out of the whipped cream and if the peak stays strong it's ready. If you don't have a stand mixer you can do this by hand.

Fold the whipped cream into the sweetened condensed milk mixture. Mix in cooled candied almonds. Spread in a 9×9 pan and drizzle with remaining caramel sauce. Swirl with a knife. Cover well and freeze for at least 4 hours.
Processing…
Success! You're on the list.
Whoops! There was an error and we couldn't process your subscription. Please reload the page and try again.