These Chocolate Coconut Eggs are the ultimate homemade Easter candy. Wrap them up in pretty cellophane and leave them in Easter baskets or serve them as dessert after Easter dinner.
How do you all feel about homemade candy? Specifically homemade chocolate dipped candy. I kind of have a love/hate relationship going with it at all times. Let me explain.
Homemade candy is soo much better than store-bought. Every time. Don't fight me on this. Buuuut, dipping all that candy in chocolate. I just don't love it. But I do love you guys. So here I am again, dipping creamy coconut eggs in chocolate because they are the literal best thing ever and we all need them in our lives.
They are completely worth the work. And if you recruit some helpers the eggs will be formed and dipped in no time.
Let's chat about how to make these coconutty little treats.
The Lineup of Ingredients:
Softened butter
Softened cream cheese
Powdered sugar
Salt
Vanilla
Shredded, sweetened coconut
Chocolate chips
Roasted, salted almonds (optional)
First, I recommend making this in a stand mixture if you have one. If you don't, you can still make them of course but get ready to use those arm muscles.
To start, the butter and cream cheese get creamed together then carefully the powdered sugar, salt and vanilla is incorporated. Then the coconut is mixed in and you will have a thick mixture. At this point, it's easiest if you place the mixture in the freezer for 30 minutes. It will harden up and will make forming the mixture into eggs shapes much easier.
Once frozen, grab two overflowing tablespoonfuls of the coconut mixture and form them into an egg shape then place them on a cookie sheet lined in parchment paper. You'll end up with about 54 eggs. If you're making these Almond Joy style, press an almond or two into the coconut mixture. At this point they go back to the freezer for another 30 minutes or more.
Now comes the dipping. I always melt my chocolate in the microwave in 30 second increments but you can also melt it over a double boiler.
It's best if you work in batches when dipping these coconut eggs, keeping the ones you aren't working on in the freezer so they don't get too soft. You do not want them to get too soft. I promise you I know from personal, angry experience. They'll start to fall apart in the melted chocolate and you'll have a big mess on your hands. Literally.


As you dip them, place them back on the parchment lined cookie sheet because they are taking a trip back to the freezer to harden up the chocolate once they are all dipped.
You can keep them at room temperature, in the refrigerator or frozen. I like them frozen best so that's where you'll find my stash.
These are really fun just on a platter for a sweet little dessert or my personal favorite way to present them is wrapped up in cellophane with a pastel ribbon in Easter baskets. No matter how you present them, I promise they are a creamy, coconutty dream.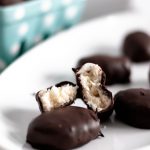 Print
Chocolate Coconut Eggs
These Chocolate Coconut Eggs are the ultimate homemade Easter candy. Wrap them up in pretty cellophane and leave them in Easter baskets or serve them as dessert after Easter dinner.
Ingredients
1

stick

butter, softened

8

oz. package

cream cheese, softened

2

lbs.

powdered sugar

1/4

tsp.

kosher salt

1

tsp.

vanilla extract

14

oz.

sweetened shredded coconut

24

oz.

semi sweet chocolate chips

Roasted, salted almonds, optional
Instructions
In a stand mixer, cream together butter and cream cheese until well mixed. Slowly incorporate powdered sugar. Mix in kosher salt, vanilla and coconut. Place in the freezer for 30 minutes.

Line a large cookie sheet with parchment paper. To form the eggs, grab two rounded tablespoons of coconut mixture and form into egg shapes. Place on prepared cookie sheet. If you are using almonds, press one almond into each egg. Once all eggs are formed, freeze for at least 30 minutes.

Place chocolate chips in a microwave safe bowl. Melt in 30 minute increments, stirring after each time, until melted. Working in batches of 10 (keep remaining eggs in freezer), place egg on top of a fork and place in chocolate, flip to coat other side. Once coated scoop up with the fork again and bang the fork on the side of the bowl to remove the excess chocolate. Scrape the bottom to remove excess then place back on the parchment. Once all eggs are dipped, place back in the freezer for 15 minutes. Store at room temperature or in the refrigerator or freezer.