Start off any meal with this Classic Wedge Salad. Homemade blue cheese dressing, crumbled bacon and a drizzle of balsamic glaze provide so much flavor to this simple yet delicious salad.


*This post contains affiliate links. For more information, please read my disclosure policy here.
About a month ago I had the most amazing wedge salad while out to dinner and I pretty much hadn't stopped thinking about it. How can something so simple and classic be so delicious?
What makes up a classic wedge salad?
The crispy, crunch of the iceberg lettuce. The super crispy, salty pieces of bacon. That sharp blue cheese dressing. It's just all so good together.
Because this salad has been constantly on my mind, it was about time that I made it at home. Especially with Valentines day coming up. We always opt to do a fancy dinner at home instead of going out because kids. And crowds.


Wouldn't this wedge salad be a beautiful start to your romantic valentines dinner at home?!
A wedge salad starts with simple, no frills iceberg lettuce. It's just the way it should be and we don't need to mess with a classic. It provides such a crunchy base and the wedge presentation makes it seem fancier than icebergs usual reputation.
Crispy bacon is an absolute must. Nobody can argue with bacon.


Juicy tomatoes add a little health factor because let's be real, this salad isn't winning any awards in the healthy category. But that's not what the wedge salad is here for and I'm totally ok with that.
The glorious homemade blue cheese dressing is next and it couldn't be easier to make. Literally fold a handful of pantry and refrigerator items together and it's done. You can of course use a store-bought dressing but this is so simple to make and sooo much tastier.
I upgraded this wedge salad just a tad with a simple balsamic glaze. I love the slightly sweet vinegar punch. It adds a nice balance to the strong blue cheese. You can buy the glaze at the store or learn how to make it (aka simmer balsamic vinegar until it's syrupy) in the recipe below.


With just a handful of simple ingredients you are sure to impress your dinner date.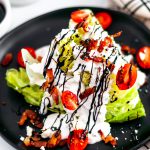 Print
Classic Wedge Salad
Start off any meal with this Classic Wedge Salad. Homemade blue cheese and a drizzle of balsamic glaze provide so much flavor to this classic salad.
Ingredients
1

cup

balsamic vinegar

6

thick cut slices

bacon

1

cup

grape tomatoes, halved

1

head

iceberg lettuce

Blue Cheese Dressing*

Additional blue cheese, optional
Instructions
Add balsamic vinegar to a small saucepan and bring to a simmer. Continue simmering until reduced by half, about 10 to 15 minutes.

Meanwhile, preheat a skillet over medium heat. Dice raw bacon into small pieces and add to the skillet. Cook until crispy. Drain on paper towels.

Mix together dressing ingredients. Set aside.

Cut the iceberg lettuce into quarters. Slice out the core at the bottom. Rinse well and pat dry. Place a wedge on each plate. Drizzle with blue cheese dressing. Sprinkle with tomatoes and crisp bacon. Top with additional blue cheese crumbles if desired. Drizzle with balsamic glaze.
Notes
Find the recipe for homemade blue cheese dressing here: http://www.megseverydayindulgence.com/2013/09/25/bleu-cheese-dressing/
Subscribe to our mailing list