It's Christmas Cookie Treat Week here at Meg's Everyday Indulgence and I'm pretty sure these Snickerdoodle Balls are going to become a fast favorite. It's like an Oreo Ball with snickerdoodles and they are as glorious as they sound.


I decided I'm going to share some fun new Christmas treats throughout the week to ensure you all are in the holiday spirit. Get excited because it's going to be good.
The first recipe up this week are these cute little Snickerdoodle Balls. Um, aren't they so pretty with that sparkly cinnamon sugar on top?
I did a little Instagram poll a few weeks ago asking what your favorite Christmas cookie was and two of the answers I got right in a row (by two of my real life friends) were Snickerdoodles and Oreo Balls.


Seeing them right beside each other gave me a total light bulb moment. Why not replace the oreos with snickerdoodle cookies and make Snickerdoodle Balls?
I went to the grocery store the very next day so I could test my idea ASAP. When recipe inspiration strikes and I feel the need to make them immediately rather than let the idea sit in my recipe idea document I know it's going to be a good one.
Let me tell you the deal with these delicious bites. They are three ingredients. THREE. All you're going to need is store-bought snickerdoodle cookies (from the bakery department in the grocery store), cream cheese and white candy melts.


A little cinnamon sugar sprinkle on top to make them extra festive is optional and since they are pantry staples I'm not counting them towards the ingredient count.
If you have a food processor, I definitely recommend using it for this recipe but it's not absolutely necessary.
First, the snickerdoodle cookies get zapped into small crumbs then stir in (or buzz with the processor) softened cream cheese.


At this point the filling is so very sticky. If you try to roll them with your hands you will become a gooey, sticky mess and you'll end up super frustrated. So instead, use a cookie scoop to portion out the balls onto parchment paper lined cookie sheets.
Because the filling is so sticky it needs to be frozen for at least an hour before being dipped in the candy melts. Make sure you plan accordingly for that extra time.
After a quick dip in the melted candy melts and a little sprinkle of cinnamon sugar they get popped into the refrigerator to harden. After about 15 minutes, they'll be ready to eat. Make sure to keep them refrigerated otherwise they'll soften too much due to the cream cheese.
Joel's description of these are "heavenly cookie dough balls" and you can't really get much higher praise then that.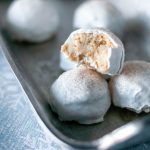 Print
Snickerdoodle Balls
Snickerdoodle Balls are a fun spin on the classic Oreo Ball. Snickerdoodle cookies and cream cheese, dipped in white chocolate with a cinnamon sugar dusting
Ingredients
24

medium

snickerdoodle cookies

1

8 oz. package

cream cheese, room temperature

18

oz.

white candy melts

Cinnamon sugar, optional
Instructions
Line a large cookie sheet with parchment paper and set aside. Pulse snickerdoodle cookies in a food processor until they turn into fine crumbs. You can also add them to a ziplock bag and crush them with a meat mallet or rolling pin.

Add cream cheese to food processor and pulse until combined. Scoop out filling using a cookie scoop onto prepared cookie sheet. Place in freezer for one hour.

Melt candy melts according to package directions. Once smooth, place a cookie ball on a fork and lower it into the candy melt. Using another fork, top it with candy melts and roll it around until completely coated. Bring out with it sitting on the original fork and tap the fork on the edge of the bowl to remove excess. Set back onto the lined cookie sheet and sprinkle with cinnamon sugar. Continue until all the cookie balls are coated. Place in the refrigerator for 15 minutes, until hardened. Store in an airtight container in the refrigerator.