Slow Cooker Jerk Chicken Tacos come together quickly and cook slowly all day. Packed full of bright, spicy, warm Caribbean flavors.


National Taco Day is on Thursday so I just had to bring you a new recipe. And this one right here?! It is packed with so much flavor.
Let's talk about this little fusion situation we have going on today. Combining Jamaican jerk chicken and tacos was a pretty legit idea. There are so many flavors and textures going on that it's like a little party for your taste buds. Yes I said that and I'm not sorry.
These jerk chicken tacos are:
These jerk chicken tacos start with a simple homemade jerk sauce filled with easy to find ingredients. Fresh jalapenos (or scotch bonnets if you really like it spicy), garlic, ginger, brown sugar, lime juice, soy sauce and all the warm spices get pulsed together in a food processor until smooth.
I thought the amount of heat from two jalapenos was perfect. I like spicy food but not when it's to the point where it's unbearable to eat. If you're into spicy food like me, use two jalapenos with the seeds and ribs (white parts inside the pepper) left in. That's where all the spice lives.


If you would rather have the flavor of jalapenos but not all the spice, remove the seeds and ribs before adding them to the food processor.
Once the sauce is pureed, it gets poured over chicken in the slow cooker then you set it and let it cook away.
Because the chicken cooks in the sauce, the flavors really permeates the chicken making sure that jerk chicken flavor hits home. There is also enough that after it's shredded it gets a second coating of it to keep things saucy.


Towards the end of the cooking time, try to keep an eye on the chicken. Like any chicken in the slow cooker, it can dry out fast. Using chicken thighs helps prevent this but if you're using chicken breasts be aware of the cook time.
The chicken is spicy and warm and rich so I knew these tacos would be screaming for a fresh, bright, light something to go on top. That's where the mango avocado salsa comes in. It's super simple and brings the perfect balance to these little beauts.
And you only need three ingredients. One ripe avocado, one juicy mango and half a lime for some acidity. Just dice up the avocado and mango then toss it in a bit of fresh lime juice. It balances out the rich, spicy chicken perfectly.


The shredded jerk chicken is also incredible made into a quesadilla with a handful of Monterey jack cheese then topped with the avocado mango salsa. When I tested the recipe I had it as tacos for lunch after photographing it and a quesadilla for dinner. Both were so good.
I think you should def celebrate one of the best food holidays of all time with these jerk chicken tacos. You won't be mad about it.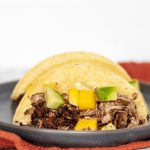 Print
Slow Cooker Jerk Chicken Tacos
Slow Cooker Jerk Chicken Tacos are super simple to make for weeknight dinner. Spicy & packed full of Caribbean flavor. Mango & avocado salsa adds freshness.
Ingredients
3

Tbsp.

olive oil

3

Tbsp.

soy sauce

1/4

cup

fresh lime juice (1-2 limes, depending on size)

2

large

jalapenos, cut into big chunks

be careful not to touch the insides of jalapenos (wear gloves if concerned), removed the seeds and ribs if you don't want it spicy

4

large

garlic cloves, roughly chopped

3

Tbsp.

brown sugar

1

tsp.

black pepper

1

tsp.

kosher salt

1

Tbsp.

dried thyme

1

tsp.

grated fresh ginger

1 1/2

tsp.

allspice

1/2

tsp.

cloves

1

tsp.

ground cinnamon

1 1/2

lbs.

boneless skinless chicken (breasts or thighs or a combination)

Corn or flour tortillas
For the Mango Avocado Salsa:
1

large

mango, diced into 1/4-inch chunks

1

large

avocado, diced into 1/4-inch chunks

Juice of 1/2 lime
Instructions
Combine oil, soy sauce, lime juice, jalapenos, garlic, brown sugar, pepper, salt, thyme, ginger, allspice, cloves and cinnamon in a food processor. Pulse until completely smooth.

Place chicken in your slow cooker. Pour the jerk sauce over the chicken and turn to ensure chicken is coated. Set slow cooker to cook on low for 6-7 hours or high for 3-4 hours.

Once cooked, shred the chicken in the slow cooker and toss around in the sauce to coat.

Toss together the mango, avocado and lime juice in a bowl.

To assemble: place desired amount of jerk chicken on a tortilla. Top with mango salsa and enjoy.
Subscribe to our mailing list