Add this Maple Pecan Granola to your Sunday meal prep list to set you up for morning success all week long.
I live in a house obsessed with cereal. It's what's for breakfast almost every day around here which makes mornings super easy but I'm the one person that's kind of meh about that situation. Don't get me wrong, I like not having to cook breakfast every morning but I just don't get the appeal of cereal. It gets soggy and that just isn't right.
What I can get behind is granola. The super crunchy texture defies sogginess and I adore it most sprinkled in large handfuls over Greek yogurt.
The kids love it too so we've gotten into the habit of making a big batch every Sunday to enjoy throughout the week. We've been creating a different variety each week and our newest creation, Maple Pecan Granola, quickly stole the top spot for favorite.
It's packed with all our favorite standard granola ingredients plus a few fun additions:
•Pecan Havles
•Maple Syrup
•Cinnamon
There's nothing there not to like.
And here's another thing about this granola recipe, you can make it super clumpy or if you dig a finer granola you can do that too. Personally, I'm all about those big, crunchy clumps but I won't hold it against you if that's not your thing. I tell you how to achieve either option in the recipe instructions below.


I've tried lots of granola recipes before and have found I really love the ones that use an egg white in the liquid mixture. It makes the granola even crunchier which is always a good thing in my book. I also use butter instead of oil. I think it adds a richness and slight nuttiness to the granola that you wouldn't be able to achieve with oil. Yum yum yum.
Try it with blueberry Greek yogurt for a blueberry french toast vibe. Or vanilla yogurt, sliced banana and a sprinkle (handful, whatever) of Maple Pecan Granola is a major favorite too.
What's your favorite way to eat granola? Let me know in the comments below.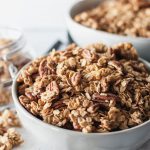 Print
Maple Pecan Granola
Ingredients
4

cups

old-fashioned oats

2

cups

pecan halves

1/4

cup

brown sugar

1/2

tsp.

cinnamon

3/4

tsp.

kosher salt

4

Tbsp.

butter, melted

1/3

cup

pure maple syrup

1

tsp.

vanilla extract

1

large

egg white
Instructions
Preheat oven to 300 degrees. Line a baking sheet with parchment paper or aluminum foil. Set aside.

Combine oats, pecan halves, brown sugar, cinnamon and salt together in a large bowl. In another bowl, combine the melted butter, maple syrup, vanilla extract and egg white. Drizzle over the oat mixture and toss until completely combined.

Dump onto the prepared baking sheet and spread out evenly. I like to press it down some to create bigger clusters in the granola. If you don't care for the clusters, spread it out loosely. Bake for 30 minutes, or until golden brown.

If you like a less clumpy granola, stir it right after removing from the oven then let cool completely on the pan. If you want the clusters, let it cool completely on the pan then break it into pieces. Store in an airtight container.