A simple pumpkin cheesecake filling, homemade whipped cream and crushed gingersnaps combine to create these delicious and simple Pumpkin Cheesecake Parfaits. The perfect way to celebrate the arrival of fall.
This post may contain an affiliate link. For more information, please read my disclosure policy here.
I can't hold off on the pumpkin any longer. It's officially fall so it's completely acceptable now. And it's finally starting to feel like it. With the heat index it felt like 102 degrees here on the first day of fall.
Crazy, right!? But today it's cool and rainy and all is right in the world.
I'm down with pumpkin year round but there's something about that chill in the air that makes it the perfect treat.

I'm not a huge fan of pie but if I had to choose a favorite it would hands down be pumpkin. So in the spirit of my favorite pie, I wanted to create something with that feeling but with a fun presentation and simpler assembly.
My big downfall with pie is the crust. I love a pie crust but I'm just no good at making them. They are never as flaky as they should be and you don't even want to see my attempt at crimping the crust.
Plus, you have to make the crust, chill the crust, roll out the crust, crimp the crust. My kids don't allow for that kind of kitchen labor right now.
In comes the Pumpkin Cheesecake Parfaits to replace the classic pie.
Instead of that dreaded pie crust, store-bought gingersnap cookies do the trick of the crispy, carby texture.
Simple pumpkin pie filling is replaced with a creamy, light and silky cream cheese pumpkin mixture. Warm, delicious fall spices are added to the mix to create that homey feeling.

And you can't have a parfait or pumpkin pie without whipped cream. Am I right? Homemade whipped cream is so simple to make and tastes so much better than store-bought stuff so that's the route I took.
It's layered between the pumpkin cheesecake filling and gingersnaps to add another touch of light, airy texture.
I love a mini, individually portioned dessert but if that adds too much work or you want to make a big batch for the holidays, you can certainly double or triple the recipe and make it in a trifle dish.
I had a little assistant through the recipe testing on this one. She always loves to help but she wasn't leaving my side when whipped cream was involved.
And, I mean, how can you resist this sweet face?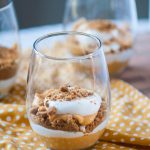 Print
Pumpkin Cheesecake Parfaits
Ingredients
cup

gingersnap cookie crumbs
For the Pumpkin Cheesecake Layer:
8

oz.

cream cheese, room temperature

1

cup

powdered sugar

1/2

tsp.

kosher salt

1

Tbsp.

vanilla extract

1

cup

pumpkin puree

1/4

tsp.

cinnamon

1/8

tsp.

nutmeg

1/8

tsp.

cloves
For the Whipped Cream:
1

cup

heavy cream

1

Tbsp.

powdered sugar

1/2

tsp.

vanilla extract
Instructions
Cream together the cream cheese, powdered sugar, salt, vanilla, pumpkin, cinnamon, nutmeg and cloves. Once smooth, place in an airtight container and refrigerate for 1 to 4 hours to set up.

To make whipped cream: whip together heavy cream, powdered sugar and vanilla in a mixer with the whisk attachment until stiff peaks form (that means when you pull the whisk out of the whipped cream a peak forms and stays). Place in an airtight container and refrigerate until ready to use.

To assemble: gather 4 stemless wine glasses or small mason jars. Divide pumpkin cream cheese mixture in half. Divide one half of the pumpkin mixture evenly among the glasses. Top with 1/4 cup each of whipped cream. Sprinkle each with 2 tablespoons of gingersnap cookie crumbs. Repeat process one more time. Eat right away or refrigerate until ready to serve.

NOTE: if you don't serve it right away, the cookie crumbs will become soft. They still taste great but be aware.
Processing…
Success! You're on the list.
Whoops! There was an error and we couldn't process your subscription. Please reload the page and try again.