These Baked Enchilada Meatballs bring all the flavors of enchiladas without all the work. Meaty, saucy, cheesy perfection.
I'm all about flavor mash-ups and putting a fun twist on traditional fare. As a food blogger I obviously have to go there otherwise I would be sharing what thousands of others have already created. I spend a large amount of my time dreaming up new creations and it's one of my favorite parts of the whole gig.
I, of course, do my best thinking and creating when I'm laying in bed attempting to fall asleep. Hence the notebook and pen that permanently reside on my nightstand. And I wonder why I'm tired all the time. Apparently food trumps sleep in my brain.
I came up with these Baked Enchilada Meatballs when I was in a dinner jam. I grabbed ground beef from the freezer the night before to thaw with a plan to figure it out the next day. Well, I woke up and went along with my day not even thinking about dinner. It was summertime and survival thoughts were the only ones that remained.


Well, four o'clock rolled around and I remembered I had to feed this family of mine. Meatballs are a common go to in our house because they are easy and everyone will *usually* eat them. I found some enchilada sauce in my freezer and tortilla chips in the pantry and the Baked Enchilada Meatballs were created.
You guys, they are one of my favorite food mash-ups to date. Not only are they super easy to make but they truly taste like an enchilada in meatball form.
The key to the enchilada flavor is tortilla chips. I used crushed tortilla chips in place of the breadcrumbs that usually bulk up and bind meatballs. The tortilla chips lend that corny, masa flavor that you would normally get from the corn tortilla in a traditional enchilada.


The other obviously important component is enchilada sauce. You can make your own or use store-bought. I've tested it both ways and loved it with either option. Enchilada sauce is not only slathered over the meatballs while baking but also mixed into the ground beef mixture before they are formed. This adds a double punch of enchilada flavor.
And duh, you have to top them with cheese.
These Baked Enchilada Meatballs are delicious served over homemade Mexican rice or with a side of black beans.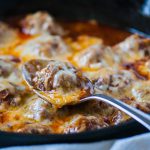 Print
Baked Enchilada Meatballs
Ingredients
1/2 cup + 2

Tbsp.

finely crushed tortilla chips

2 (10 oz.)

cans

red enchilada sauce, divided (or 1 1/2 to 2 cups homemade)

1

lb.

ground beef

1/4

tsp.

kosher salt

1/2

tsp.

chili powder

1/2

tsp.

cumin

1/2

tsp.

oregano

2

cups

shredded cheddar cheese
Instructions
Preheat oven to 400 degrees F. Mix chips and ½ cup enchilada sauce in a large bowl. Set aside for 3 minutes. Mix in salt, chili powder, cumin and oregano. Crumble beef over sauce mixture and combine well (I use my hands).

Pour ½ cup enchilada sauce into a cast iron skillet and spread evenly. Portion meatballs with a scoop (I use a standard size cookie scoop) and roll into balls. Place in the prepared skillet. Bake for 15 minutes. Remove from oven and top with another ½ to 1 cup of enchilada sauce. Sprinkle with cheese. Return to oven and bake another 5 to 10 minutes until melted and bubbly.