Whether you're looking for a simple appetizer or fun lunch I've got you covered with these Southwest Chicken Pinwheels. Only 6 ingredients and a few minutes needed to create these tasty bites.
So I finally have some quiet time to focus on writing and I'm sitting here unable to think of anything to say. Isn't that the worst? I don't want to waste this precious time so I've been going back and forth between attempting to write this post and planning fall recipes I want to share.
I asked you guys on my Facebook page recently if there was anything in particular you want to see in the coming months and I had some great replies that I'm working into the schedule. If you missed the post, let me know in the comments below.
Just because I'm struggling to write this post doesn't mean the recipe isn't delicious. We just have those days, right? Those days when we can't focus or have other things on our minds or just can't think of something worthwhile to share.


So I'll get on with the recipe since I have no stories or wit to entertain you with today.
I thought up this recipe when I was thinking about simple yet delicious lunchbox ideas that weren't sandwiches. I pack Noah's lunch everyday because he's so picky so I'm always on the hunt for different options for him. He's not a big sandwich guy which makes things difficult and he also doesn't care for meat (except for processed all mighty hot dog or salami, sigh).
These pinwheels make for a fun presentation which will hopefully add some excitement and encourage your kiddos to eat them instead chatting their lunchtime away.


One of the best things about these little guys are that you only need 6 ingredients. Flour tortillas, cream cheese, salsa, shredded chicken, avocados and limes. These simple ingredients combine to create something different and fun to up your lunchbox game.
Using leftover chicken or a store-bought rotisserie chicken makes these Southwest Chicken Pinwheels even easier. If you don't have chicken already cooked though, I love this simple method for poaching chicken. It results with really tender, flavorful chicken that you can use for these pinwheels and lots of other recipes.
My favorite thing about this recipe is that it can be made ahead of time and actually tastes better that way. Who doesn't want an easier morning? The refrigeration time allows for the flavors to meld together and for the wraps to set up, making them easier to cut. Make them the night before and slice them up before adding them to the lunchbox.


I know I've talked about these as lunch options but they also make a great appetizer. Once again, the make ahead option is nice along with the fact that you can make lots in a short amount of time. Always a plus when it comes to parties. The bite-ish size, finger food factor is another appetizer bonus here.
So whether you're packing them up for lunch or preparing them as a football game munchie they will be a definite hit.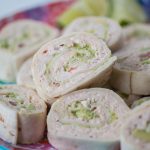 Print
Southwest Chicken Pinwheels
Ingredients
8

oz.

cream cheese, room temperature

1/4

cup

salsa

2

cups

cooked shredded chicken (1 large chicken breast)

2

avocados

1

lime, juiced

3

large

flour tortillas (burrito size)
Instructions
In a large bowl, mix together softened cream cheese and salsa. Stir in chicken. Set aside.

In another bowl, mash the avocado until smooth. Add lime juice and salt. Mix well. Set aside.

Spread 2/3 cup cream cheese mixture over each tortilla. Evenly divide the guacamole among the tortillas and spread evenly. Roll up the tortillas tightly and wrap in plastic wrap. Refrigerate for at least 2 hours or up to 24 hours.

When ready to serve, trim edges. Cut in half. Cut those in half and then in half once more to result in 8 even slices.