If you are looking for a homemade salsa for Cinco de Mayo, I've got you covered with this Smoky Chipotle Salsa. It's super simple to make and even better to eat.
Are you going through a cold snap where you live? It's been in the 40s the past few days with lots of rain and I am OVER it. I have to sit outside and watch Noah play flag football for an hour tonight and I'm so not looking forward to that.
I'm ready to sit on the porch in the warm weather while drinking lemonade. Wait, when did I turn into an old lady? Maybe a margarita on the patio would be better?
I don't care how I appear at this point I just want it to be warm.
Yes, definitely a margarita and chips with this salsa. Because couldn't everyone live on chips and salsa?
I'm so excited to share this smoky chipotle salsa with you all today if you couldn't tell. I have always been so disappointed with every homemade salsa recipe I tried. Whether I used fresh tomatoes or canned and no matter what additional ingredients, I was always left lacking something.
But I've finally found one that I love and just in time for Cinco de Mayo. Yay!
It may be a liiiiitle bit more work than you are used to when it comes to homemade salsa but the flavor that the extra times provides makes it completely worth it.
It gets its first blast of smokiness from charbroiling the tomatoes, onions and garlic. The roasting adds a little sweetness and depth of flavor as well. The second smoky factor is from the addition of a chipotle pepper. You can add less or more, depending on your tolerance for spice. I thought one was perfect but my guys thought it was a bit too spicy. Add half, taste and go from there.
This smoky chipotle salsa reminds me of my favorite store-bought salsa from Trader Joe's.
With summer fast approaching (fingers crossed) all you gardeners and farmer's market lovers are going to have an abundance of tomatoes at your disposal and this is just the way you should use them up. I'm making it a salsa summer for sure.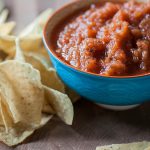 Print
Smoky Chipotle Salsa
Stop searching for the perfect homemade salsa because I've found it with this Smoky Chipotle Salsa. Simple to make and even easier to eat.
Ingredients
1

lb.

plum tomatoes, cored (about 4 to 5)

1

large

white onion, sliced 1/2 inch thick

4

large cloves

garlic, unpeeled

1

chipotle pepper in adobo (from a can)

1

tsp.

apple cider vinegar

1/2

lime, juiced

1 1/2

tsp.

kosher salt
Instructions
Preheat broiler. Line a rimmed baking sheet with foil. Place tomatoes, onions and garlic on the prepared pan. Broil, watching closely and turning occasionally, until the vegetables are charred and soft and the tomatoes have burst. This will take about 15 minutes. Remove pan from the oven and allow vegetables to cool for 5 minutes.

Meanwhile, add 1/2 cup + 2 tablespoons of water, chipotle pepper, vinegar, salt and lime juice to the blender. Peel skin off garlic and add to blender. Add tomatoes and onions. Puree until mostly smooth, or your desired consistency. Pour into a bowl and let sit on the counter for 30 minutes. This allows the flavors to mingle and develop. Refrigerate in airtight container.