I don't even know where to start with all the delicious St. Louis Eats we inhaled on our recent visit. There was BBQ (duh), pizza, hot chicken, the best ice cream I've ever had (yes, it's true) and more. Healthy? No. Amazingly delicious? Yes.
When planning vacation, I research the food just as much as our activities. Not kidding. I love discovering the best places in town and the neighborhood we're staying in. Another important aspect is focusing on what that city does best. Almost any city you visit will be known for something so I make sure I try that something every time.
In St. Louis I knew we needed barbecue, toasted ravioli and gooey butter cake. Beyond that I reached out to my Facebook friends to ask their favorite places and I got an amazing response with lots of must try restaurants. We tried most of the places recommended to us and they were all so very good.
Southern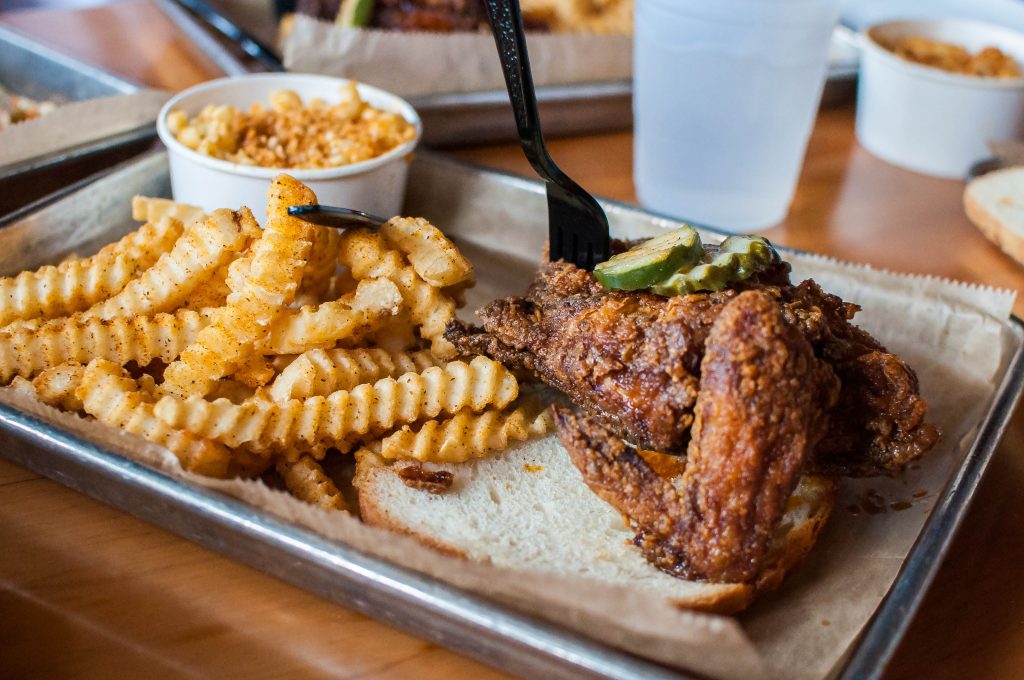 I'm going to start right off with my favorite meal of the trip, Southern. An old co-worker recommended this hot chicken restaurant and girl is a world traveler so I knew she would know what was up. I don't eat fried chicken often but it's pretty much my favorite food on earth. Last meal worthy for me. Then dip the chicken in hot sauce. Sign.Me.Up. At Southern, you have a choice of white, dark or tenders that can be tossed in a variety of spicy sauces. They describe the heat levels on the menu and I went with mild. I was worried it wouldn't be spicy enough but it was just right. Joel had general tso's which was incredible too. If you don't dig spicy, you can get it plain too which is what we did for the kids tenders and they were still delicious. They also have sandwiches but we all went for the hot chicken since that's their specialty.
Let's talk sides. The kids and Joel loved their mac + cheese casserole. Since I'm not eating dairy right now I skipped it so you'll just have to trust their opinions. I'm picky about my coleslaw and normally like a creamy one but their vinegar based slaw was pretty darn good. Those pickles. There aren't even words for how good they were. Pickles are one of my very favorite foods along with fried chicken so I was just in heaven.
We were planning on ordering a couple biscuits because they were pillowy and thick and as big as your face but I totally forgot because the kids were creating chaos. The line was out the door and I didn't want to wait another 20 minutes to order them so we skipped out but I was pretty devastated and couldn't stop thinking about what I missed out on all day. If you go, order them and tell me how they are so I can live through you.
Pappy's Smokehouse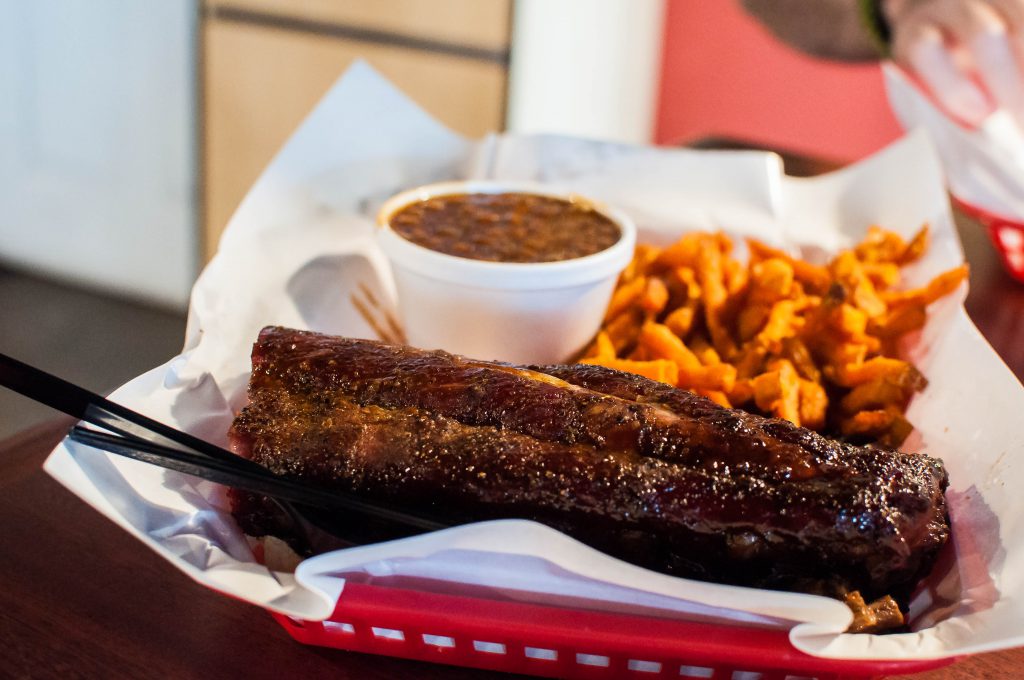 This was a recommendation from a friend that lived in St. Louis for years. She said it was a must try and she was completely right. They have 5 huge smokers right out front so I knew it was going to be legit. I have to say I walked in with a couple reservations about St. Louis BBQ. We are KC style barbecue people all the way (Joel grew up there so it's a given) and prefer the sweet sauce and classic pulled pork so I wasn't sure if we'd love it. I mean, it's barbecue so we knew we would like it but would it rival our favorite KC joint?
The ribs were oh so good and tender. They are served with just a dry rub then you can put sauce on them if you choose. They had 4 sauce options and I went with their signature St. Louis style and really loved it. It's not as sweet as a KC style sauce and is peppery with a little spice. I love pepper on everything so that really spoke to me. Joel and I shared a half slab and chose sweet potato fries and beans as our sides which were both good but not amazing. The kids had coleslaw (vinegar based) so I stole a bite and it was pretty tasty.
Bottom line: I prefer KC style but the ribs and sauce were really amazing and could compete with our favorite place.
Mama Toscano's Toasted Ravioli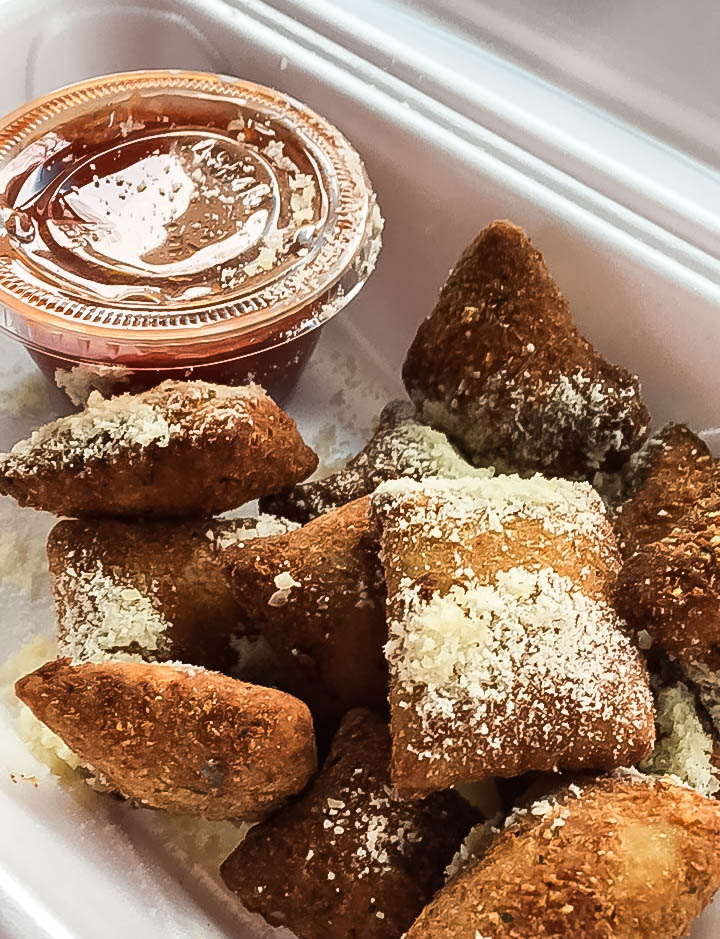 Located in the famous St. Louis Hill neighborhood, where toasted ravioli originated, is Mama Toscano's Toasted Ravioli. It's a little shop on the corner that sells their handmade ravioli, sauces, meatballs and more for retail as well as a little kitchen in the back where you can order hot subs and toasted ravioli. It's a tiny little place that is purely to-go but you have to stop by if you are in the area.
We stumbled across this place on Yelp when we were looking for a good place for toasted ravioli before we headed home later that day. It was the last thing on the must try list and we weren't leaving until we'd had the St. Louis version. It was everything I dreamed it would be and more. Homemade ravioli make all the difference and their meat sauce on the side for dipping was incredible. They called it gravy so I knew they were legit Italians when I heard them refer to it that way. The ravioli was a bit smaller than I'm used to but completely packed with meat filling. They puffed up in the fryer to golden perfection. I'm still dreaming about them and really mad at myself for not picking up a giant box to bring home. I did find on their website that they ship so guess what I'm about to do?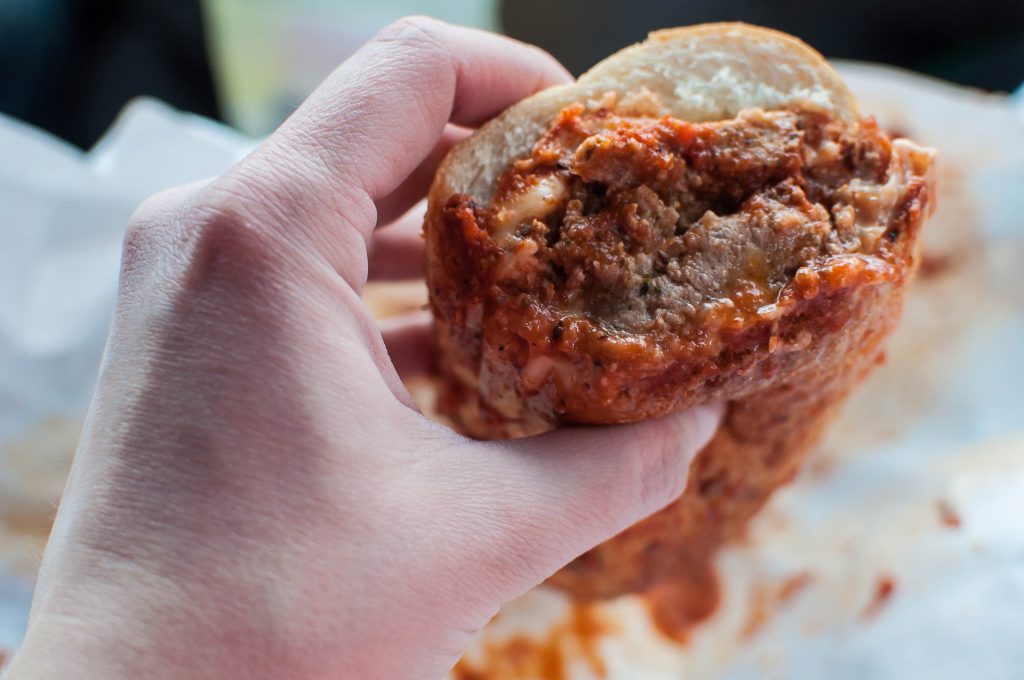 We also shared a meatball sub which was ridiculous. It was stuffed full of meatballs and covered in melty cheese. Just a delicious, classic, messy sandwich which was quite comical to eat in the car… I should have snapped a selfie of Joel and I together with our sauce covered faces.
Ices Plain and Fancy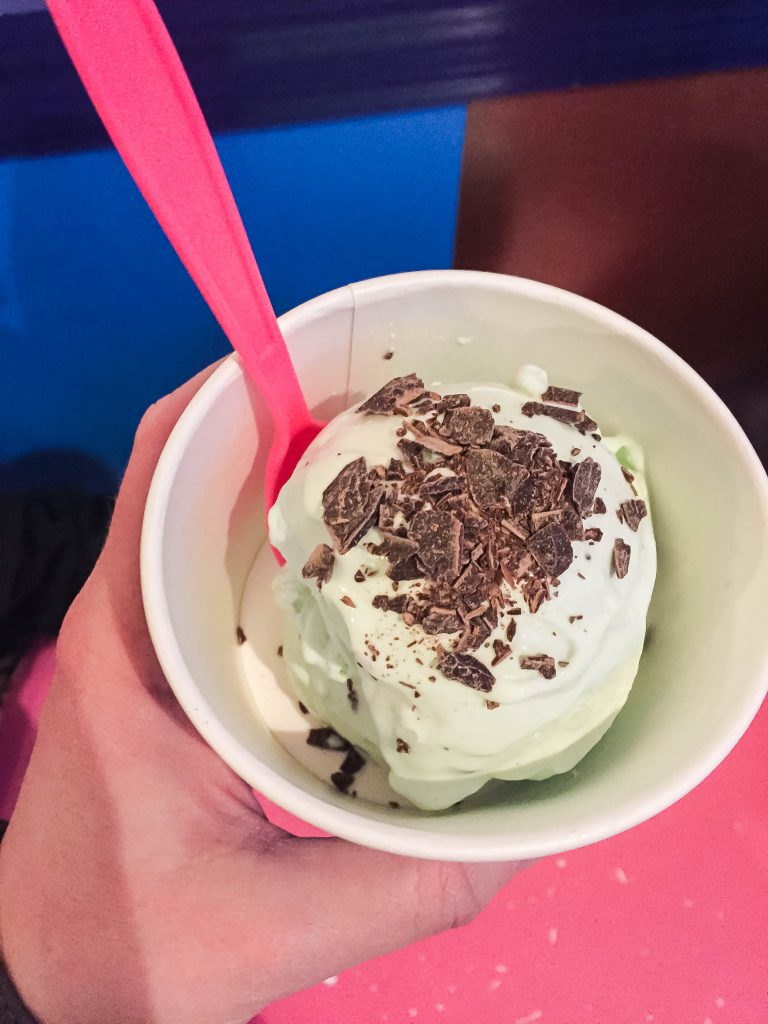 I'm going to break up the savory with a fun dessert stop. I found out about this ice cream shop from Dessert for Two's instagram stories and as soon as I saw it, it skyrocketed right to the top of the list. Their ice cream is frozen to order using liquid nitrogen right in front of you. It results in incredibly fine ice crystals which produce a super smooth and creamy ice cream. It is seriously the creamiest ice cream I've ever had and trust me, I've had a lot of ice cream in my day. I'd venture to say it's the best I've ever had.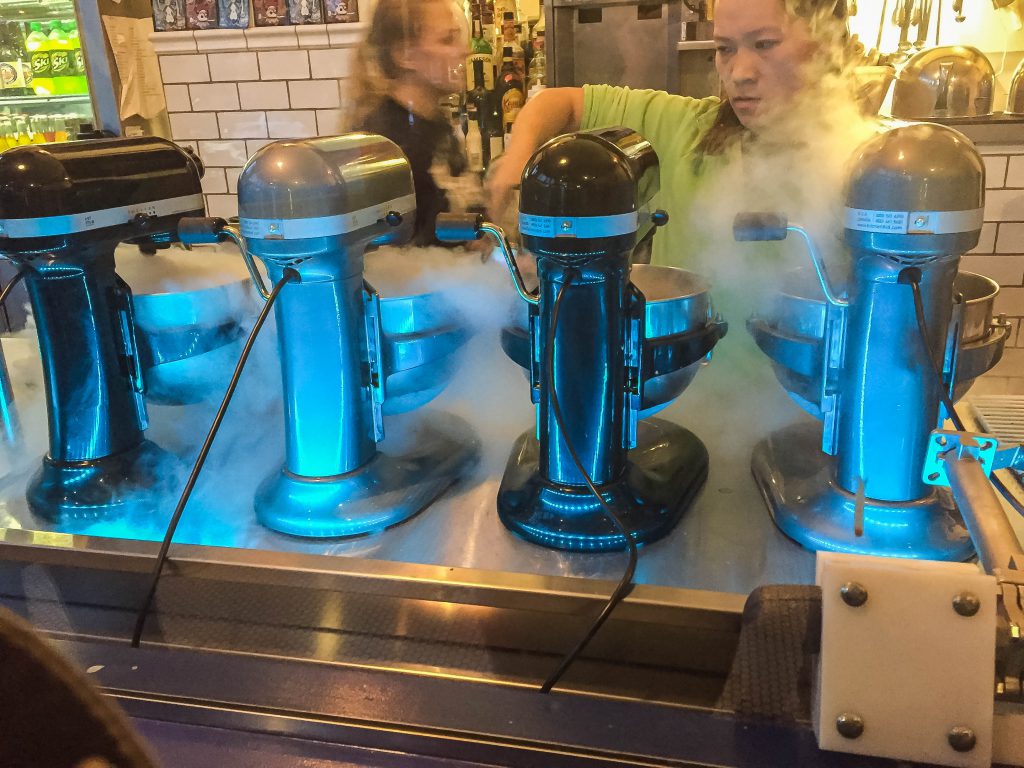 We loved watching dump the ice cream base in the mixer, add the liquid nitrogen and use a torch on the outside so it didn't freeze too much to the bowl. Such a cool process, like dessert and a show. We tried mint chocolate chip (my favorite flavor ever) and rocky road. So so good.
Uncle Bill's Pancake and Dinner House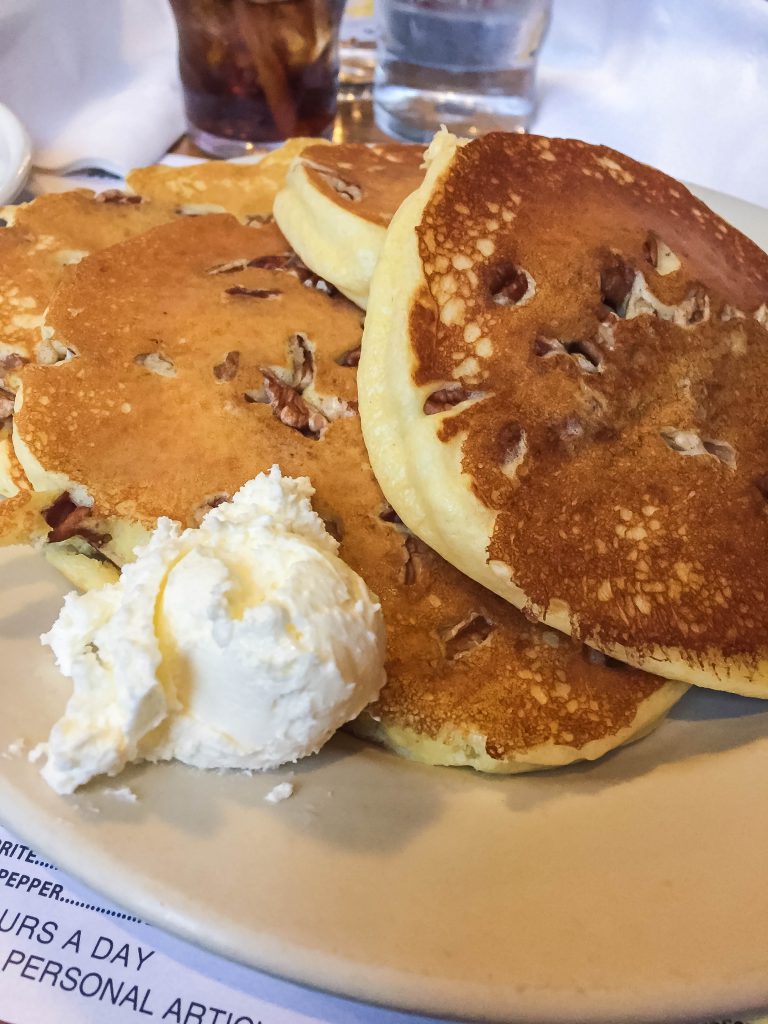 We were digging breakfast for dinner one night so to Yelp we went for the best breakfast in the area near our hotel. Uncle Bill's Pancake and Dinner House was top rated and has one countless awards. We were sold.
It was a pretty basic, typical diner as far as the building goes but most of the time those are the best places. The menu is huge and has all the diner favorites and as well as some unique options. I'm not a huge breakfast fan but I had to try some pancakes at the pancake house. I went with the crunchy pecan pancakes and it was a fantastic choice. They were so light and fluffy and packed with, you guessed it, tons of crunchy pecans. The pancakes were incredibly buttery and I must now find out how to make something similar at home. And their bacon was on point.
Stacked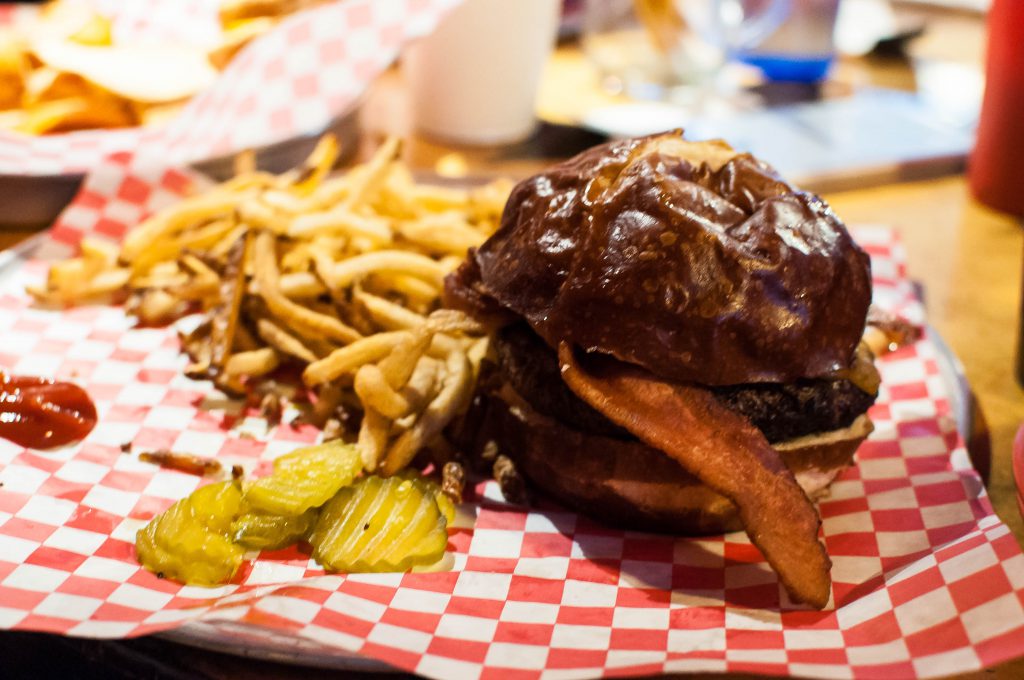 We had Stacked for our last dinner of the trip. Joel was craving burgers and with a little research we found this place. Their menu boasts some crazy, creative burgers as well as a build your own option. I love the idea of a burger with unique toppings but at the end of the day I just really love a bacon cheeseburger. So I went with that on a pretzel bun and it was magical. The beef patty was so rich and meaty and the bacon was crisp and plentiful. Joel chose the Wakey Wakey which is their breakfast burger topped with a fried egg, strawberry maple jam on buttered Texas toast. It was amazing and like I said, crazy burgers aren't my thing.
We also read that they had amazing drinks so we tried the Pink Pineapple and were immediately transported to the beach. Guys, it was one of the best drinks I've had. I don't like the taste of liquor and you couldn't taste it at all in this drink. Mmmm, good.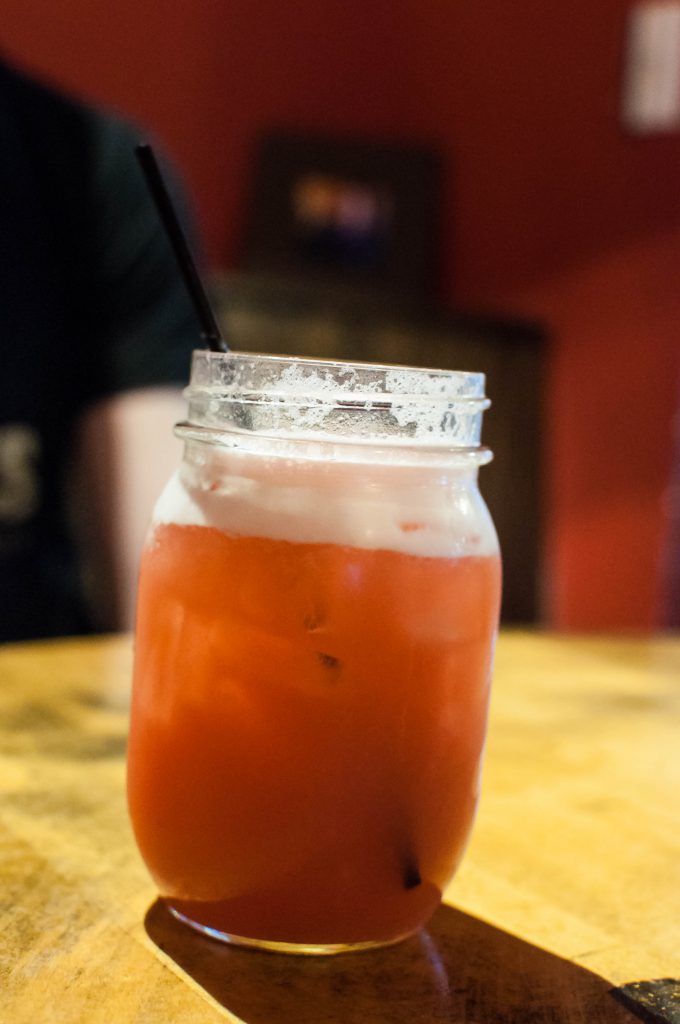 McArthur's Bakery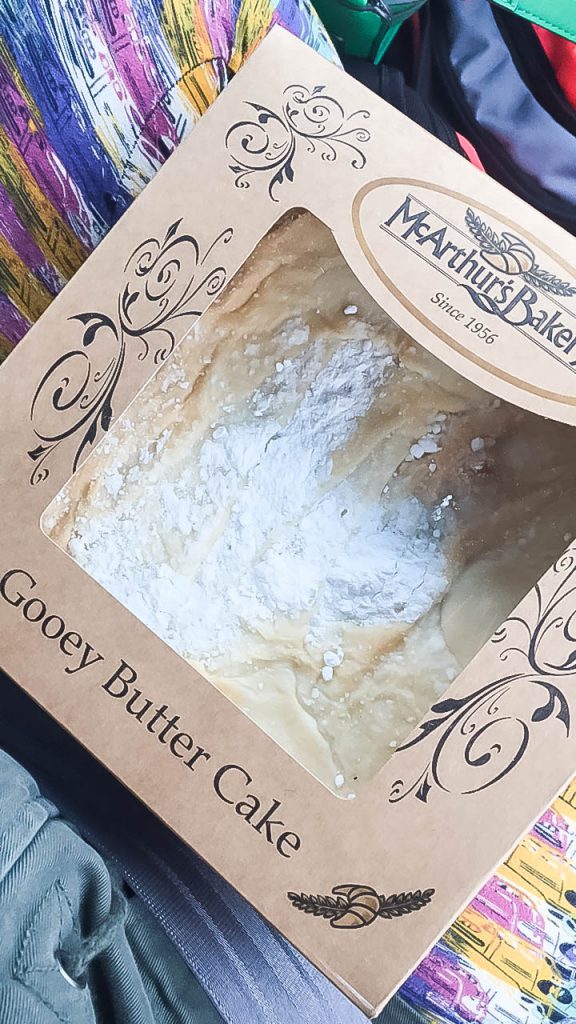 We stopped by McArthur's Bakery to pick up a gooey butter cake. We'd never had one before and since St. Louis is known for them it was a no-brainer. I read this article which listed McArthur's Bakery as one of the best in the city so we stopped by when we were in the area. Gooey butter cake is a thick, dense cake layered with a gooey, cream cheese filling on top then sprinkled with powdered sugar. I liked the cake and the rest of my crew LOVED it. I'm just not a huge dessert person and it was super sweet but that's what it's supposed to be. The textures were great and it was true to tradition.
If you are planning a trip to St. Louis or live there, I hope this helps you navigate to some amazing St. Louis eats and fill your bellies up right.