Snickerdoodles kicked up a notch, these Chai Spice Snickerdoodles are bound to be your new favorite. Cinnamon, cardamom, ginger, cloves and allspice combine with sugar to create these warm, delicious cookies.
Christmas Cookie Season
Christmas baking is completely and utterly on the brain. My list keeps getting bigger but my time to do it all keeps staying the same. So basically I need to stop looking at ALL the cookies because then I convince myself it just wouldn't be Christmas without said cookie.
Like snowballs, I totally forgot about these guys and now that I remember, they just have to happen. So instead of doing my usual bake-a-palooza where I cook all the cookies in a day or two, I'm going to bake them over the next couple weeks and freeze them then when the time comes I'll thaw and arrange platters to give away.
Snickerdoodles aren't usually on my baking list for Christmastime but they are one of Joel's favorite "everyday" basic cookies. Not that they aren't great but for me Christmas cookies are reserved for fancier, unique varieties that you only make this time of year.
So I decided to spice up (pun intended) my favorite snickerdoodle recipe to make them a little fancier for Christmas. And what screams warm and winter more than chai spices?
These have all the best parts of a traditional snickerdoodle, a chewy middle with crisp edges but with more spunk and flavor.
I started with my own DIY chai spice blend for rolling the cookie dough in with sugar. It's filled with all the warm, spicy spices of chai tea. You need cinnamon, cardamom, ginger, allspice and cloves.
Then mix them up with sugar for that crispy, sparkly, pretty finish that makes snickerdoodles special.


If it were up to me, this is how snickerdoodles would go down for the rest of history. I love cinnamon but when it's combined with all the other chai deliciousness it really puts them over the top.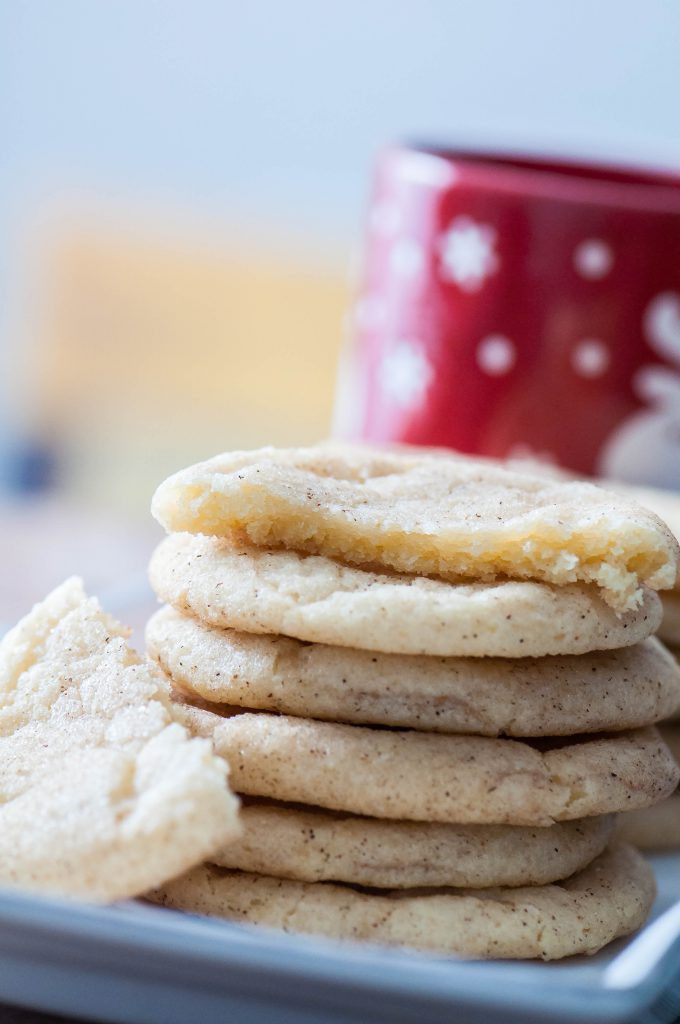 They are different but not too far out there not to be a crowd pleaser. I sent them to work with Joel and they were gone before lunch. That's always a good sign, especially considering a large amount of the people he works with are quite healthy eaters. I mean, if you are eating a cookie before lunch it's got to be good, right?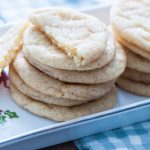 Print
Chai Spice Snickerdoodles
These Chai Spice Snickerdoodles are going to be your new favorite Christmas cookie. Rolled in sugar & a DIY chai spice blend to create a warm, spicy cookie.
Ingredients
1

cup

unsalted butter, room temperature

1 1/2

cups

granulated sugar

2

large

eggs, room temperature

2 3/4

cup

all-purpose flour

2

tsp.

cream of tarter

1

tsp.

baking soda

1/4

tsp.

salt

1/2

tsp.

cinnamon

1/2

tsp.

cardamom

1/4

tsp.

ground ginger

1/4

tsp.

allspice

1/4

tsp.

cloves

1/2

cup

granulated sugar
Instructions
Cream together the butter and sugar until light and fluffy, 2 to 3 minutes. Add eggs, one at a time, until incorporated.

In a bowl, combine the flour, cream of tarter, baking soda and salt. Add to the creamed mixture and mix until just incorporated. Cover dough with plastic wrap and refrigerate for 1 hour.


Preheat oven to 350 degrees F. In a small bowl, combine the cinnamon, cardamom, ginger, allspice, cloves and sugar. Using a cookie scoop, scoop dough into even sized balls. Roll them in your hands until perfectly round. Roll them in the spiced sugar and place on an ungreased cookie sheet, 2 inches apart. Bake for 10 minutes. Leave on the cookie sheet for 1 minute then remove to a cooling rack to cool completely.