Cream Cheese Chicken Flautas with Jalapeno Jelly are better than the restaurant version. Crispy tortillas, creamy chicken and spicy jalapeno jelly.
We love Mexican food and usually have it out about 2 times a month. Seeing that we only eat out about 6 times a month (mostly Sunday's after church), that's saying a lot! With a picky 5 year old and wild toddler, it's hard to find places that everyone will like and that we can get in and out of quickly without it being fast food.
Mexican restaurants are always at the top of the list because, tacos (duh), chips and salsa and fast service. My kids are addicted to chips and salsa and it keeps them busy while we wait for our food to arrive.
A new place opened in town recently and we have become addicted to their Crispy Chicken Flautas that they serve with jalapeno jelly.
Make it At Home
The flautas are crispy with cheesy, chicken and roasted corn and the jelly is sweet with a spicy kick. After eating them several times, I decided it was finally time to try making them at home.
Because as much as I sometimes dread cooking EVERY.SINGLE.NIGHT of the week, it's often so much easier than going out with the kids. Hannah's in a "I'm going to play under the table then shriek at the top of my lungs when you try to get me to sit in my seat" stage right now so that's fun. So, you know, it was time for a copycat recipe to whip up when the craving strikes.
I changed the ingredients just a bit to create these Cream Cheese Chicken Flautas with Jalapeno Jelly. Mainly I just added cream cheese because it makes everything better. I liked the idea of the filling being a little creamier to contrast with the crispy flour tortilla.
Bringing ALL the Flavor
Roasted corn brings some sweetness to the filling. There's also a handful of sharp cheddar to add some tangy flavor. All of that along with some diced, grilled chicken and spices is combined then wrapped up in flour tortilla and fried to crisp, golden perfection.
And if that wasn't enough, we dunk those suckers in sweet, spicy jalapeno jelly.
I was originally planning on making it homemade but I'm not a homemade jam or jelly expert. When I looked into it a little further I saw that it involved boiling the jars and all that nonsense and well, I ain't got time for that.
So I drove myself to the grocery store and bought some.
If you are so inclined, you should totally make your own. You guys know that's what I usually condone but sometimes there's just too much effort involved, especially on a weeknight. If you have some free time on the weekend, go for it though (I found some tasty recipes on Pinterest and pinned them here).
I'm excited to share my favorite Ireland pictures with you this Friday! And we're leaving for San Diego tomorrow for a friends wedding so watch out on Instagram for what we're up to. And if you have any delicious, kid-friendly food recommendations let me know in the comments below!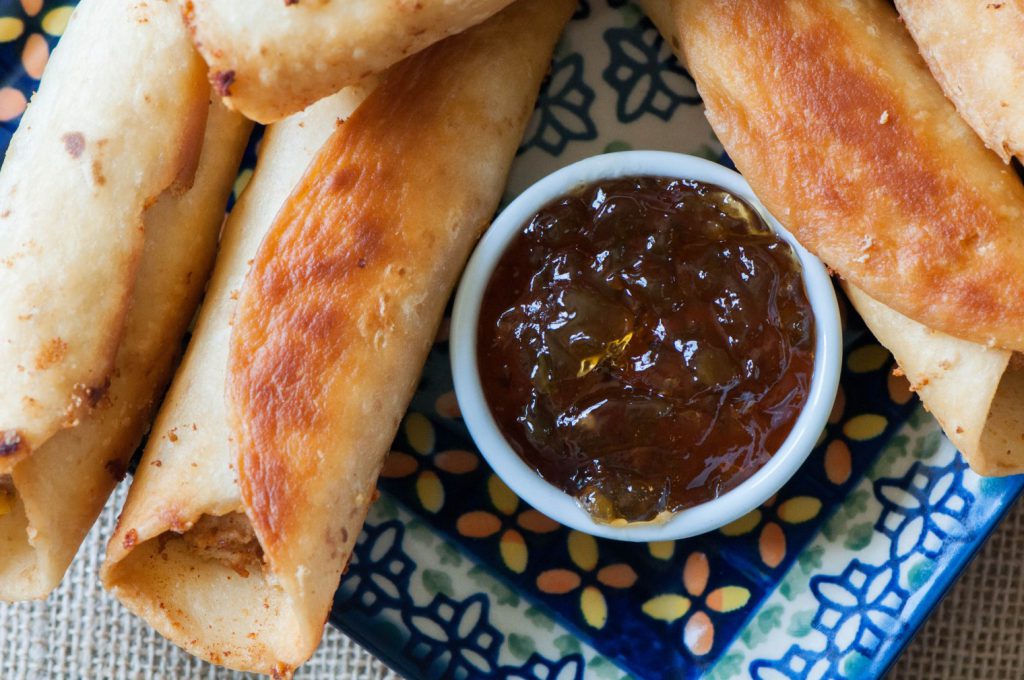 Cream Cheese Chicken Flautas
2016-06-22 12:17:15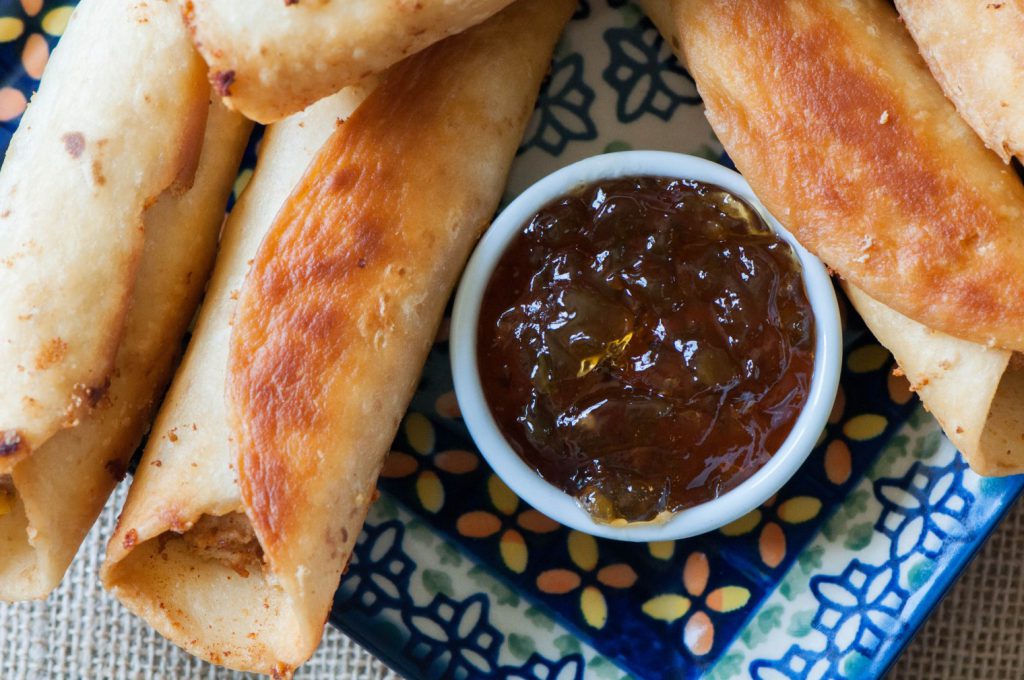 Ingredients
1 1/4 lb. boneless, skinless chicken breast
1/2 tsp. garlic powder
1/2 tsp. kosher salt
1/2 tsp. dried oregano
3/4 tsp. ground cumin
3/4 tsp. chili powder
pinch of cayenne pepper
1 cup frozen corn
1 tsp. olive oil
1 (8 oz.) package cream cheese, at room temperature
3/4 cup shredded sharp cheddar
6 inch flour tortillas
Vegetable oil, for frying
Jalapeno jelly, for dipping
Instructions
Preheat an outdoor grill to medium high heat. Meanwhile, combine the garlic powder, kosher salt, oregano, cumin, chili powder and cayenne pepper then rub it over both sides of the chicken. Grill for 5-6 minutes per side, until cooked through. Place on a cutting board and allow to cool for 10 minutes then dice into small pieces.
While the chicken is cooling, heat a skillet to medium high heat. Add olive oil and cook corn until it's slightly brown.
Fill a large skillet with an inch of oil. Heat over medium heat until bubbles form when you drop in a piece of tortilla. While the oil is heating, mix the chicken, corn, cream cheese and cheddar. Lay out the tortillas and scoop 1/8 cup of the filling into each one and wrap tightly.
Place the flautas, seam side down, in the oil making sure not to crowd the pan. Cook until golden on one side then flip and cook second side until golden brown. Remove from pan to a paper towel lined plate. Serve with jalapeno jelly.
Meg's Everyday Indulgence https://www.megseverydayindulgence.com/