Do you have a go to breakfast that you know your whole family will love and eat without anyone complaining? The no complaining is very important for everyone's safety in the early morning. For us, muffins are the breakfast item of choice. Who doesn't love sweet carbs in the morning?
Variety in what I eat is super important to me (if I eat something too often, I won't even want to look at it for months) so what really draws me to muffins is that I can literally make a different kind every week without repetition. And my kids would love if I made them a batch of muffins every week.
I don't but they happen often enough to keep them happy. As you can see, I've piled up quite the collection, with some favorites of course, and these new Strawberry Banana Muffins fit right into the rotation and may take top spot.
These muffins take simple, classic flavors that combine into anything but an ordinary breakfast or after school snack. Banana muffin batter is layered with an easy homemade strawberry jam (or use your favorite good quality store bought) to create these unique muffins that are seriously moist.


Start stocking up on those speckled bananas because you will need 4 for these muffins. Yep, you heard right, 4 bananas.
I buy a big bunch of bananas every time I go shopping but we don't usually end up using all of them. When they start getting brown and mushy, I peel them, slice them and throw them in a small freezer bag then into the freezer they go. This way I always have a stock pile of perfectly sweet bananas for smoothies, bread or muffins. All you have to do is thaw them then use as directed in the recipe.
Due to all those bananas, these muffins are bursting with insane banana flavor. It is a serious overload in the best possible way.


Once the batter is mixed, fill the muffin cups halfway then dollop with a teaspoon of homemade strawberry jam, top with more batter and another drizzle of strawberries. Throw them in the oven and wait for breakfast perfection.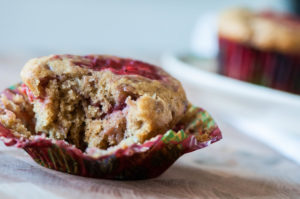 Strawberry Banana Muffins
2016-04-17 02:26:52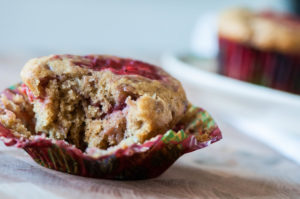 For the batter
2 cups flour
1 tsp baking soda
1/4 tsp salt
1 stick (1/2 cup) unsalted butter, melted
3/4 cup brown sugar
2 eggs, beaten
2 2/3 cups mashed ripe bananas
1 tsp vanilla extract
For the strawberry jam
2 cups frozen strawberries
1 Tbsp. sugar
Instructions
Preheat oven to 350 degrees F. Line a muffin tin with paper liners.
In a large bowl, combine the flour, baking soda and salt. In another bowl, cream together the butter, brown sugar, eggs, bananas and vanilla. Make a well in the center of the dry ingredients and pour in the wet mixture. Fold together gently until the batter just comes together.
To make the jam, combine the strawberries and sugar in a small sauce pan over medium heat. Stir and cook strawberries, mashing as you do so, until the mixture has thickened and there are no big chunks.
Fill each muffin tin halfway then top each with a half tablespoon of strawberry jam. Top until muffins are 3/4 full. Top with a teaspoon of strawberry jam and swirl gently with a toothpick.
Bake for 18-22 minutes, or until a toothpick comes out clean.
Adapted from The Anti June Cleaver
Meg's Everyday Indulgence https://www.megseverydayindulgence.com/